CONTENT
National Mission on Transformative Mobility and Battery Storage
Program by Niti Aayog for indigenous development of clean and sustainable batteries.
At present, India imports about 800 million Li-Ion batteries annually.
Electric vehicles are expected to account for a significant share in the growth of the Li-ion battery demand in India. The government has announced investments worth USD 1.4 billion to make India one of the largest manufacturing hubs for electric vehicles by 2040.
Currently, China dominates the Li-ion battery market, capturing nearly 75 percent of the world market.
India bans homes from installing RO water purifiers
RO stands for Reverse Osmosis, which is the opposite of Osmosis. To understand the process of Osmosis, we need to understand two key terms – Solvent, the substance which is in excess, and the solute, the substance which is dissolved in the solvent, to make a solution. Osmosis is the natural flow of solvent from low concentration solution to high concentration solution, to achieve equilibrium in both the solutions. Reverse Osmosis is just the opposite of it. Hence, Reverse Osmosis refers to forced flow of solute from high concentration solution to low concentration solution. Most of our water purification systems are based on Reverse Osmosis, forcing pure water to move out of contaminated water.
RO was originally a technology devised to desalinate sea water. It uses 'activated carbon' components, such as charcoal and carbon black, which These can filter out contaminants as well as organic substances such as bacteria. 
Union Environment Ministry has issued orders prohibiting installation of domestic reverse osmosis (RO) systems where total dissolved solids in water are below 500 milligrams per litre. It seeks to regulate membrane-based water filtration systems. A membrane is a barrier that allows certain substances to pass through while blocking others. The regulation will be in areas where the source of water meets drinking water norms of the Bureau of Indian Standards. Current BIS regulations consider 500 mg/litre—1,200 mg/l of total dissolved solids, which consists of salts and some organic matter, as acceptable though there is no lower limit. 
RO systems waste 3-4 times more water than they produce. RO systems also filters out calcium, zinc, magnesium, and other salts which are essential for the body. By 2022, RO manufacturers will be allowed to only supply home purification systems that waste no more than 25 percent of the water and these systems must be able to inform consumers of the TDS levels at the inlet and water outlet.
Namaste Trump
A program organised by the Indian Government in Ahmedabad, in Gujarat, to welcome US President Donald Trump. 
Earlier the program was to be named 'Kem Chho Trump' , which is a Gujarati Slang meaning 'How are you doing, Trump?'.
The event would also see the inauguration of the new Sardar Vallabhbhai Patel Stadium (in Ahmedabad), the largest cricket stadium in the world.
Parivara, Talawara, and the Siddi Tribes of Karnataka
Recently granted the status of Scheduled Tribes (ST) by the Constitution.
Dan David Prize, 2020
These are annual awards. Each year, three prizes of USD 1 million each are awarded to globally inspiring individuals and organisations, for innovative and interdisciplinary research, in three categories:

Past: Outstanding contributions that expand knowledge of the past.
Present: Outstanding contributions that enrich society in the present.
Future: Outstanding contributions that promise to improve the future of our world.

It is based out of Israel, and was started in the year 2000. The prize was established by late Dan David, an international businessman and philanthropist whose aim was to reward those who have made a lasting impact on society.
India's feminist scholar and activist Gita Sen, won this years' prestigious Dan David Prize, in the 'Present' category for her expansive work in the field of gender equality. She will be sharing this years' award with Brazilian Debora Diniz.
With his award, Gita Sen joins the elite group of other prominent Indian laureates of the Dan David Prize including author Amitav Ghosh, music conductor Zubin Mehta, renowned chemist C.N.R. Rao, Professor of Astronomy Shrinivas Kulkarni and historian Sanjay Subramanyam.
The other two awards this year were given for following fields:

Cultural Preservation and Revival (Past).
Artificial Intelligence (Future).
Zojila Tunnel 
Asia's longest bi-directional tunnel, in Jammu and Kashmir, situated at an altitude of about 11,500 feet on the Srinagar-Kargil-Leh National highway. It is presently under construction, and as an estimated outlay of INR 6500 crore.
The project which was earlier constructed on hybrid annuity mode will now be converted into EPC (engineering, procurement and construction) mode (To understand the two modes, see Indian Economy Exclusive Series chapter on Public Private Partnership).
DefExpo 2020
Defexpo stands for Defence Expo. It is a biennial (held once every two years) international defence exhibition organised by Defence Exhibition Organisation of India. It serves as a platform to not just work with US, Russia and South Korea and other countries to build India's defence capabilities, but also to market our indigenously developed defence products.
Defence Exhibition Organisation is an autonomous organisation of the Indian Government established in 1981 to promote export potential of the Indian defence industry. Indigenous defence manufacturing will not only make us self-reliant but also enable us to help friendly countries in the region if required. 
The 11th DefExpo (2020) is being held in Lucknow, Uttar Pradesh. This is for the first time the defence exhibition is being held in the northern state to explore potential available for defence productions. The government has already set up Uttar Pradesh Defence Corridor to attract investments in defence manufacturing. 
Theme for DefExpo 2020 – 'Digital Transformation of Defence'.
The current defence exports stand at INR 17000 crore.
Neonatal Deaths in India
The primary reason for neonatal deaths (deaths of children below the age of 1 year) in India has been premature birth and low birth weight of the children, followed by pneumonia.
India's neonatal death rate is 23 per thousand live births in 2018. The United Nations' Sustainable Development Goals require each member country to bring rate under 12.
In India, Madhya Pradesh recorded the highest percentage of neonatal deaths in 2018, while West Bengal recorded the highest number of neonatal deaths in the same year.
UNESCO world heritage site certificate for Jaipur 
Jaipur for conferred world heritage tag by UNESCO in 2019 for being exemplary in town planning and architecture that demonstrates an amalgamation and important exchange between ancient Hindu, Mughal and contemporary Western ideas that result in the present form of the city. Jaipur was founded in 1727 by the then Kachwaha Rajput ruler of Amber, Sawai Jai Singh II. 
Some facts about UNESCO World Heritage Committee:

It selects the sites to be listed as UNESCO World Heritage Sites, including the World Heritage List and the List of World Heritage in Danger.
It was founded in 1976 and is headquartered in Paris, in France. 
It meets once a year, and consists of representatives from 21 of the States Parties to the Convention on World Heritage Sites, adopted in 1972. All 193 members of United Nations are parties to the Convention. The members of the World Heritage Committee are elected by General Assembly. Currently, India is not a member of the Committee. 
Earlier, a committee member's term of office used to be six years. However since 2006, the term has been reduced to four years, in order to give other States Parties an opportunity to serve.
Deliberations of the World Heritage Committee are aided by three advisory bodies,

IUCN (International Union for Conservation of Nature) – It is an international organization working in the field of nature conservation and sustainable use of natural resources. 

Founded in 1948
Headquartered in Glen, in Switzerland
membership of over 1400 governmental and non-governmental organisations. 

ICOMOS (International Council on Monuments and Sites) – It is a professional association that works for the conservation and protection of cultural heritage places around the world.

Founded in 1965.
Headquartered in Paris, in France.
Over 10,000 individual members in 153 countries, 110 national committees and 28 international scientific committees.

ICCROM (International Centre for the Study of the Preservation and Restoration of Cultural Property)– It is an intergovernmental organization dedicated to the preservation of cultural heritage worldwide through training, information, research, cooperation and advocacy programmes. 

Founded in 1956, as a result of a proposal at the UNESCO General Conference held in New Delhi.
Headquartered in Rome, in Italy.
136 member countries.

The 44th meeting of the World Heritage Committee is scheduled to be held in China, in 2020. India has never hosted the meetings of the World Heritage Committee. Paris has hosted the most number of its meetings.

Besides Jaipur, Fatehpur Sikri and Ahmedabad are the only cities to have already been recognised as World Heritage Sites by UNESCO.
UNESCO is also headquartered in Paris, in France. Its current Director-General is Audrey Azoulay.
Railway line between India and Bangladesh
The much-awaited railway line between Agartala in Tripura state of India to Gangasagar in Akhaura province of Bangladesh to be completed by end of 2021.
Indian Railway Construction Company Limited (IRCON) is the executing agency for construction of the project on both sides.
Abdul Razzak
Name of an Indian ship detained by Iran for more than 11 months, which was released recently through efforts of the Ministry of External Affairs in India.
Strait of Hormuz
It is a strait between the Persian Gulf and the Gulf of Oman. 
On the north coast lies Iran, and on the south coast the United Arab Emirates, and Oman.
Nearly 33 percent of the world's liquefied natural gas and almost 25 percent of total global oil consumption passes through the strait, making it a highly important strategic location for international trade.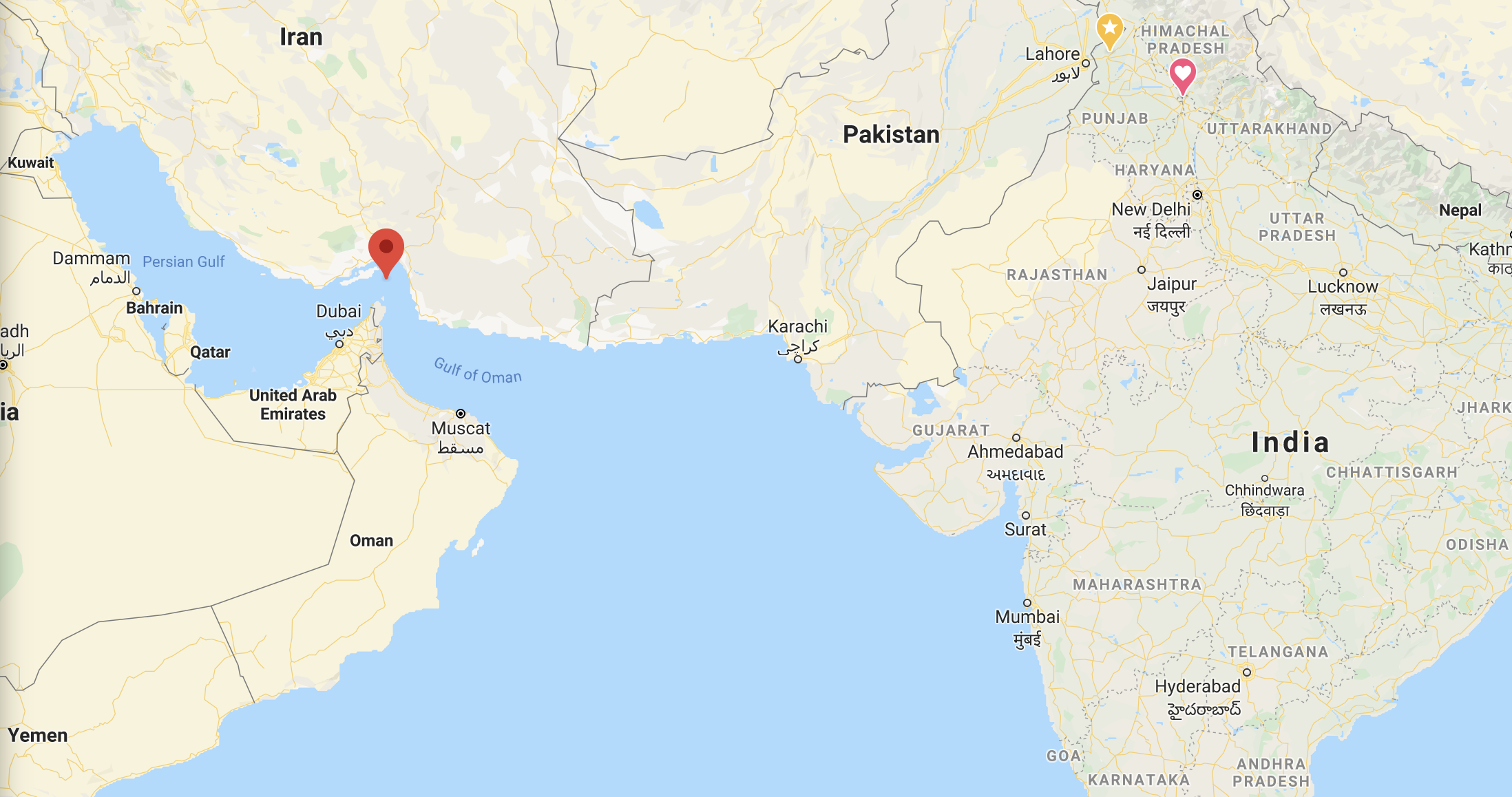 Commission for Agricultural Costs and Price (CACP)
The open ended procurement policy means there is no limit on the amount of crops the government is obliged to buy from the farmers at minimum agreed upon price. The objective of procurement is to ensure that farmers get remunerative prices and do not have to resort to distress sale. It aims at serving the National Food Security Act and other welfare schemes, so that the subsidised food-grains are supplied to the poor and the needy and build buffer-stocks to ensure food-grain security.
The open ended procurement policy for rice and wheat has led to mounting food stocks and adversely affected crop diversification. These excess stocks create storage problems and also high storage and financing costs leading to high food subsidy burden.
The Commission for Agriculture Costs and Price has recommended that open ended procurement policy should be reviewed. This has raised the fear that the Centre would limit procurement as a first step towards putting an end to the purchase at Minimum Support Price. As a result, many farming communities have warned the government against any such decision. They argue that to bring crop diversification, the need is to fix proper remuneration and assured market. The government should ensure a mechanism where farmers can get an assured remunerative price for crops cultivated by them other than wheat and paddy.
Commission for Agricultural Costs and Prices (CACP) is a decentralised agency of the Government of India, mandated to recommend minimum support prices (MSPs) for various agricultural produce. It was established in 1965 as the Agricultural Prices Commission, and was given its present name in 1985. It is an attached office of the Ministry of Agriculture & Farmers Welfare, Government of India.
At present, the Commission consists of a Chairman, one Secretary, one official member and two non official members. The non-official members are representatives of the farming community and usually have an active association with the farming community. It submits its recommendations to the government in the form of Price Policy Reports every year, separately for five groups of commodities namely Kharif crops, Rabi crops, Sugarcane, Jute and Copra (Coconut).
As of now, CACP recommends MSPs of 23 commodities:

7 cereals (paddy, wheat, maize, sorghum, pearl millet, barley and ragi).
5 pulses (gram, tur, moong, urad, lentil).
7 oilseeds (groundnut, mustard, soybean, seasum, sunflower, safflower, nigerseed).
4 commercial crops (coconut, sugarcane, cotton and jute).
How bats harbour several viruses yet don't get sick?
Bats serves as natural hosts for numerous viruses including Ebola virus, Nipah virus, and Coronaviruses. Even as these viruses cause harm in humans, they rarely cause any harm to bats. This is the case even when the viral load is extremely high in bats.
The reason why bats can harbour these viruses without getting affected is simply because bats can avoid excessive virus-induced inflammation, which often causes severe diseases in animals and people infected with viruses.
When pathogens infect humans, the immune system gets activated and typical inflammatory response to fight the microbes is seen. While controlled inflammatory response to fight infection helps keep humans healthy, excessive inflation may contribute to damage caused by inflammatory diseases. 
Christina Koch
US based astronaut who has set the record for the longest stay in space by a woman. She stayed in space for 328 days.
She earlier led the all female space walk too with Jessica Meir.
Her mission could provide data on how weightlessness and space radiation affects the female body. The information would be useful for NASA's aim of building a space station on the Moon. 
Switzerland votes on new law against homophobia
Homophobia refers to fear of homosexual people.
Under the new law, homophobic comments made in a family setting or among friends would not be criminalised. But publicly denigrating or discriminating against someone for being gay or inciting hatred against that person in text, speech, images or gestures, would be banned.
Ebola outbreak in the Democratic Republic of Congo
The recent outbreak was first identified in August 2018 and has since killed more than 2,300 people.
Last year, the World Health Organisation declared it as 'public health emergency of international concern' – a designation that gives the WHO greater powers to restrict travel and boost funding.
Recently, the WHO has extended the emergency status of Ebola in Democratic Republic of Congo. Tedros Adhanom Ghebreyesus (TAG) is the current chief of World Health Organisation.
The Ebola virus is passed on by contact with the blood, body fluids, secretions or organs of an infected or recently deceased person. The death rate is typically high, ranging up to 90 percent in some outbreaks, according to the WHO.
This is the second worst outbreak of the disease since 2014 when it killed about 11,000 people, mostly in Guinea, Liberia and Sierra Leone.
Kobe Bryant
An American professional Basketball player, who died recently in a helicopter crash.
International Religious Freedom Alliance
An international alliance of 27 member countries to adopt a collective approach in protecting and preserving religious freedom across the world.
The Ministerial to Advance Religious Freedom (MARF) is an initiative begun by US in 2018 to bring together foreign officials at the ministerial level, representatives from civil society and victims of religious persecution, to address religious freedom violations worldwide. The first two meetings of the MARF were held in Washington DC in 2018 and 2019. The Third one is scheduled to be held in 2020 in Warsaw, in Poland. 
India is not a member of the alliance, as of now.
Index of Industrial Production (IIP) 
The IIP is a composite indicator that measures the changes in the volume of production, of a basket of industrial products, during a given period, with respect to the volume of production in a chosen base period.

IIP = (Volume of ProductionCurrent Year – Volume of ProductionBase Year) / Volume of ProductionBase Year] * 100

Currently, there are 407 item groups from manufacturing (405), mining (1) and electricity (1) sectors, on the basis of which the Index is calculated. Refinery products have the highest weightage in IIP. The major source of data for IIP is the Department of Industrial Policy and Promotion.
India started publishing IIP since 1937 but it was only in 1950 that Central Statistical Organisation started getting published on an all India basis. The base year for the current series of IIP is 2011-12.
September 2019 recorded lowest values as well as growth rates in overall IIP. The lowest overall IIP growth rate stood at -4.6 percent in September 2019. The lowest value in overall IIP was recorded as 122.9 in the month of March 2019. 
The highest growth rate in overall IIP was recorded in the month of July 2019 when it was 4.9 percent. The highest value in overall IIP was recorded as 144.1 in the month of March 2019. 
IIP Sector Wise Growth Rates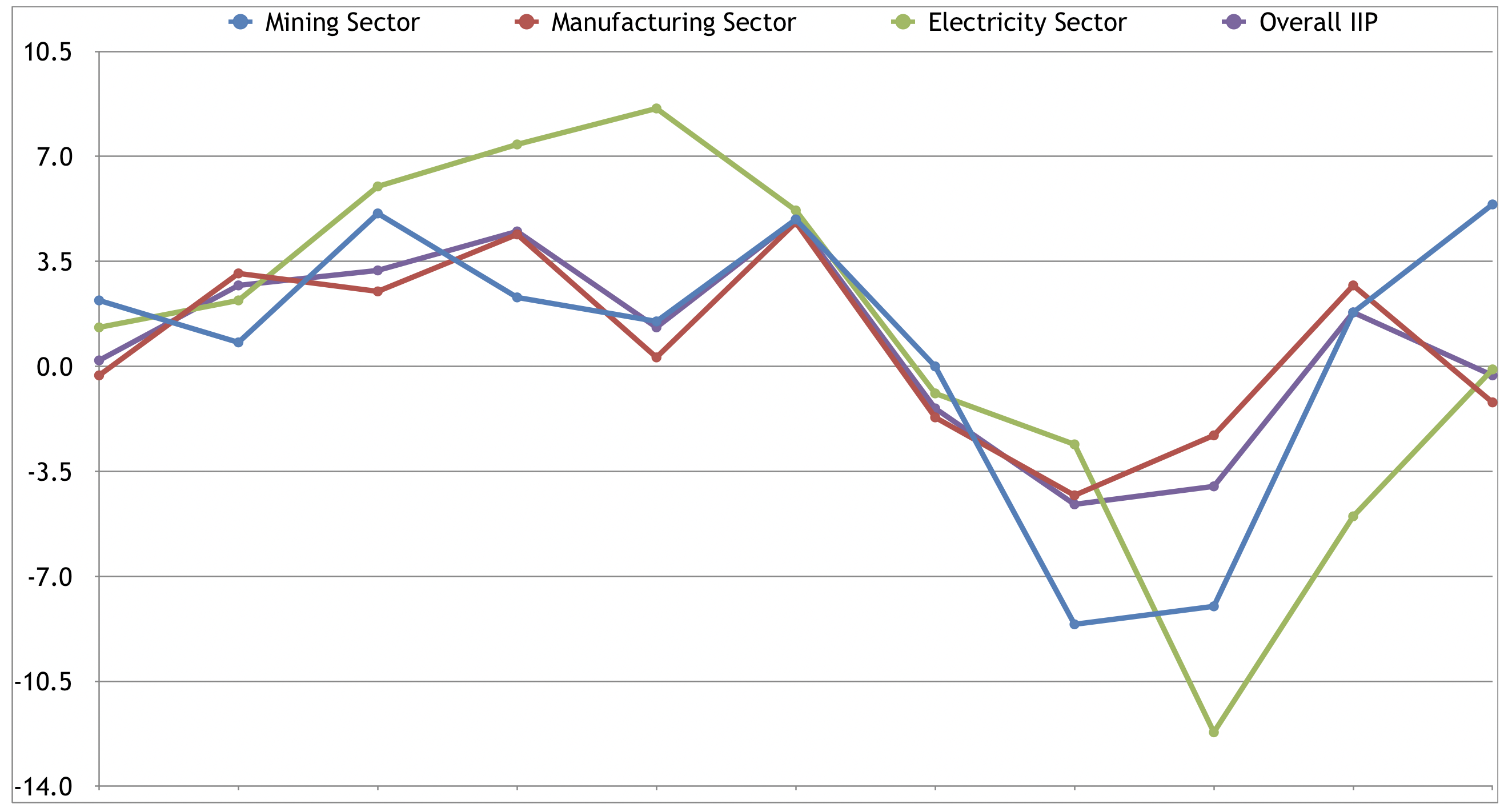 IIP Sector Wise Values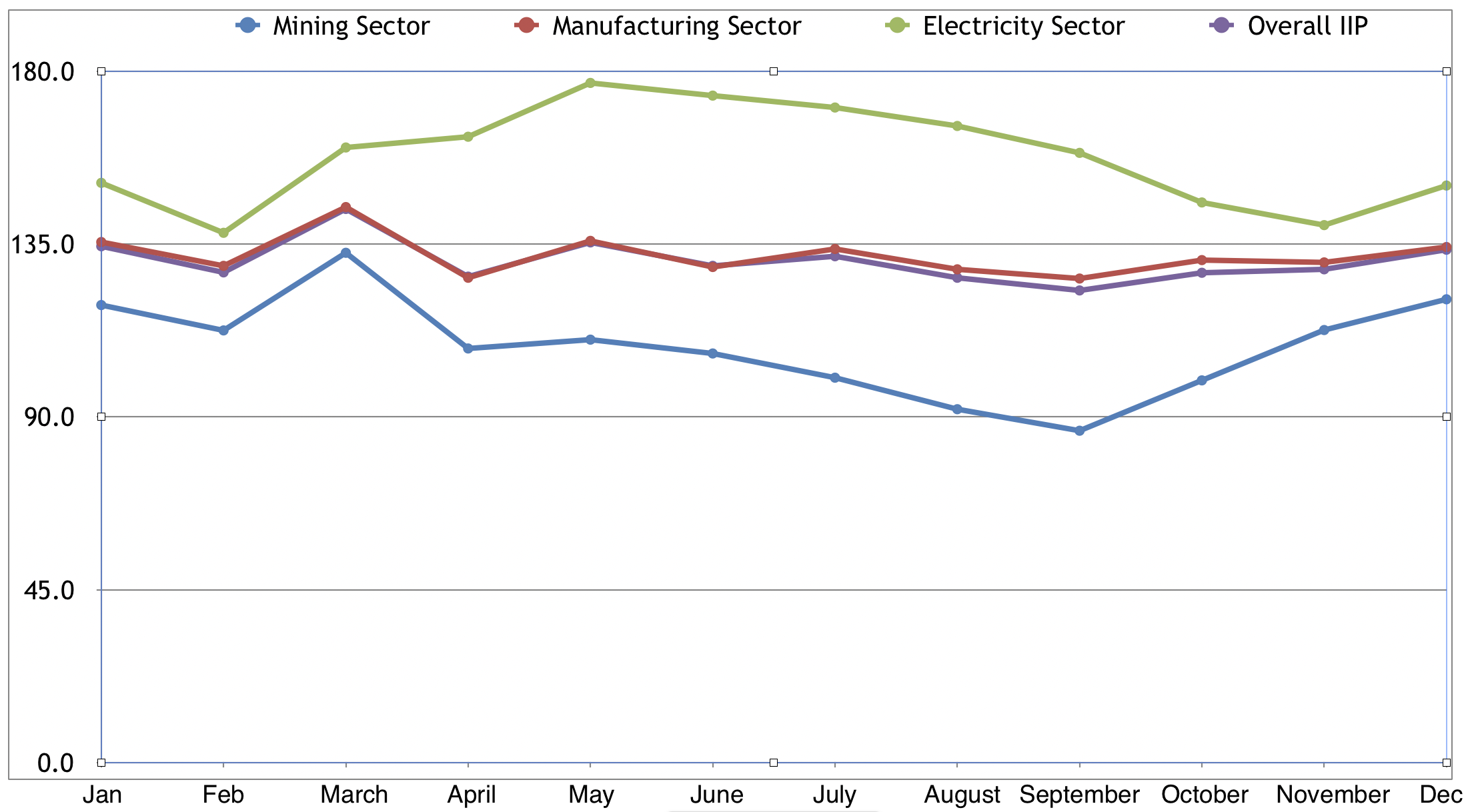 WHO guidelines on naming viruses or diseases
In 2015, WHO listed out the terms that should be avoided while naming a new diseases. This includes, geographic locations, people's names, species of animal or food, references to culture, population, industry or occupation, and terms that incite undue fear.
There have been diseases named prior to 2015, which violate these norms, as there names are based on the geographic location, cities, countries or regions where the disease was first identified.

Ebola virus disease derives its name from the location from Ebola River in Democratic Republic of Congo where the virus was first identified.
Zika virus gets its name from Uganda's Zika forest, where the virus was first identified in rhesus monkeys.
Japanese encephalitis (first case documented in 1871 in Japan), Middle East Respiratory Syndrome, Spanish Flu, Rift Valley fever, and Lyme disease are other examples where the disease name carries the location name.
Some diseases carry the name of animals which may be misleading at times. For e.g. the 2009 H1N1 pandemic was commonly referred to as swine flu. It is important to note that the 2009 pandemic virus was not completely derived from swine. The virus contains a combination of flu genes from bird, swine, and human flu types. Calling the 2009 pandemic virus as swine flu caused a major impact on the pork industry.
Vivekananda Yoga University (VYASA)
VYASA, is a Charitable Society was registered in 1986 in Tamilnadu as Vivekananda Yoga Anusandhana Samsthana.
It set up world's first yoga university outside India, in Los Angeles, in USA.
The first Yoga University in India (S-VYASA) was started in 2002 in Bengaluru.
The United Nations celebrates 21st June as International Day of Yoga.
Rishi Sunak
Infosys founder Narayan Murthy's son in law, who has been recently named as the new Finance Minister of UK. Beside him, Priti Patel is another person of Indian Origin who is presently the Home Secretary (Home Minister) of UK.
SUTRA PIC
SUTRA PIC stands for 'Scientific Utilisation Through Research Augmentation – Prime Products from Indigenous Cows'.
It is a program by the Department of Science and Technology of India to research on 'indigenous' cows. Science for Equity, Empowerment and Development (SEED), is the department incharge of the program.
It will have five themes –

Uniqueness of Indigenous Cows.
Prime-products from Indigenous Cows for Medicine and Health.
Prime-products from Indigenous Cows for Agricultural Applications.
Prime-products from Indigenous Cows for Food and Nutrition.
Prime-products from Indigenous Cows for Utility Items.

In 2017, SEED constituted a National Steering Committee (NSC) for 'Scientific Validation and Research on Panchgavya (SVAROP)'. Panchagavya is an Ayurvedic panacea and is a mixture of five (pancha) products of the cow (gavya) – milk, curd, ghee, dung and urine. Its proponents believe it can cure, or treat a wide range of ailments.
India had about 190 million cattle and 43 registered native cattle breeds in 2019.
Budget 2020
Health sector – Total outlay of INR 69000 crores (INR 65000 crore for Ministry of Health and Welfare, INR 2000 crore for Ministry of AYUSH, and INR 2000 for department of Health Research).
Space sector – Total outlay of INR 13500 crore, which is up by 8 percent compared to that of previous year.
Science and Technology sector – Total outlay of IN 16500 crore, which is up by 13 percent compared to that of previous year.
Deaths by cleaning sewers and septic tanks on increase
The number of people who died while cleaning sewers and septic tanks in the country increased by almost 62 percent from 68 in 2018 to 110 in 2019, according to a reply given by the Social Justice and Empowerment.
In India, manual scavenging is banned under the Prohibition of Employment as Manual Scavengers and their Rehabilitation Act, 2013.
Convention on the Conservation of Migratory Species of Wild Animals (CMS)
An environment treaty under the United Nations Environment Programme (UNEP). It came into force in 1983 in Bonn, in Germany and as such, is also known as Bonn Convention.
Currently, there are 130 member parties to the convention.
India has been a party to the convention since 1983. 
The 13th Conference of Parties (COP) of the Convention on the Conservation of Migratory Species of Wild Animals (CMS) held in Gandhinagar, in Gujarat.
India will be pushing to include the Asian Elephant and the Great Indian Bustard in Appendix-I of global conservation list, which demands highest level of conservation efforts on part of member nations.
State of India's Birds 2020 (SoIB) report was released. The data for these birds was collected through the citizen science app 'eBird', which is a global online platform for documenting and maintaining observations of birds, is housed in Cornell University. Birds counts help in studying how birds are distributed across the country and understand if there are changes in their movements or living patterns. This can be used to find out how changes in environment affect the birds.It made following observations – 

Our birds are in overall decline. Over 50 percent of the 867 species studied, exhibit a population decline in the long term while 146 are at great risk in the short term. The populations of raptors (eagles, hawks, kites, etc.), migratory seabirds and birds that live in specialised habitats were the most affected in the past decades. The number of birds in the Western Ghats, which is considered one of the world's foremost biodiversity hotspots, also declined by almost 75 percent since 2000. 
Indian Peafowl, the national bird, has shown a dramatic increase in both abundance and distribution across the country. Besides this, about 126 species of birds including House Sparrow, Asian Koel, rose-ringed Parakeet and the Common Tailorbird, are expected to increase in numbers.
Isotonic vs Aerobic exercises
Isotonic exercises are high intensity activities for a short duration, like weight lifting. These cause the heart to pump more forcefully, causing high blood pressure.
Aerobic exercises like walking, swimming and cycling start gradually and remain sustained for a longer time. These don't cause the heart to pump forcefully, but allows it to pump the blood with ease. Aerobic exercise reduces blood pressure and improves cardiac function.
Loktak Lake 
It is the largest freshwater lake in Northeast India.
It is located in Manipur.
It is famous for phumdis i.e. floating mass of heterogenous organic matter.
Located on this lake, Keibul Lamjao National Park is the only floating national park in the world.
Considering the ecological status and its biodiversity values, the lake has been designated as a wetland of international importance under the Ramsar Convention.
World Cancer Report 
Released by World Health Organisation.
In 2018, India had an estimated 1.15 million (~11.5 lakh) new cancer cases. The most common type of cancer was Breast Cancer followed by Oral Cancer. There has been a decline in cervical cancer in India.
The report mentioned that one in 10 Indians will develop cancer during their lifetime and one in 15 will die of the disease.
ElectionGuard
A software developed by Microsoft to make voting more secure, verifiable and efficient.
It would enable individual voters to confirm that their votes were correctly counted, and not altered.
Urban Heat Island
An urban heat island (abbreviated as UHI) is where the temperature in a densely populated city is as much as 2 degrees higher than suburban or rural areas. 
This happens because of the materials used for pavements, roads and roofs, such as concrete, asphalt (tar) and bricks, have higher heat capacity and thermal conductivity, especially owing to their dark colour due to which they reflect less heat, than rural areas, which have more open space, trees and grass. 
Trees and plants are characterised by their 'evapotranspiration', a combination of words wherein evaporation involves the movement of water to the surrounding air, and transpiration refers to the movement of water within a plant and the subsequent lot of water through the stomata (pores found on the leaf surface) in its leaves. Grass, plants and trees in the suburbs and rural areas do this. The lack of such evapotranspiration in the city leads to the city experiencing higher temperature than its surroundings.
One of the solutions to prevent the development of such Urban Heat Islands is to use greener rooftops, using light-coloured concrete (using limestone aggregates along with asphalt (or tar) making the road surface greyish or even pinkish (as some places in the US have done); these are 50 percent better than black, since they absorb less heat and reflect more sunlight. Likewise, we should paint rooftops green, and install solar panels there amidst a green background. The other is to plant as many trees and plants as possible. 
Malaria
With over 4,00,000 deaths in 2018, according to the WHO, malaria still remains one of the biggest killer infections globally, concentrated mainly in Africa and India.
The disease is caused by the parasite Plasmodium and transmitted by the Anopheles mosquito. 
Two large protein complexes called SMC2 and SMC4 play essential role in the proliferation of the parasite.
Juice Jacking
A USB port is not simply a power socket, you can also use it to transfer and sync your data. Juice Jacking refers to cyber attack where the attackers tamper with a USB charging port at a public charging station to steal passwords and export data. 
The main way to avoid juice jacking is to stay away from public charging stations or portable wall chargers. Another way is to use USB Condoms that allow power transfer but don't allow data transfers. If there is no other option left with you than to charge at a public charging station, switch off your phone, and then charge your phone using the public charging station.
FIDO (Fast Identity Online) Alliance
It is based out of California, in USA.
Formed in 2012, it seeks to address the lack of interoperability among strong authentication technologies, and find solutions to the problems users face with creating and remembering multiple usernames and passwords. In short, it seeks to reduce the world's over-reliance on usernames and passwords.
One of such password free solution is mobile number and OTP based authentication.
Mobile World Congress
It is an annual trade show organised since 1987 by GSMA (formerly the GSM Association), dedicated primarily to the mobile communications industry.
The event is held every year in Barcelona, Spain, usually in the month of February or March. The event is simultaneously being held in  Shanghai, China (MWC Shanghai) since 2015 and Los Angeles, United States (MWC Los Angeles) since 2018.
The name 'GSM World Congress' was first used in 1990 when the event was held in Rome, in Italy. 
The event was held in Cannes, in France for 10 consecutive years beginning 1996.
In 2006, the event moved to Barcelona, with the name Mobile World Congress first used for the 2008 event. The event will continue to be held in Barcelona atleast till 2023.
Global Internet Speed Rankings
According to speedtest.com, India ranks 128th among 140 countries globally with average internet speed of about 11.46 Mbps (Mega Byte Per Second).
South Korea has the highest interest speed in the world, at 103.18 Mbps.
UAE and Qatar rank 2nd and 3rd in global internet speed rankings.
The global average internet speed stood at 32 Mbps. Only one out of India's 28 telecom circles, could offer average internet speed greater than the global average.
Jio's 4G download speed of 20 Mbps was the fastest among the four major operators in India. 
Jio's average download speed of 34 Mbps in the Bihar circle was the fastest and Idea's 3 Mbps in the Northeast was the slowest.
Khelo India University Games 
First ever Khelo India University Games to start from Cuttack, in Odisha.
KIIT will be the host university for 2020 games.
Google Station
A program by Google in partnership with RailTel, the telecom wing of Indian Railways, that rolled out free Wi-Fi in more than 400 railway stations in India. 
The program was started in 2015.
Google has finally decided to discontinue its program across railway stations in India, as it believes that better data plans and improving mobile connectivity have made it simpler and cheaper for users to get online.
Besides India, the Google Station program has been rolled in thousands of other public places in several additional pockets of the world. In recent years, google expanded 'Google Station' to Indonesia, Vietnam, Thailand, Philippines, Mexico, Brazil, Nigeria and South Africa. 
Saint Tirumankai Alvar
Recently in news as India has made a formal request to UK for the return of a 15th century bronze idol, of the Tamil saint, believed to have been stolen from a temple in Tamil Nadu, and sold to UK during an auction.
Saint Tirunamkai Alvar is the last of the 12 Alvar saints of south India, who are known for their affiliation to Vaishnava tradition of Hinduism. He is considered one of the most learned Alvar and the most superior Alvar in the context of composition of verses. He holds the title Narkavi Perumal, the mark of an excellent poet. He preached against penance and advocated bhakti (devotion) as way to attain salvation. His greatest work is 'Periya Tirumoli'. A temple was dedicated to Thirumangai in Hampi's Vitthala temple complex.
There have been a number of instances of stolen Indian artefacts being restored from the U.K. to India, most recently in August last year when a limestone carved relief sculpture, originating from Andhra Pradesh, and a Navaneetha Krishna bronze sculpture originating from 17th century Tamil Nadu, were handed over to the Indian High Commissioner.
National Clean Air Programme
Launched in 2019 by the government of India.
The program commits to reduce air pollution in 102 most polluted cities by a maximum of 30 percent by 2024, as compared to that in 2018.
Air pollution in India decreased in 2019 by 20 percent when compared to that in 2018.
WHO considers the amount of PM2.5 in the air as the criteria for measuring air pollution. PM2.5 refers to atmospheric particulate matter (PM) that have a diameter of less than 2.5 micrometers. These are so small that they can only be detected with an electron microscope. Fine particles can come from various sources. They include power plants, motor vehicles, airplanes, residential wood burning, forest fires, agricultural burning, volcanic eruptions and dust storms. These particles are either emitted directly into the air, or formed when gases and particles interact with one another in the atmosphere. Since they are so small and light, fine particles tend to stay longer in the air than heavier particles. This increases the chances of humans and animals inhaling them into the bodies. Owing to their minute size, particles smaller than 2.5 micrometers are able to bypass the nose and throat and penetrate deep into the lungs and some may even enter the circulatory system. Studies have found a close link between exposure to fine particles and premature death from heart and lung disease. The 24-hour concentration of PM2.5 is considered unhealthy when it rises above 35.4 μg/m3.
The five technologies available for air purification are:

HEPA Filter
Activated Carbon Air Filter
Air Ioniser
Germicidal UV Lamp
Ozone Generator

A recent study conducted by IQAir, a company that primarily works on air filtration, made following observations with respect to 90 countries studied for air pollution in the year 2019:

Bangladesh (83 μg/m3), followed by Pakistan (65 μg/m3) , was the most polluted country.
India (58 μg/m3) was the 5th most polluted country.
Bahamas (3 μg/m3), was the least polluted country.
National Technical Textiles Mission
A technical textile is a textile product manufactured for non-aesthetic purposes, i.e. the textile is used for technical purpose, and not for grooming oneself. Technical textiles include,

mobil-tech (textiles for automotive applications),
meditech/healthtech (textiles for health sector e.g. implants)
geotech (textiles for reinforcement of embankments to protect landslides)
agrotech (textiles for crop protection)
oekotech (textiles for ecological protection e.g. air purification, erosion prevention, water purification)
protech (protective textiles e.g. heat and radiation protection for fire fighter clothing, molten metal protection for welders, and bulletproof vests, and spacesuits).

In India, the segment is estimated at USD 16 billion which is approximately 6 percent of the USD 250 billion global technical textiles market.
The penetration level of technical textiles is low in India, varying between 5-10 percent as against 30-70 percent in developed countries.
National Technical Textiles Mission aims to achieve an average annual growth rate of 15-20 percent in the textile sector by increasing the level of domestic market size to USD 40-50 billion by the year 2024,  through market development, market promotion, international technical collaborations, investment promotions and 'Make in India' initiatives. It also envisages export promotion of technical textiles. An Export Promotion Council for Technical Textiles will be set up for effective coordination and promotion activities in the segment.
As such, the Mission will have four components

research, innovation and development.
promotion and market development.
export promotion.
education, training and skill development.

It will have a four year implementation period from 2020 to 2024.
22nd Law Commission of India to be appointed
The Law Commission advises the government on complex legal issues. The Law Commission shall, on a reference made to it by the Central Government or suo motu, undertake research in law and review of existing laws in India for making reforms and enacting new legislation. It shall also undertake studies and research for bringing reforms in the justice delivery systems for elimination of delay in procedures, speedy disposal of cases, reduction in cost of litigation, etc.
It consists of a full-time chairperson, and four full-time members. A retired Supreme Court judge or Chief Justice of a High Court will head the Commission.
Originally formed in 1955, the commission is reconstituted every three years. The Law Ministry notifies the new panel, which shall have a three-year term.
The 21st Law Commission, under Justice B.S. Chauhan, had submitted reports and working papers on key issues such as simultaneous elections to the Lok Sabha and the Assemblies and a uniform civil code. While it supported simultaneous polls, the Commission had said the time for a common code was not yet ripe.
India's tallest railway pier bridge
Constructed by Northeast Frontier Railway Construction Organisation in Manipur.
Institute for Defence Studies and Analyses (IDSA) renamed after Manohar Parrikar
Established in 1965, located in New Delhi.
It is dedicated to objective research and policy relevant studies on all aspects of defence and security.
Sustainability Index and Flourishing Index Report
Report released jointly by WHO, UNICEF and Lancet Medical Journal.
The Sustainability Index ranks countries on excess carbon emissions compared with the 2030 target. 
Flourishing Index ranks countries on child flourishing. Flourishing is the geometric mean of Surviving and Thriving. Surviving is dependent on various factors such as maternal survival, survival in children younger than 5 years old, access to maternal and child health services, basic hygiene and sanitation, and lack of extreme poverty. Thriving is dependent on educational achievement, growth and nutrition, reproductive freedom, and protection from violence.
India ranked 77th on a Sustainability Index and 131st on Flourishing Index.
The report evaluated 180 countries.
Flourishing Index 2019 : 

Best performing countries : Norway, South Korea, Netherlands.
Worst performing countries: Central African Republic, Chad, Somalia, Niger and Mali.

Sustainability Index 2019 : In terms of per capita CO2 emissions, the top countries trail behind. Infact Norway, South Korea, Netherland emit 210 percent more per capita CO2 than their 2030 target. The United States of America (USA), Australia, and Saudi Arabia are among the ten worst emitters. All these countries ranked below 150 on Sustainability Index.
The only countries on track to beat CO2 emission per capita targets by 2030, while also performing fairly on child flourishing measures are: Albania, Armenia, Grenada, Jordan, Moldova, Sri Lanka, Tunisia, Uruguay and Vietnam.
The report noted that while some of the poorest countries emit the lowest CO2 emissions, they are exposed to the harshest impacts of a rapidly changing climate due to high C02 emissions by the richest countries.
Fresh Appointments
Chief Vigilance Commissioner (CVC) – Sanjay Kothari.
Chief Information Commissioner (CIC)- Bimal Julka.
The Prime Minister heads the committee for selection of CVC. The other two members of the Committee are Union Home Minister and the Leader of Opposition in the Lok Sabha.
The Prime Minister heads the committee for the selection of CIC. The other two members of the Committee are Union Cabinet Minister, and the Leader of Opposition in the Lok Sabha. Two women have been chief information commissioners: Deepak Sandhu (fourth) and Sushma Singh (fifth). 
Report on Human-Elephant Conflicts in India
Report released by Ministry of Environment.
There are about 27000 elephants in the country.
West Bengal, Odisha and Assam account for about half of both human and elephant deaths in the overall human-elephant conflict in the country. Interestingly, these three States are home to just about one third of the total population of all elephants in India. 
Among the reasons for unnatural deaths of elephants, electrocution is at the top of the list, accounting for 68 percent of elephant deaths in the country.
The data on human-elephant conflict assumes significance when India is moving to include Asian Elephants in the list of species that merit heightened conservation at the 13th Conference of Parties (COP) on the Conservation of Migratory Species of Wild Animals scheduled to be held at Gandhinagar in Gujarat.
Munich Security Conference
It is an annual conference on international security policy that has taken place in Munich, Bavaria since 1963. 
Each year it brings together about 350 senior figures from more than 70 countries around the world to engage in an intensive debate on current and future security challenges. India has been one of the members of this conference.
The conference is held annually in February. 
Zonal Councils
Zonal Councils are advisory councils and are made up of the states of India that have been grouped into five zones to foster cooperation among them. These were set up through Part-III of the states Reorganisation Act, 1956.

Northern Zonal Council – Chandigarh, Delhi, Haryana, Himachal Pradesh, Jammu and Kashmir, Ladakh, Punjab and Rajasthan.
Southern Zonal Council – Andhra Pradesh, Karnataka, Kerala, Puducherry, Tamil Nadu, and Telangana.
Western Zonal Council – Dadra and Nagar Haveli, Daman and Diu, Goa, Gujarat, and Maharashtra.
Eastern Zonal Council – Bihar, Jharkhand, Odisha, and West Bengal.
Central Zonal Council – Chhattisgarh, Madhya Pradesh, Uttarakhand and Uttar Pradesh.

The North Eastern states are not covered by any of the Zonal Councils and their special problems are addressed by another statutory body, the North Eastern Council, created by the North Eastern Council Act, 1971. This council originally comprised Assam, Arunachal Pradesh, Manipur, Meghalaya, Mizoram, Nagaland and Tripura. Later the state of Sikkim was also added.
Andaman and Nicobar Islands, Lakshadweep are not members of any of the Zonal Councils. However, they are presently special invitees to the Southern Zonal Council.
US-Taliban peace deal in Doha (Qatar)
Around 24 countries are expected to participate in the ceremony in Doha (Qatar) where the deal will be signed. India has also been invited and is going to attend the event. India has been a key stakeholder in the peace and reconciliation process in Afghanistan.
The deal would require the Afghan government to set free more than 6000 Taliban fighters, and include Taliban in future governance.
Donald Trump to be the 7th US President to visit India
President Eisenhower was the first US President to visit India in 1959.
US President, Richard Nixon visited India in 1969. It is considered to be the shortest ever visit by a US President to India, where the President stayed in the country for less than 23 hours.
President Jimmy Carter visited India in 1978. He addressed Parliament, in which he touched upon development through democracy and the growth of the Indian economy.
President Bill Clinton's visit in 2000 was the first by a US President in over 20 years, since the last visit by an US President in 1978.
President George W. Bush visited India during his second term in office in 2006. The highlight of the visit was the conclusion of a landmark civilian nuclear agreement with Prime Minister Manmohan Singh. 
President Barack Obama's first visit in 2010 was one of strategic importance and came within a year of the 26/11 terror attack in Mumbai. Mr. Obama landed in Mumbai and later addressed a gathering in which he spoke against the terror attack. In a historic address to Parliament, Mr. Obama touched upon vital issues in India-U.S. ties. In his second visit in 2015, Mr. Obama was the chief guest at the Republic Day parade in New Delhi. 
Oscar Awards, 2020
92nd Academy Awards.
Best Motion Picture – Parasite (South Korea). It has become the first non english film to win the award. It also won awards for Best Direction (Bong Joon Ho), Best International Feature Film, Best Original Screenplay.
'1917' won awards for Best Visual Effects, Best Cinematography and Best Sound Mixing.
Joaquin Phoenix won best actor for 'Joker', while Renée Zellweger won best actress for 'Judy'.
India's official entry 'Gully Boy' did not win any award.
US-India Strategic Partnership Forum (USISPF)
Based out of Washington DC (USA), it is a non-profit organisation, established in 2017, with the primary objective of strengthening the India-US bilateral and strategic partnership through policy advocacy in the fields of economic growth, entrepreneurship, employment-creation, and innovation.
The prestigious Global Excellence Awards for 2019 have been conferred upon MasterCard CEO and President Ajay Banga and Wipro Chairman Azim Premji for significant contribution made by them towards strengthening economic ties between US and India.
GST on Lotteries
A uniform GST of 28 percent will be levied on both state run lotteries as well as state authorised lotteries.
Currently, a state-run lottery attracts 12 percent GST, while a state-authorised lottery attracts 28 percent tax.
Urban and Rural Inflation in India
In last one year, rural inflation has increased six times from 1.25 percent to 7.75 percent, while urban inflation has increased from approximately 3 percent to 7.40 percent.
In the last five years, the highest inflation in urban areas has been seen in prices of Vegetables, followed by Education and Housing.
In the last five years, the highest inflation in rural areas has been seen in prices of Vegetables, followed by Healthcare and Energy.
US puts India in the list of Developed Countries
The office of the United States Trade Representative (USTR) maintains a list of countries that it classifies as 'developing', 'developed', and 'least-developed'. Countries that are classified as 'developing' are allowed to export certain goods to the US without being hit by punitive tariffs that are usually imposed on goods from 'developed' countries. It is worth noting that about two-thirds of countries that are members of the WTO classify themselves as 'developing' countries and avail benefits.
The US has removed more than a dozen countries, including India, from its list of countries that are classified as 'developing' for trade purposes. These countries will now be classified instead as 'developed' economies, thus stripping them of various trade benefits. This means goods coming from India to US will become expensive in US market, and thus may see fall in their demand. This might lead to decline in exports from India. Moreover, India may retaliate by increasing tariffs on goods flowing from US. The consequential chain reaction might lead to fall in overall consumer demand across US and India who would now get things at a price costlier than early, thus leading to another wave of economic recession. Thus, protectionist trade policies are detrimental to the global economy.
While the economic progress that India and China have achieved over the last few decades is seen by some as reason enough to get rid of their special status, others point to the various development indicators in which India and China still lag behind the rich world. 
Vivad Se Vishwas Bill, 2020
The Bill provides a mechanism for resolution of pending disputes related to direct taxes (income tax or corporation tax). Under the proposed Vivad Se Vishwas scheme, a taxpayer would be required to pay only the amount of the disputed taxes and will get complete waiver of interest and penalty provided he pays by March 31, 2020. Those who avail this scheme after March 31, 2020 will have to pay some additional amount. According to reports, over Rs 9 lakh crore worth of direct tax disputes are pending in the courts. The government hopes to recover a big chunk of this in a swift and simple way, while offering the taxpayers the relief of not having to fight the case endlessly. 
Once a dispute is resolved within the timeline, the designated authority cannot levy interest or penalty in relation to that dispute.
Central Banker of the Year for the Asia Pacific Region
RBI Governor Shaktikanta Das has been chosen as the Central Banker of the Year for the Asia Pacific Region by The Banker magazine.
National Green Tribunal (NGT)
The National Green Tribunal (NGT) owe its origin to the National Green Tribunal Act (2010), which is an Act of the Parliament of India enabling creation of a special tribunal to handle the expeditious disposal of the cases pertaining to environmental issues. As such, the National Green Tribunal was constituted in October 2010. Justice Lokeshwar Singh Panta was its first Chairman.
The NGT currently has five benches in New Delhi, Bhopal, Pune, Kolkata and Chennai. However, New Delhi is the principle bench of NGT.
The Chairperson of the NGT is a retired Judge of the Supreme Court, headquartered in New Delhi. Other Judicial members are retired Judges of High Courts. Each bench of the NGT will comprise at least one Judicial Member and one Expert Member. Expert members should have a professional qualification and a minimum of 15 years experience in the field of environment/forest conservation and related subjects.
The NGT shall not be bound by the procedure laid down under the Code of Civil Procedure, 1908, but shall be guided by principles of natural justice. It is mandated to dispose of cases within 6 months of filing of the same.
India is the third country following Australia and New Zealand to have such a system.
2020 CD3
Earth has a new mini-moon called 2020 CD3. It is just 2-3.5m in diameter.
It is likely an asteroid captured by Earth's gravity. This is just the second asteroid known to orbit Earth after 2006 RH120.
Its route suggests it entered Earth's orbit three years ago.  It is not in a stable orbit around the planet and is unlikely to be around for very long.
National Science Day 
National Science Day is celebrated every year on February 28. National Science Day is celebrated to commemorate discovery of the 'Raman Effect', which led to Indian scientist Sir Chandrasekhara Venkata Raman or CV Raman winning the Noble Prize in Physics in 1930. The event is being celebrated every year since 1987.
The theme for the National Science Day 2019 – 'Science for people and people for science'.
The theme for the National Science Day 2020 – 'Women in Science'. 
Despite presence of highly-motivated women scientists, India's R&D workforce has less than 15 percent women compared to the global average of 30 percent, according our National Task Force report
Incineration
Incineration is a way to treat waste through controlled burning. Waste is shredded and heated to over 1000 degree Celsius in a furnace. The passage of exhaust is through a pollution control unit which releases only water vapour into the atmosphere.
One tonne of incinerated waste will yield 20-30 kg of ash which can be converted into paved bricks. One tonne of waste yields about 60 kg of paved ash bricks.
Another byproduct is Fly Ash with Carbon which can be used in Agriculture. One tonne of waste yields 2 kg of Fly Ash witH Carbon.
Also, approximately one kg of activated carbon is produced in the incineration plant. This can be used in sewage treatment, metal extraction, gold purification and medicine.
But the process has its negatives too. Many of the waste items incinerated, especially plastic, contain toxins which when burnt produce carbon dioxide and nitrous oxide. Such pollutants can contribute to the development of asthma, cancer and endocrine disruption.
Janggu
A Korean musical instrument, a drum.
The two heads produce sounds of different pitch and timbre, which when played together are believed to represent the harmony of man and woman.
Indian Pangolin
Scientists have, for the first time, radio-tagged the Indian pangolin, an 'endangered' animal in IUCN list. Radio-tagging involves attaching a transmitter to an animal to monitor its movements.
Pangolin is a reclusive (one which avoids company of others), as well as a nocturnal (one which is active at night) animal. It is an insectivore, feeding on ants and termites. The adult male is about one-third larger than the female. 
These are among the most trafficked wildlife species in the world. The International Union for the Conservation of Nature (IUCN) says these toothless animals have seen a rapid reduction in population. Out of the eight species of pangolin, the Indian Pangolin and the Chinese Pangolin are found in India. Both these species are listed under Schedule I Part I of the Wildlife (Protection) Act, 1972. These are hunted for meat and use in traditional Chinese medicine. 
World Pangolin Day, celebrated on the third Saturday in February, is an international attempt to raise awareness of pangolins and bring together stakeholders to help protect these unique species from extinction.