CONTENT
US imposes sanctions on International Criminal Court (ICC)
Headquartered in Hague in Netherlands, the International Court of Justice has its origins in Rome Statute of 1998. The court was established in 2002 to prosecute individuals for war crimes, genocide and crimes against humanity committed by them. At present, ICC has 123 member nations. Republic of Kiribati is the latest country to join the membership. However, India is not a member state. Among India's neighbours China, Pakistan, Sri Lanka and Nepal are also not members of International Criminal Court. Afghanistan and Bangladesh are the members. Among big nations, US is signatory to Rome Statute but has not yet ratified it. As such, it has never been a member of ICC.
The Rome Statute established four core international crimes: genocide, crimes against humanity, war crimes, and the crime of aggression. The Rome Statute provides that all persons are presumed innocent until proven guilty beyond reasonable doubt.
The court has jurisdiction over crimes only if they are committed in the territory of a member nation or if they are committed by a member nation, or if they are referred by United Nations Security Council (UNSC). However, it has jurisdiction only if a member state is unable or unwilling to prosecute itself the perpetrators of such atrocities.
The International Criminal Court has four principal organs:

The Presidency: The President is the most senior judge chosen by his or her peers in the Judicial Division.
The Judicial Divisions: Hears cases before the Court.
The Office of the Prosecutor: The Office of the Prosecutor is headed by the Prosecutor who investigates crimes and initiates proceedings before the Judicial Division. 
The Registry: The Registry is headed by the Registrar and is charged with managing all the administrative functions of the ICC, including the headquarters, detention unit, and public defence office.

However, it became functional from 2002, when Rome Statute came into force. 

First President – Philippe Kirsch (Canada).
Current President – Chile Eboe-Osuji (Nigeria).

US imposed sanctions against ICC staff for investigating whether US armed forces committed war crimes in Afghanistan, and whether Israel committed war crimes in Palestine. The sanctions blocks financial assets in US of ICC employees and also blocks their entry into US.
Nepal unilaterally amends its map to include Indian territories
Amidst border tensions with India, Nepal ties with its northern neighbour China continues to flourish. Once considered a buffer state between India and China, Nepal of late has shown an inclination to side with Beijing. In 2020, the Nepal-China Transit protocol entered into force, ending Nepal's reliance on India for international trade. This development is widely attributed to India's imposition of an economic blockade in 2015, which increased Nepal's economic problems significantly. As a vigorous effort to counter Chinese investments in Nepal, India has increased financial aid to Nepal by more than three times in last three years. It has also been working on couple of development projects in Nepal.
India-Nepal relations have been put in trouble by Nepal's unilateral move to bring a constitutional amendment that alters Nepal's map to include

Lipulekh, Kalapani and Limpiyadhura

territories that were controlled by India until now. Nepal has also accused Indian Ministry of External Affairs to have ignored Nepal's requests for mutual dialogue over the issue. Nepal seeks to build its legacy by overturning what it calls unequal agreements made by its previous monarchy. Nepal could also cause a security nightmare for India if it opens up other parts of their long boundary, and reverses old commitments on open and unsecured border posts. While introducing a new map is merely symbolic, Kathmandu has gone further with the deployment of Nepalese Army on its border with India.
Nepal has also claimed that 85 percent of its COVID-19 cases have come from India.

INCREASED CHINESE INFLUENCE IN THE REGION

– One of the reasons for changing attitude of Nepal towards India, is the increased Chinese influence in the region. Often dubbed as '

China Threat 3.0

', the Chinese sharp power in Nepal comes with massive propaganda and national interests with implications for India's influence in the region. 

In an unprecedented development, Kathmandu has accepted China's proposal to make Mandarin (a Chinese language) mandatory in Nepal's schools. In exchange, China would pay salaries for their school teachers. The new collaboration between the two countries will not only foster teaching Chinese language and culture, but it will also be utilized to promote China's policies and interests in manoeuvring views of the people.
Furthermore, Nepal's Communist Party recently scheduled a virtual meeting with the Communist Party of China (CPC) to discuss and share their experiences on running the party and the government. Both the nations have asserted that they treat each other as equals, which is a direct challenge to India's diplomatic relations with Nepal, whereby India has often seen itself as Nepal's big brother. If reports are to be believed, Nepal is also working on a quadrilateral arrangement with China, Afghanistan and Pakistan. 

Nepalese Prime Minister, Sharma Oli, has been severely criticised by the members of his own National Communist Party for his anti-India statements, which have been said to gone against established Nepalese diplomacy with India.
Nepal has been a part of China's Belt & Road Initiative (BRI) for the past six years. The BRI project, considered to be the centrepiece of Xi Jinping foreign policy has entrapped and pushed more than 10 countries in China's debt- trap diplomacy. India should help Nepal with its infrastructural needs to keep its Himalayan neighbour away from Beijing's exploitative agenda. Moreover, India needs to improve its communications and understanding with Nepal. India's silence on issues have often been seen as the greatest cause of tensions and uncertainties between the two. Rather than objecting to the increased political hold of China, India must focus on advancing its relationship with Nepal. Reducing the expectations by desisting from labelling it a special relationship, India must work harder in building a pragmatic and realistic partnership with Nepal. This partnership must focus on common interests and mutual gains of the two in order to maintain a robust relationship. India needs to reset its relations with Nepal and re-invent its public diplomacy, rather than micromanaging Nepal, which has only undermined India-Nepal ties.
COVID-19: Why is it necessary to test more ?
Although, the infections as a proportion of its population are much lower compared to countries with the most cases, India ranks among the top 5 countries in the number of confirmed COVID-19 cases. 
In terms of total number of tests, India ranks third world-wide. However, owing to its huge population, the number of tests per 1,000 people has been one of the lowest among countries with most number of cases. As such, the rate of doubling cases has been one of the highest in India.  
Early testing, isolation and treatment is the surest way of reducing the impact of the pandemic. Despite having one of the most stringent lockdowns, cases in India have continued to rise steadily and fast. Clearly, the lockdown did not have as major an impact as high testing rates had, for other countries that managed to flatten the infection curves.
Within India, states like Kerala had initially tested at a high rate relative to its population, and managed to control the spread of COVID-19 by maximising contact tracing and local surveillance. Other states/UTs such as Maharashtra, Delhi, and Tamil Nadu have meanwhile experienced higher case loads despite increasing testing over time, after having missed the bus early. Only a significant increase in testing and isolation of positive cases will help, especially till the time we get sure shot vaccine for the same.
Crypto-Jacking
A cryptocurrency is a digital currency stored on computerised databases. It is created through a process called mining. To mine digital coins, miners need to use high-end processors that consume a lot of electricity.
Crypto-jacking is what some digital coin miners do to illegally gain access to many computers. The miners stealthily drop malware in an unsuspecting user's computer. Once installed, the crypto mining code runs surreptitiously and turns devices into cryptocurrency-mining bots for the hacker.
Unlike most other types of malware, crypto-jacking scripts do not use the victim's data. But they drain the CPU's resources, which slows down the system, increases electricity usage, and causes irreparable damage to the hardware.
Global Alliance for Vaccines and Immunisation (GAVI)
It is a public–private global health partnership with the goal of increasing access to immunisation in poor countries. It is also known as

International Vaccine Alliance

.
It was founded in the year 2000 by Bill & Melinda Gates Foundation. It now includes WHO, UNICEF, World Bank, vaccine industry and governments across the globe.
It is based out of Geneva in Switzerland.
It has observer status at the World Health Assembly.
It seeks to encourage manufacturers to lower vaccine prices for the poorest countries in return for long-term, high-volume and predictable demand from those countries. GAVI now vaccinates almost half of the world's children, giving it tremendous power to negotiate vaccines at prices that are affordable for the poorest countries and to remove the commercial risks that previously kept manufacturers from serving them. Because of these market shaping efforts, the cost of fully-immunising a child with all 11 WHO-recommended childhood vaccines now costs USD 28 in GAVI supported countries, compared to about USD 1100 in the US.
GAVI's approach to public health has been described as business-oriented and technology-focused.
India has always understood the importance of immunisation since it has a huge population and limited health facilities, and as such has six vaccines under its National Immunisation Programme.
COVAX
COVAX, formally known as

COVID-19 Vaccines Global Access Facility

, is a USD 18 billion global collaboration for speeding up the development, manufacture and equitable distribution of new vaccines, especially to developing countries. It is designed to discourage national governments from hoarding COVID-19 vaccines and to focus on first vaccinating the most high-risk people in every country. 
Only the countries that sign on to COVAX will get access to a broad portfolio of new vaccine candidates developed by COVAX members to combat the SARS-CoV-2 virus that causes COVID-19. However, many countries which have already made deals with pharmaceutical companies to secure vaccines for their populations have not joined COVAX. These include USA, France and Germany.  China although initially reluctant has now joined the initiative.
India is among the 92 countries that are eligible to access COVID-19 vaccines through GAVI's COVAX Advance Market Commitment (AMC), a donor-supported mechanism that will help cover part of the cost of vaccines to ensure that all countries, and not just the wealthy countries, can access them. However, India is yet to join the alliance as a member country.

The initial aim of COVAX is to have 2 billion doses available by the end of 2021, which

should be enough to protect high risk and vulnerable people, as well as frontline healthcare workers.

It is a joint initiative of GAVI, WHO, CEPI (Centre for Epidemics Preparedness Innovations), and many others. The initiative is backed by over 180 member countries.
Global Health Workforce Alliance
It is an alliance created in 2006 as a common platform for action to address the crisis of human resource shortage in health sector. The relative shortages of doctors, nurses and midwives are still most acute in sub‐ Saharan Africa.   
Global Health Workforce Alliance is an initiative of the Geneva based World Health Organisation (WHO).
The alliance convened the First and the Second Global Forums on Human Resources for Health, in 2008 in Uganda, and 2011 in Thailand respectively. 
Right to reservation not a Fundamental Right
The Supreme Court in a recent ruling has mentioned that right to reservation is not a Fundamental Right. The latest judgment is a reminder that affirmative action programmes, such as reservations, allowed in the Constitution, are 'enabling provisions' but not rights as such. The state is not bound to provide reservations, but if it does so, it must be in favour of sections that are backward and inadequately represented in the services based on quantifiable data. The government is not obliged to collect quantifiable data showing a community is inadequately represented in public services, if it has already decided not to grant reservations in promotions. However, if the state government does want to exercise this discretion and provide reservations, it would have to first collect quantifiable data showing inadequacy of representation of that class in public services.
Various provisions in Article 15 and 16 of the Constitution empower the State to make special provisions in education and jobs respectively for the socially and educationally backward section of the society and for the economically weaker section. Although these provisions are mentioned in Part III (fundamental rights) of the Constitution, their nature is like directives to the state i.e. they are not binding on the state.
Small Island Developing States (SIDS)
The SIDS are islands of the Caribbean Sea and the Atlantic, Indian and Pacific Oceans. 
These have been suffering from double blows of the COVID-19 pandemic and climate change which has impacted the tourism sector in these islands, thereby hitting their economy hard.
India is assisting the SIDS partners to combat COVID-19 under the INDIA – UN DEVELOPMENT PARTNERSHIP FUND, which was established in 2017 to provide for assistance to developing countries, including Least Developed Countries, Landlocked Developing Countries and SIDS for projects that contribute to the attainment of the Sustainable Development Goals.
India's relationship with Pacific Island nations has deepened with the evolution of Act East Policy, resulting in the setting up of the action-oriented FORUM FOR INDIA PACIFIC ISLAND COOPERATION (FIPIC), which is a multinational grouping developed in 2014 for cooperation between India and 14 Pacific Islands nations. The first and second editions of the FIPIC took place in Fiji (2015) and Jaipur (2016). The third summit is supposed to be held in Papua New Guinea in the first half of 2020. During the FIPIC Summits Prime Minister articulated India's desire to be a close partner of the Pacific Island nations and its readiness to work closely to advance their developmental agenda. 
During the 2019 UN Climate Action Summit, India launched COALITION FOR DISASTER RESILIENT INFRASTRUCTUR

E (CDRI)

, which aims to promote disaster resilient infrastructure. It is headquartered in New Delhi. As of 2020, the CDRI comprises 15 member countries, including USA, UK and Australia, among other island nations. The CDRI is the second major coalition launched by India outside of the UN, the first being the International Solar Alliance. Both of them are seen as India's attempts to obtain a global leadership role in climate change matters.
In addition, India has extended USD 300 million of credit to SIDS nations for undertaking solar, renewable energy and climate related projects based on each country's priorities.
Need for Universal Basic Income (UBI) in India
Universal Basic Income requires the government to pay every citizen a fixed amount of money on a regular basis and without any conditionalities. Crucial to the appeal for such a demand in India is the fact that despite rapid economic growth in the last three decades, millions of people remain unemployed and are extremely poor. They were and still are the poorest Indians. Various welfare schemes have also failed to bring them out of penury.


According to National Sample Survey Office (NSSO) data, institutional credit accounts for less than 15 percent of the total borrowing by landless agricultural workers, and less than 30 percent of the total borrowing by marginal and small farmers. These groups have to borrow from moneylenders at exorbitant interest rates. As a result, they do not benefit much from the interest rate subsidy for the agriculture sector. 
The benefits of subsidised fertilizers and power are enjoyed largely by big farmers. 
The rapid pace of automation of low-skill jobs and formalisation of the retail sector has been threatening livelihood of contract workers and those employed in informal sectors.

The direct income support to the poor will deliver the benefits mentioned only if it comes on top of public services such as primary health and education. This means that direct transfers should not be at the expense of public services for primary health and education. This implies that government would need to expand its revenue base, probably by increasing taxes on wealth and luxury items. Moreover, there is no need to transfer money to middle and high income groups as well as large landowners. It needs to be restricted to the poorest of poor households. The Socio-Economic and Caste Census (SECC) 2011 can be used to identify the neediest. As an approximation, the number of eligible households is 10 crore. As such, the scheme would require atleast INR 1.5 lakh crore per annum.
However, Universal Basic Income has many benefits, some of which are listed below.

Several studies have shown that at high levels of impoverishment, even a small income supplement can improve nutrient intake, and increase enrolment and school attendance for students coming from poor households. In other words, income transfers to the poor will lead to improved health and educational outcomes, which in turn would lead to a more productive workforce.
The financial support under universal basic income is not too large to discourage beneficiaries from seeking work. Instead it can serve as working capital for small and marginal vendors such as fruit and vegetable vendors, small artisans and craftsmen etc. Also, this could help such impoverished people in unorganised sector to invest in professional training courses to enhance their skills in line with increased automation in industries.
Since the poor spend most of their income, a boost in their income will increase demand and promote economic activities in rural areas. As such, it will help government earn more revenue from indirect taxes.
Such a universal basic income would help in income redistribution and hence reduce income inequalities in the society. 
Centre urged to review open ended procurement policy
Open ended procurement policy implies that the government is obliged to purchase notified foodgrains from the farmers, at minimum support price, irrespective of the market demand. The aim of such a policy is to ensure that farmers get remunerative prices and do not resort to distress sale. It is also meant to maintain supplies to the poor under the National Food Security Act and other welfare schemes and for building up buffer stocks to ensure food security.
The Commission for Agricultural Costs and Price (CACP) has asked the Union government to review its open-ended procurement of wheat and rice, as the policy has led to –

excessive stock of foodgrains, thereby putting enormous pressure on the storage capacity of Food Corporation of India, and pushing up the economic cost of storing the foodgrains.
lack of crop diversification, thereby leading to loss of soil fertility and increased use of fertilizers.
substantial groundwater depletion in major wheat and rice producing states.
International Civil Aviation Organization (ICAO)
It is a specialised agency of the United Nations Economic and Social Council (UNESCO), which sets standards related to air navigation, airport infrastructure, flight inspection, and facilitation of border-crossing procedures for international civil aviation. It also defines the protocols for air accident investigation that are to be followed by transport safety authorities in countries signatory to the Chicago Convention on International Civil Aviation (1947).
It was established in 1944, and is based out of Montreal, in Canada. Its regional office for Asia and Pacific is in Bangkok, in Thailand.
All the members of United Nations (except Liechtenstein) are members of ICAO.
The Council of ICAO is elected by the Assembly every 3 years and consists of 36 members elected in 3 groups (Chief Importance, Large Contributions, and Geographic Representation). The present Council was elected in October 2019. India is a member of the council under Group II (Large Contributions).
The Air Navigation Commission (ANC) is the technical body within ICAO. 
India signs MoU of understand with Bhutan on environment and natural resources
It facilitates exchange of experiences, best practices and technical knowhow in preserving environment and natural resources, through participation of both public and private sector with the aim to promote sustainable development. It also provides the possibility for joint projects in areas of mutual interest.
World Environment Day
It is celebrated every year on 5th June, since 1974. It has been a flagship campaign of United Nations for raising awareness on environmental issues.
The theme for 2020 is 'Time for Nature'. The host for this year is Colombia (in South America) in partnership with Germany. 
India hosted the event in 2018 with theme – 'Beat Plastic Pollution'.
Carbon footprint
It refers to the total greenhouse gas (GHG) emissions caused by an individual, event, organization, service, or product, expressed as carbon dioxide equivalent. Greenhouse gases (GHGs) are gases that increase the temperature of the Earth due to their absorption of infrared radiation. Any process, or event that, directly or indirectly, produces any of the greenhouse gases  contributes to increase in carbon footprint.
All greenhouse gases emitted (such as Carbon Dioxide, Methane, Nitrous Oxide, many fluorinated gases etc) are considered towards calculating carbon footprint. 
In India, agriculture sector is the third largest contributor to greenhouse gas emissions, after energy and industry. While burning of fossil fuels is the major source of Carbon Dioxide, agricultural activities including animal rearing are the major sources of Methane.
National Centre for Polar and Ocean Research
It is an Indian research and development institution responsible for administering the Indian Antarctic Programme. It was previously referred to as the Antarctic Study Centre.
It was established in 1998 and is situated in Vasco da Gama, Goa.  
It functions under the Ministry of Earth Sciences, founded in 2006.
World Oceans Day is celebrated every year on 8th June. World Oceans Day was officially recognised by the United Nations in 2008. The theme for 'World Ocean Day 2020' was 'Innovation for a sustainable ocean'.
Siberian fuel spill
Russia has ordered a state of emergency after 20,000 tonnes of diesel oil spilled into the Ambarnaya river, turning its surface crimson red. A fuel reservoir collapsed at a power plant near the city of Norilsk, located above the Arctic Circle, and leaked into a nearby river. The Ambarnaya river, into which the oil has been discharged, is part of a network that flows into the environmentally sensitive Arctic Ocean. The accident is the second largest in modern Russian history in terms of volume.
The principal reason that led to the 20,000 tonne oil leak has been recognised as the sinking of ground surface due to permafrost thaw, which refers to warming up of the permafrost layer beneath the ground surface. Permafrost is a layer of soil that remains completely frozen at zero degree celsius or below for at least two years. It consists of permanently frozen ground, consisting of soil, sand, and rock held together by ice. While permafrost itself is always frozen, the surface layer that covers it (called the active layer) need not be. Hence, we might see thick vegetation cover over normal appearing surfaces, which cover the permafrost layer beneath them. As temperatures rise, the binding ice in permafrost melts, making the ground unstable and leading to massive potholes, landslides, and floods. The oil plant was built entirely on permafrost, whose weakening over the years due to climate change caused the pillars supporting a fuel tank at the plant to sink.
Beneath its surface, permafrost contains large quantities of organic leftover from thousands of years prior – dead remains of plants, animals, and microorganisms that got frozen before they could rot. When permafrost thaws, microbes start decomposing this carbon matter, releasing greenhouse gases like methane and carbon dioxide. Researchers have estimated that for every 1 degree celsius rise in average temperature, permafrost grounds could release massive greenhouse gases, thereby starting the vicious circle of permafrost melting.
Diesel fuel is lighter than oil, so the spilled fuel is likely to evaporate rather than sink. Also, oil cleaning reagents might be used to clean up the river and the adjoining land.
Dehing Patkai Wildlife Sanctuary
It is a wildlife sanctuary located in Assam since 2004. 
It is known for its elephant habitats in the region.
It was in news recently since

National Board for Wildlife (NBWL)

had to withdraw its nod for coal mining in the region, after Guwahati High Court put a stay on the same owing to public interest litigations.
The NBWL is constituted by the Central Government under Section 5 A of the

Wildlife Protection Act (WPA), 1972.

The Prime Minister is its ex-officio Chairman and the Minister of Environment in the Union government is its Vice-Chairman. It serves as an apex body to review all wildlife-related matters and approve projects in and around national parks and sanctuaries. It advises the Central Government on framing policies and measures for conservation of wildlife in the country. However, its recommendations are only advisory in nature, and not binding upon the government.
There are six schedules provided in the WPA for protection of wildlife species which can be concisely summarised as under:

Schedule I – These species are critically endangered and need rigorous protection. Therefore, the harshest penalties for violation of the law are for species under this Schedule.
Schedule II – Animals under this list are accorded high protection. They cannot be hunted except under threat to human life.
Schedule III & IV – This list is for species that are not endangered. This includes protected species but the penalty for any violation is less compared to the first two schedules.
Schedule V – This schedule contains animals which can be hunted.
Schedule VI – This list contains plants that are forbidden from cultivation.
Indian Bison (Indian Gaur)
It is a milk rearing wild cattle species native to South and Southeast Asia, with the highest population found in India. In India, the domesticated form of the gaur is called Gayal or Mithun. It is typically found in evergreen and deciduous forests. In India, it is primarily found in central and southern India. It is also found in hilly areas with elevation upto 1800m above sea level.
It is listed as Vulnerable on the IUCN Red List since 1986. 
It is listed in Appendix-I of CITES (Convention on International Trade in Endangered Species of Wild Fauna and Flora, also known as the Washington Convention), which provides highest level of protection to the species.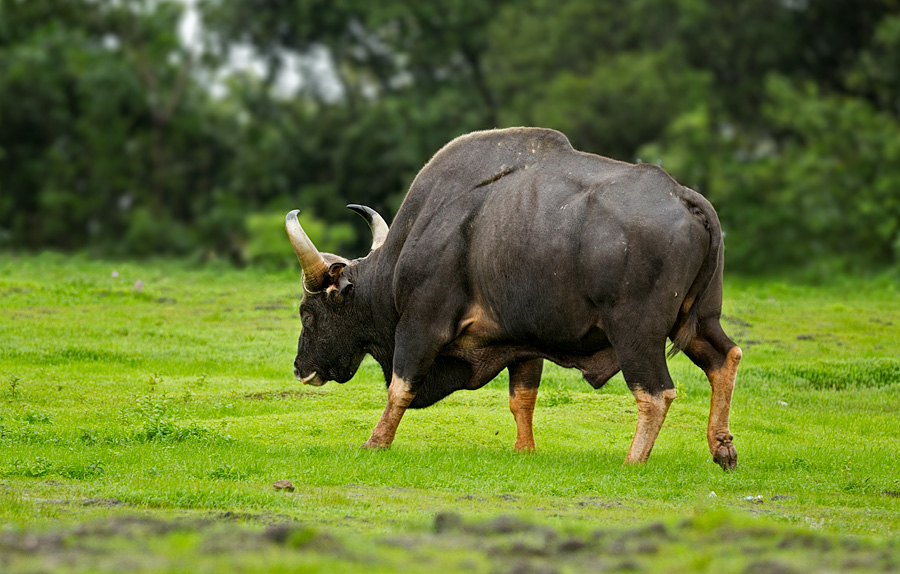 New classification of Indian railway stations based on waste water generation and recycling
The Central Pollution Control Board will classify railway stations under the red, orange and green categories based on the quantity of waste water generated, and disposal of untreated water into the municipal drain systems.
The new classification will be done as under –

RED – Railway stations generating waste water equal to or more than 100 kilo litres per day.
ORANGE – Railway stations generating waste water between 10 kilo litres and 100 kilo litres per day.
GREEN – Railway stations generating waste water less than 10 kilo litres per day.

The railway board has been directed to install water recycling plants across railway stations in India to reduce their waste water generation.
Dexamethasone
It is a steroid drug which has been found to reduce mortality in severely ill COVID-19 patients who are on respiratory support. It is an anti-inflammatory drug, commonly used to treat conditions in which the body's immune system does not function properly, and causes inflammation and tissue damage. It reduces the production of the chemicals that cause inflammation and also reduces the activity of the immune system by affecting the way white blood cells function. However, the drug has not been found beneficial to patients who are not on respiratory support. The drug is already used in treatment of asthmatic patients.
UK has become the first country to authorise the use of Dexamethasone for COVID-19 treatment, after its

RANDOMISED EVALUATION OF COVID-19 THERAPY (RECOVERY) TRIALS

has backed the efficacy of the steroid drug. The trial has also concluded that Hydroxychloroquine has not been effective in treating COVID-19 patients.
The scientists in Italy have identified three phases of COVID-19 infections and are now advocating distinct medication for each phase.

Phase I – During the early infection phase, the virus multiplies inside the body and is likely to cause mild symptoms that may be confused with a common cold or flu. During this phase, plasma containing antibodies from recovered COVID-19 patients have been found to reduce the amount of infectious viral particles in the body.
Phase II – The second phase is the pulmonary phase, when the immune system becomes strongly affected by infection, and leads to primarily respiratory symptoms such as persistent cough, shortness of breath, and low oxygen levels. During this phase, antiviral drugs such as Remdesivir might be helpful.
Phase III – The third phase is the hyper inflammatory phase, occurs when a hyper activated immune system may cause injury to the heart, kidneys, and other organs. During this phase, a cytokine storm may lead to aggravated inflammation in lungs, causing severe lack of oxygen in the body. During this phase, steroid drugs such as Dexamethasone would be helpful.
Maguri-Matapung wetland
A wetland that is an Important Bird Area (IBA), and a part of the Dibru-Saikhowa Biosphere Reserve in Assam, in the heart of the globally important Eastern Himalayas biodiversity hotspot, known for the extremely high diversity of endemic species found in this region.
The wetland is home to Hoolock Gibbon (India's only ape), and Gangetic River Dolphin (India's national aquatic animal), both of which are listed as endangered in the IUCN Red List). The other species found here include the clouded leopard, the critically endangered Chinese pangolin and pig-tailed macaques, and critically endangered birds such as the Bengal florican, white-rumped vulture, slender-billed vulture, Baer's Pochard and White-bellied Heron.
It was in news recently, as it is quite close to the oil field belonging to Oil India Limited in Baghjan village, in Assam, that recently caught fire, and caused irreversible damage to the region's fragile ecology and wildlife, and impacted the livelihoods of communities that relied on the wetlands and forests.
G11 grouping
It refers to the new grouping which is going to replace G7 by including four new countries – India, Russia, South Korea and Australia. Russia was already member of the G7 grouping till 2014 when it lost membership owing to its annexation of Crimea. China has been kept out of the proposed grouping.
Arsenicum album 30
It is a homeopathic drug, recommended by Ministry of AYUSH for prophylactic (preventive) use against COVID-19. Arsenic album is considered to correct inflammation in body. However, there is no scientific evidence that the drug works against COVID-19. 
The health hazards of arsenic contamination in water are well known. Long-term exposure to the metal can cause skin cancer, pulmonary and cardiovascular diseases. However, the homeopathic drug has less than 1 percent arsenic.
According to WHO, it is ethical to use medications which neither have proven benefits nor any harmful effects on the patients, till the time clinically validated vaccination is available for a disease.
Challenger Deep
It is the deepest known spot, in Mariana Trench, in Pacific ocean.
It is approximately 36,200 feet (~11 kms) deep. Most professional sea divers don't go beyond 500 feet depth.
The British Ship HMS Challenger discovered Challenger Deep between 1872-1876.
In 2012, film director James Cameron reached the bottom of the Mariana trench in his submersible called the 'Deep Sea Challenger' and became the first to complete a solo submarine dive to this spot.
Finding out more about the deep ocean areas can potentially reveal new sources for medical drugs, food, energy resources and other products. Significantly, information from the deep oceans can also help to predict earthquakes and tsunamis, and help us understand how we are affecting and getting affected by the Earth's environment.
In the year 1970, Soviet scientists began one of the greatest and most ambitious drilling and mining experiments in human history. In the Kola Peninsula in Russia, a drilling project started which would go on to reach farther down into the Earth's crust than any other in history, setting a Guinness World record that still stands today. It is the deepest drill in earth running more than 12 kms deep. However, it was abandoned later as scientists claimed to have heard the voice of spirits in hell !
Atmanirbhar Bharat Abhiyan (Self-reliant India Mission)
It is the vision of the Prime Minister of India Narendra Modi of making India a self-reliant nation. When India speaks of self-reliance, it does not advocate for a self-centred system. In India's self-reliance there is a concern for the whole world's happiness, cooperation and peace. Self-reliant India Mission is being seen by many people as a re-packaged version of the Make in India movement using new tag-lines such as 'Vocal for Local'.
This self-reliant policy does not aim to be protectionist in nature and as such does not mean cutting off ourselves from rest of the world. India's self-reliance seeks to reduce India's dependence on other countries and is to be based on the following five pillars –

economy.
infrastructure.
technology.
vibrant demography.
demand.

The five focus areas of the self-reliance mission are –

Businesses including MSMEs.
Poor, including migrants and farmers.
Agriculture.
New Horizons of Growth.
Government Reforms and Enablers.

The government has announced measures worth INR 21 lakh crore, which is about 10 percent of India's GDP, to help India move towards self reliance. The push for self-reliance has been understood by many as a call to boycott foreign products.

However, at least in the short term, any move towards self-reliance will come at the cost of consumers, who will have to either pay more for Indian alternative or settle down for a less efficient Indian alternative instead of enjoying the best product at the cheapest prices possible. The domestic producers, instead of focusing on their operation efficiency, would be happy to flame the fires of nationalism to get rid of foreign competition. A good example of this would be Indian automobile sector, which has still not been able to compete with its foreign counterparts, owing to protectionist measures the governments so far have taken in India to protect their interests. 
Moreover, a country cannot achieve operational efficiency in each and everything it does. There are certain things a country can do much better than others while there are certain things it might not due to host of environmental factors such as geography, demography, polity, etc. If it focusses on doing more of what it does better by taking away resources from doing what it does less efficiently, it improves its wellbeing.
Till about 1990, India and China had roughly the same annual Gross Domestic Product (GDP). In fact, India's per capita GDP was higher because its population was much smaller than China's. However, in the last 30 years, China has grown at a much faster rate than India, due to its intent and ability to use international trade to boost domestic growth, to raise incomes and to reduce poverty. 

Hence, the current mission is neither a return to Nehruvian model of import substitution (i.e. substituting imports with domestic produce), nor a call to discourage foreign investments. Rather, it must be understood as a call to make India lead in global innovation and competition by focusing on free market principles and capacity building.
India's first gas exchange
The IGX (Indian Gas Exchange) is a digital trading platform that will allow buyers and sellers to trade in imported natural gas. It would remove the requirement for buyers and sellers to find each other to ensure a fair price deal.
It will be based out of Gandhinagar, in Gujarat.
The domestic gas in the country is being supplied from the oil & gas fields located at western and southeastern areas viz. Hazira basin, Mumbai offshore & KG basin, North East Region (Assam & Tripura), and parts of Kerala/Karnataka.
Domestically produced natural gas currently accounts for about half the country's natural gas consumption, while imported natural gas accounts for the other half. India's domestic production of gas has been falling over the past two fiscals as current sources of natural gas have become less productive. Therefore, natural gas imports are set to increase as India moves to increase the proportion of natural gas in its energy basket.
India becomes non-permanent member of United Nations Security Council
The UNSC is composed of 15 members, consisting of five permanent members – USA, UK, France, Russia and China, and 10 non-permanent members who are elected by the General Assembly. The non-permanent members are elected for two-year terms, with the General Assembly electing 5 non-permanent members out of the total 10 every year.
These 10 non permanent seats are distributed among the regions of the world as below –

Africa – 3 seats.
Asia and Asia-Pacific countries – 2 seats.
South America and Caribbean countries – 2 seats.
Western Europe and other countries – 2 seats.
Eastern Europe – 1 seat.

India has been unanimously elected as non permanent member of the United Nations Security Council from beginning of 2021 till the end of 2022. Before this, India was a member from 2011-2012, and has so far has held the membership seven times since independence, the first one being from 1950-1951.
To become a non permanent member of the UNSC, a country needs to secure a minimum of two-third votes of the members present and voting at the General Assembly session, i.e. a minimum of 129 votes, if all 193 member states participate. This year, India was the only candidate for the vacancy from the Asia Pacific, and hence got elected as a clean slate candidate. In case there are more than one candidate for a region, the election is held multiple times until the above criteria of getting two third votes is achieved.
The presidency of the United Nations Security Council is responsible for leading the United Nations Security Council. It rotates among the 15 member-states of the council monthly. The presidency has rotated every month since its establishment in 1946, and the president serves to coordinate actions of the council, decide policy disputes, and sometimes functions as a diplomat or intermediary between conflicting groups.
2002 NN4
It is an asteroid, discovered recently, with a potential diameter of 250-570m, which has been classified as a PHA (Potentially Hazardous Asteroid), meaning that the asteroid has a potential to make threatening close approaches to the Earth. Following are the criteria for an asteroid to be considered as PHA –

Minimum orbit intersection distance (MOID) of about 0.05 AU (AU is the distance between the Earth and the Sun and is roughly 150 million km), which is about 75,00,000 km or less.
An absolute magnitude of 22 or brighter.

It is not necessary that asteroids classified as PHAs will impact the Earth. It only means there is a possibility for such a threat.
Kholongchhu hydro power project
Kholongchhu is the first hydropower joint venture project between India and Bhutan, in Bhutan's less developed eastern region. It is the first project where an Indian company has invested as a partner in a 50:50 joint venture in Bhutan. This means that India would earn its share of profit from its investment made in the project. Once the project is commissioned, the partner companies will run it for 30 years, called the concession period, after which the full ownership will transfer to the Bhutan government, which will nevertheless receive royalty from the project during this period.
Under India-Bhutan partnership, four hydropower projects (Chukha, Kurichhu, Tala and Mangdechhu) have already been built in the last 30 years totalling a capacity of 2100 MW, while another two are under construction. The Kholongchhu project is one of the four additional projects agreed to in 2008, as a part of India's commitment to help Bhutan create a total 10,000 MW of installed capacity by 2020.
United Nations Population Fund
Also known as United Nations Fund for Population Activities (UNFPA), it is the leading United Nations agency for sexual and reproductive health. It aims at delivering a world where every pregnancy is wanted, every childbirth is safe and every young person's potential is fulfilled. Its work involves the improvement of reproductive health, and birth control by providing supplies and services. The organization has recently been known for its worldwide campaign against child marriage, and female foeticide.
It was established in 1969, and is headquartered in New York city in USA. It is a member of the United Nations Development Group and part of its executive committee.
Although India is a member to UNFPA, it has so far never held its executive chair. Among India's neighbours, only Pakistan held the position from 1987-2000, under Dr. Nafis Sadiq.
Every year, UNFPA releases 'State of the World Population Report'.
State of the World Population Report, 2020
It reports that the rate of harmful practices against girl child is slowing, but the rise in population means an overall larger number of women are affected. The number of missing women has more than doubled over the past 50 years. Missing women are those women who are missing from the population at a given time due to the cumulative effect of postnatal and prenatal sex selection in the past. However, the advent of technology and increased access to ultrasound imaging ensured that parents didn't have to wait for the birth of their girl child to kill her but could terminate a foetus upon knowing its gender. This has resulted in the number of girls missing due to female foeticide exceeding those that have been missing because of postnatal sex selection.
Excess female mortality is the difference between observed and expected mortality of the girl child. Among all countries, India has the highest excess female mortality of girls below 5 years of age. India's excess female mortality is higher than that of Afghanistan, Bangladesh and Pakistan, where it is less than 3 percent.
World Bank approves fresh funds for Ganga cleaning mission
The World Bank has approved a five-year loan to the Namami Gange project worth INR 3000 crore (USD 400 million) to develop and improve infrastructure projects to abate pollution in the river basin. The Namami Ganga or the National Mission for Clean Ganga (NMCG) has already received INR 4500 crore (USD 600 million) from the World Bank until December 2021 as part of the first phase of the National Ganga River Basin project. This makes World Bank's total investment in NMCG to INR 7500 crore (USD 1 billion). The project has two key components: 


Component 1 (USD 200 million) – It supports institutional development that includes the operationalisation of institutions at the central and state level.
Component 2 (USD 800 million)- It provides financing window for infrastructure investments in four sectors –

wastewater collection and treatment
control of industrial pollution
solid waste management
riverfront development.

Namami Gange Programme is a flagship programme launched by the Union Government in June 2014 with budget outlay of INR 20,000 crore to accomplish the twin objectives of effective abatement of pollution, conservation and rejuvenation of National River Ganga. Its implementation has been divided into Entry-Level Activities (for immediate visible impact), Medium-Term Activities (to be implemented within 5 years of time frame) and Long-Term Activities (to be implemented within 10 years). Under NMCG, the government has so far approved 313 projects worth INR 25000 crore.
Strengthening Panchayati Raj Institutions
The Panchayati Raj Ministry has pitched to Finance Commission for a fivefold increase in funding for rural local bodies. It asked for INR 10 lakh crore from 15th Finance Commission, in comparison to the INR 2 lakh crore allocated under the 14th Finance Commission. Nand Kishore Singh is the Chairman of the 15th Finance Commission.
Road construction and maintenance, as well as drinking water supply have been the major projects carried out by panchayats using Finance Commission grants.
Panchayats have also gained importance as crucial nodal points in times of crisis. During the COVID-19 pandemic, they ran more than 38,000 quarantine/isolation centres, apart from medical camps and contact tracing.
However, the Ministry has admitted that a major challenge during the pandemic and lockdown was that most panchayats could not provide cooked food at short notice. Therefore, the Ministry has proposed that community kitchens be set up in each panchayat and be operated by local self-help groups.
Also, the panchayats need to play a key role in generating employment for the newly returned migrant workers under the newly launched Garib Kalyan Rozgar Abhiyan.
China India Border Dispute at Galwan Valley in Ladakh
On June 15, the worst violence on the India-China border since 1967 claimed the lives of 20 Indian soldiers. The clash occurred in the Galwan Valley in Kashmir, which hasn't been a site of conflict since 1962. China has claimed that the entire valley is located on the Chinese side of the Line of Actual Control (LAC). India has described the claims as exaggerated and unacceptable. 
Galwan valley gets its name for the Galwan river flowing through the valley. The Galwan river originates in Aksai Chin region on the China side of LAC, and flows towards Ladakh, where it meets the Shyok river on India's side of the LAC. The valley is strategically located between Aksai Chin in the east and Ladakh in the west. The LAC lies east of the confluence of the Galwan and Shyok rivers in the valley. China has been objecting to India's road construction activities at the western end of the valley, in the area between the Galwan-Shyok confluence and the LAC. In particular the construction of DSDBO road that runs parallel to the LAC has caused a great concern to China. Also, the unilateral inclusion of Chinese territory into its so-called newly formed Union Territory of Ladakh has triggered the confrontation with China on the border.
India's 1956 map showed the entire Galwan Valley as a part of India. However, in 1960 China put out a map claiming sovereignty over the valley. A Chinese map from 1962 also claims the entire valley, but subsequent maps have not shown the western tip of the river as a part of China. According to the 1993 Border Peace and Tranquility Agreement (BPTA), India and China agreed to strictly respect and observe the LAC between the two sides. This referred to the LAC at the time, rendering irrelevant the line of actual control in 1956 or 1962.
The military tensions at the India-China border are the latest blow for the

CHANGPA NOMADS

, who rear the Pashmina goats in the high altitude regions of Ladakh.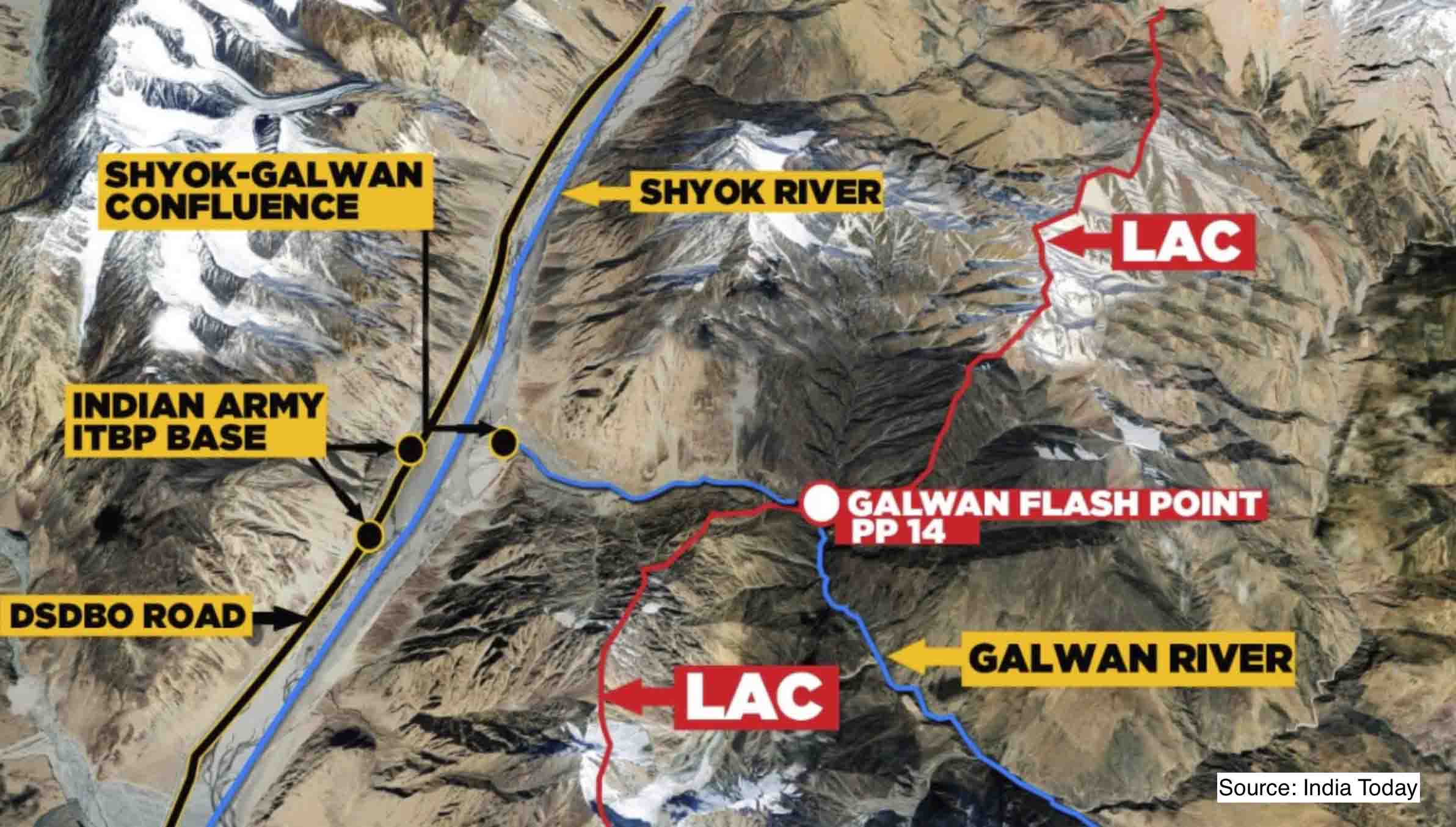 Challenges of high altitude warfare
Low levels of oxygen – The first major challenge is to acclimatise the troops to the hilly terrain since the oxygen supply reduces drastically with increasing elevation. 
Slow transportation – Due to low oxygen levels, the load carrying capacity of individuals reduces drastically. Generally, troops carry a 30-35 kg load including weapons, ammunition, communication equipment, rations etc. It is difficult to negotiate such terrains carrying such loads. Transport animals such as mules need to be used to maintain adequate supplies. As such, things move very slow in the mountains and mobilisation of troops consumes time. Thus, time and place need to be kept on top priority when deciding where the troops have to be stationed and how they have to be mobilised.
Challenging geographic terrains – Once troops are sitting on high ground, it becomes very difficult to dislodge them from there. The soldier on high ground can easily target those on lower grounds. In a place like Galwan Valley, which is absolutely barren, there is not much concealment. Generally, mountain warfare is fought using the period of darkness to reach the opposing army, engage and overpower them before the first light of day. In case troops do not have the capabilities, fitness or strategies to do so before dawn, then it is a losing proposition. 
Maintenance of electronic as well as mechanical equipments – One major challenge is that weapons jam, particularly in high-altitude areas. When a soldier is at a height of 17,000 ft or above, it is very cold, and he needs to grease the weapons and clean the barrels at least once a week to ensure they function efficiently. Vehicles do not start when fuel jams. If the fuel is diesel, it won't ignite unless it is mixed with thinners or other chemicals to make them thin enough to fire the engine. For communication equipment, troops need to carry more batteries because they drain very quickly at high altitude. While a battery tends to last for 24 hours in the plains, it will drain in 1-2 hours in these severely cold areas.
Mountain warfare skills – To begin with, the troops are imparted training in basic and advance training in mountaineering to make them equipped for mountain warfare. Thereafter, the troops need to be trained in skilled mountaineering techniques, rock-craft as well as mountain craft. Generally, India is considered a hub of mountain warfare skills since most of the country's north and northeast requires such skills. Ladakh Scouts are considered the best in this kind of warfare. Mountain chop, a tactic involved in such warfare, evolved in India where the mountainous terrain is very difficult to scale.
Why Ladakh region is a bone of contention between India and China ?
Ladakh was an independent Himalayan state, much the same way as Bhutan and Sikkim. Historically and culturally, however, the state was intrinsically linked to neighbouring Tibet. 
As a result of the DOGRA TIBET WAR (1834) between rulers of Kashmir (under Sikh suzerainty) and Tibet, Tibet was bought under Kashmir. However, in 1841, Tibet on behalf of China invaded Ladakh with the hope of adding it to the imperial Chinese dominions, leading to the SINO-SIKH WAR (1842). However, the Sino-Tibetan army was defeated, and the TREATY OF CHUSHUL (1842) was signed that agreed on no further transgressions or interference in the other country's frontiers.
After the FIRST ANGLO SIKH WAR (1845-46), the state of Jammu and Kashmir, including Ladakh, was taken out of the Sikh empire and brought under British suzerainty.
The British legacy of the map of the territory though continues to remain the ground upon which India lays its claim on the area. The Indians claim the whole of Aksai Chin region as its territory since it argues that the border was assured by treaty of Chushul. However, the Chinese argue that Aksai Chin was never part of the British Territory, and always has been part of China.
The annexation of Tibet by the People's Republic of China in 1950 sparked newfound interest in Ladakh, and particularly so after the 1959 Tibetan uprising that erupted in Lhasa when Dalai Lama fled into exile and was granted political asylum in India. In 1956-57, China built a road across Ladakh to maintain their control over Tibet. The building of the road through Ladakh upset Nehru's government. Nehru had hoped that Tibet would have a degree of autonomy even though it came under Chinese occupation. A relatively independent Tibet would serve as a buffer between the Chinese and India. However, the diplomatic negotiations failed, and led to the war of 1962 between India and China, and led to the current LAC.
Till 2013, India had not focused much on developing defence infrastructure in the region. The recent border scuffle has been due to increased infrastructural developments by India in the area surrounding the LAC, and revoking the special status of the state of Jammu and Kashmir. China sees these as fresh attempts by India to lay its claim over the entire Ladakh region, including the Aksai Chin. However, India has made it clear that it would exhaust diplomatic options before any action, and that right now it wants to focus on national priorities of infrastructure and economic development. 
https://www.youtube.com/watch?v=t1wV15Mv1Wg&t
Why India China Trade War is not a practical solution to Border Disputes ?
Border disputes between India and China are not a new thing. However, unlike the 1960s, when the two economies were practically irrelevant in the global order, today, things are completely different. China and India not only account for 2.7 billion people (roughly 40 percent of the 7.5 billion people on the planet), but are also two of the biggest economies in the world. It is another matter that at a per capita GDP level, both countries are relatively poor when compared to some of the most developed economies. For e.g. compared to the per capita income of USD 54000 in USA, China has a low per capita income of about USD 7700, while India has even lower numbers at about USD 2100. In other words, China's per capita GDP is roughly 4 times that of India, while USA's per capita GDP is about 25 times that of India. This shows how far an average Indian is from an average Chinese or American. That is why it is imperative (necessary) for India to grow rapidly for several decades at a stretch if it wants the average level of lifestyle to reach anywhere close to the developed world.
In this context, the extension of latest border dispute between India and China to the economic sphere is particularly ill-timed. Hurt by China's aggression, several Indians, including many in the government, have argued in favour of boycotting the use of Chinese products. However, trade war with China is likely to hurt India far more, due to following reasons –

India imports a lot of intermediate goods from China, and stopping that trade will affect our ability to produce finished goods.  Banning Chinese imports may be counter productive, impacting the overall efficiency of the Indian manufacturing sector and undermining its export competitiveness.
Trade deficit with China is not a bad thing, as it is often projected to be. Trade deficits/surpluses are just accounting exercises and having a trade deficit against a country doesn't make the domestic economy weaker or worse off. US has a net trade deficit with its trading partners but it is still one of the strongest economies in the world. Indian consumers who purchase Chinese goods do so only when they see a value proposition in such purchases i.e. when they feel that they are getting more value out of such product that what they would get by buying let say Indian, Japanese or American goods. It is the consumers who would suffer the most by putting a blanket ban of Chinese imports. More often than not, the poorest consumers, who are price-sensitive, are the worst hit in such kind of trade ban. Therefore, the focus should not be on eliminating cheaper imports but on raising our own capabilities and competitiveness in domestic as well as international market. 
While China accounts for 5 percent of India's exports and 14 percent of India's imports in USD value terms, India's imports from China (that is, China's exports to India) are just 3 percent of China's total exports. More importantly, China's imports from India are less than 1 percent of its total imports. The point is that if India and China stop trading then on the face of it, China would lose only 3 percent of its exports and less than 1 percent of its imports, while India will lose 5 percent of its exports and 14 percent of its imports. In addition, China might be earning a lot through indirect trade with India. For e.g. iPhones are considered American brand but manufactured in China. Similarly, steel imported from say UK might be made of Iron imported from China. So literally, it's impossible to stop using products that originate in China. Even if we impose a strict trade ban, we might still end up consuming the same through products imported from other countries that consume Chinese raw material. Therefore, banning trade with China will hurt India and Indians far more than it will hurt China. Imagine diverting all our imports from China to Japan and Germany. We will only increase our total trade deficit.
Finally, such a trade war with China at this time would be most poorly timed since the Indian economy is already at its weakest point ever facing a sharp GDP contraction.

The first thing to understand is that India's poor share in global trade, especially on goods, is a reflection of our acute lack of competitiveness. An analysis by HSBC in 2016 reveals that domestic bottlenecks account for more than 50 percent for the slowdown in Indian exports. The remaining 33 percent of the slowdown in exports was attributed to global factors, and 17 percent to overvalued rupee. There's little any individual country can do about global growth or demand. That's a factor which remains the same for all the nations. What matters are the domestic bottlenecks and rupee exchange rate. On exchange rate, some argue that a cheaper rupee would make our exports more competitive while others argue that a stronger rupee will help us import intermediary goods at a cheaper price thus helping our export competitiveness. There is never bound to be single answer on rupee exchange rate. That leaves us to focus more on domestic bottlenecks.
There are a lot of sector specific things India can do to reduce these bottlenecks. The Economic Survey for 2019-20, signals out China as the model for India to emulate for boosting exports and creating millions of jobs. India needs to come up with policy framework to promote low cost manufacturing in India. Some of the steps it needs to take are –

Strengthen the MSME sector to reduce dependence on imported intermediate items.
One of the major challenges here is to achieve operational efficiency while sticking to labour intensive practices. India needs to focus on capacity building institutions such as ITIs to help its huge workforce upgrade to new efficient work practices, and help them find new, and better avenues of livelihood.

The surge of protectionism and anti-globalisation sentiment since the start of the Global Financial Crisis of 2008 is well known but it is also well established that trade leaves people better off. All inefficient domestic industries would want to be protected by higher tariffs in the name of economic nationalism. But, as explained above, this protection will come at the cost of domestic consumers. As such, the decision to boycott non-essential products made in China can be left to the individual, while trade-related measures like raising duties on cheaper raw materials imported from China would be better than an outright embargo. India must also try to aggressively acquire a higher share of global trade by raising its competitiveness. Nevertheless, it is an odd moment in global affairs, where there is recognition of a common challenge emanating from China, but so far there seems to be no concentrated effort to handle it. Every country wants to reduce its dependence not just on China but any other country, and hence work towards developing their own capabilities. In such a scenario, it is definitely going to be a challenging time for India, especially when India itself has been working in the same direction of self reliance.
Sino-Russia Relationship and its significance for India
Russia and China were at loggerheads (tussle), after Mao Zedong founded the People's Republic of China, as both the nations competed for control of the worldwide Communist movement. There was a serious possibility of a major war in the early 1960s and a brief border war took place in 1969. This enmity began to reduce following Mao's death in 1976, but relations were not very good until the fall of the Soviet Union in 1991. In 1992, the two countries declared that they were pursuing a constructive partnership which progressed into strategic partnership in 1996. The two countries share a long land border which was demarcated in 1991, and they signed a Treaty of Good Neighbourliness and Friendly Cooperation in 2001.
In the post-Cold War era, economic relations have formed the new strategic basis for Sino-Russian relations. Western analysts see this as a friendship of convenience between two countries. China happens to be Russia's biggest trading partner and largest Asian investor in Russia. China sees Russia as a powerhouse of raw material and a growing market for its consumer goods. Russia on the other hand has become increasingly dependent on Chinese consumption goods. The two countries have been pushed even more closer in last few years due to,

west's approach towards Russia after the annexation of Crimea through harsh sanctions in 2014
west's anti-China rhetoric over the past few years.

However, China does not recognise Crimea as part of Russia, and Moscow, formally speaking, takes a neutral stance on Beijing's claims in the South China Sea. So, the relationship between the two countries has been strategically nurtured more from economic view point.
India has a historical relationship with Russia, spanning over seven decades. While the relationship has grown in some areas and atrophied (wasted away) in some others, the strongest pillar of the strategic partnership is of the defence cooperation. Although India has consciously diversified its new purchases from other countries, the bulk of its defence equipment still happen to be from Russia. Estimates say 60 to 70 percent of India's supplies are sourced from Russia. India has reached out to Russia since it believes that Russia has leverage and influence to shape and change China's hard stance on the border issue. While India is going to discuss the purchase of new defence systems ( S-400 missile defence system) with Russia, it is expecting Russia to put some pressure on China.  Russia's closer ties to Pakistan and China have made India to look towards US which has been increasing its presence in the Indo-pacific region through ties with India.  With a broad defence market that India offers to Russia's defence manufacturers, it needs to be seen how Russia balances its economic interests with India, given that a failure to do so may push its old partner to look towards western options. Good relations between India and China are central to the rise of Eurasia and the emergence of a multipolar world order.
China passes national security law for Hong Kong
China has approved a contentious law that would allow authorities to crack down on subversive and secessionist activity in Hong Kong, sparking fears that it would be used to curb opposition voices in the semi-autonomous territory. It follows months of anti-government protests that at times descended into violence in Hong Kong last year.
ASEAN rejects China's unilateral claim over South China Sea
ASEAN nations have said that a 1982 UN oceans treaty (UNCLOS – United Nations Convention for the Law of the Sea) should be the basis of sovereign rights and entitlements in the South China Sea, in one of their strongest remarks opposing China's claim to virtually the entire disputed waters on historical grounds. While it has criticised aggressive behaviour in the disputed waters, ASEAN has never castigated China by name so far. Nevertheless, Vietnam has been one of the most vocal critics of China's actions in the disputed waters.
China is not a member of ASEAN, but is part of ASEAN+3, as well as ASEAN+6 grouping.
International Yoga Day
Yoga is an ancient physical, mental and spiritual practice that originated in India.
United Nations has been celebrating International Yoga Day every year on June 21st , since 2014.
The theme for year 2020 is 'Yoga for Health – Yoga at Home', which takes into account the social distancing measures announced by most countries. The year 2020 marks the 6th International Yoga Day.
Yoga cultivates the ways of maintaining a balanced attitude in day-to-day life, which is very important in today's otherwise stressful life. It marks the union of individual consciousness with that of universal consciousness, a perfect harmony between mind and body, and between man and nature, and also promotes holistic approach to health & well-being.
Mental Health and Section 309 of Indian Penal Code
Section 309 of Indian Penal Code (IPC) provides that anyone who attempts to commit suicide or does any act towards the commission of such offence, shall be punished with simple imprisonment for a term which may extend to one year (or with fine, or with both).
However, the MENTAL HEALTHCARE ACT (MHCA), 2017, has significantly reduced the scope for the use of Section 309 IPC and made the attempt to commit suicide punishable only as an exception. The Act provides that,

Notwithstanding anything contained in section 309 of the Indian Penal Code, any person who attempts to commit suicide shall be presumed, unless proved otherwise, to have severe stress and shall not be tried and punished under section 309.
The appropriate Government shall have a duty to provide care, treatment and rehabilitation to a person, having severe stress and who attempted to commit suicide, to reduce the risk of recurrence of attempt to commit suicide.

Activists argue that charging someone who attempted suicide, under section 309, may further aggravate the trauma and harassment of an already distressed individual. However, law enforcing agencies argue point to occasions when people show up at government offices and threatened to kill themselves if their demands are not met. It is in these cases, where a person threatens to commit suicide to unfairly pressure or blackmail the system to agree to his demands, that this section needs to be there to act as a deterrent. If 309 is repealed, there will be no provision to take action against those who intend to create trouble of this sort.
Mental health problems were already a major contributor to the burden of illness in India, but have been so far going unnoticed. The tragic death of actor Sushant Singh Rajput and the gloom of the COVID-19 pandemic have led to much-needed conversations on mental health in the country. Though there have been significant interventions by telemedicine providers, these initiatives rely on specialists who are scarce in number. Country's digital divide further compounds the problem. Community health workers, with appropriate training and supervision, can effectively deliver psychosocial interventions for conditions ranging from autism and depression to drinking problems. Nevertheless, people undergoing depression should stop seeing it as a stigma and reach out to people for help. Others on their part need to make them more accessible to such people in need. 
Why India is trying to boost its oil refining capacity ?
India is set to double its refining capacity for crude oil to 450-500 million tonnes per annum by 2030.
India's current refining capacity of 250 million tonnes per annum exceeds domestic consumption of petroleum products which was 213 million tonnes in the previous fiscal. However, India's consumption of petroleum products is likely to rise to 350 million tonnes per annum by 2030 and to 450 million tonnes by 2040 according to government estimates. 
The new refinery project in Ratnagiri, in Maharashtra, is one of the key projects in the planned expansion and has received investment from Saudi Arabia and the UAE's national oil companies – Saudi Aramco and ADNOC respectively, which together own 50 percent of the project while the remaining 50 percent is owned by Indian PSUs. 
Other key projects include a new refinery in Barmer, in Rajasthan, with a refining capacity of 9 million tonnes per annum. 
Many of the India's domestic projects in oil refining have been severely delayed in the past because of issues in acquiring the required land as well as in obtaining environmental clearances.
Bilateral air bubbles
Air Bubbles refer to air travel agreement between the countries, which have otherwise blocked flights from other countries to prevent the spread of global pandemic i.e. COVID-19. Air bubbles or travel corridors are systems established between two countries that perceive each other to be safe and allow carriers of both the countries to fly passengers either way without any restrictions.
Air bubbles have been conceptualised by countries that have managed to fully or partially contain the outbreak. Countries which confirm they have no more COVID-19 cases may establish such air bubbles among themselves to allow free passage of goods and passengers. It also implies that travel restrictions such as quarantining or testing of passengers has to be discarded among the countries in the bubble.
India has proposed establishing air bubbles with several countries including the United States, Germany, and France. But a lot depends on the destination country's perception of India in terms of being a COVID-19 threat.
USA has warned India that if US airline carriers are not allowed to operate flights to repatriate Indians under Vande Bharat Mission, it will deny India third as well as fourth freedom of air over USA. As such, India has proposed establishing bilateral air bubble with USA, but that would mean normal flight operations between USA and India, and not just the flights for repatriation. This could be a cause of concern for USA, which would not want people from India travelling to USA, especially when COVID-19 case load in India has been on the rise. USA wants to share the benefits arising out of India's repatriation mission but it doesn't want to sign air bubble with India which would mean normalising air travel between two countries without any restriction.
Australia and New Zealand could be first big countries to strike a travel air bubble, with smaller countries like Fiji and Cook Islands joining them.
Five freedoms of the air
First Freedom of the Air – The right granted by one country to another to fly across its territory without landing.
Second Freedom of the Air – The right granted by one country to another to land in its territory for non-traffic purposes.
Third Freedom of the Air – The right granted by one country to another to bring traffic from the home country of the carrier.
Fourth Freedom of the Air – The right granted by one country to another to take away traffic to the home country of the carrier.
Fifth Freedom of the Air – The right granted by one country to another to bring or take traffic from or to a country other than the home country of the carrier.
Singapore to hold general elections amidst COVID-19 pandemic
Singapore is going to become the second nation to conduct elections amidst COVID-19 pandemic. Singapore's People's Action Party, which has won every election since Singapore's independence in 1965 and has never seen its vote share drop below 60 percent, is expected to win again comfortably.
Before this, South Korea held parliamentary elections in April 2020 with stringent safety measures, and saw its highest turnout since 1992. 
The Seabed 2030 Project
The Project was launched at the United Nations Ocean Conference in 2017, and coordinates and oversees the sourcing and compilation of bathymetric data from different parts of the world's ocean. The global initiative is a collaboration between Japan's Nippon Foundation and the General Bathymetric Chart of the Oceans (GEBCO). General Bathymetric Chart of the Oceans (GEBCO) is the only intergovernmental organisation with a mandate to map the entire ocean floor, and traces its origins to 1903. The Seabed 2030 Project, however, aims to obtain higher quality information that has a minimum resolution of 100 m at all spots, using equipment such as deepwater hull-mounted sonar systems, and more advanced options such as Underwater Vehicles (AUVs). 
Bathymetry is the measurement of the shape and depth of the ocean floor. It is instrumental in understanding several natural phenomena, including ocean circulation, tides, and biological hotspots. It also provides key inputs for navigation, tsunamis forecasts, climate change research, exploration for oil and gas projects, building offshore wind turbines, fishing resources, and for laying cables and pipelines.
Arctic heatwave
In June, the Arctic Circle has recorded temperatures over 38 degrees Celsius in the Siberian region. According to the BBC, the temperatures seem to have been 18 degree Celsius higher than normal in June.
These higher temperatures are pushing the world towards what might be the hottest year on record, despite a fall in emissions due to the coronavirus lockdown.
Russia has expressed concern over the rising temperatures, which could lead to the melting of the permafrost on which some northern Russian cities are built. Another reason for concern in the region is wildfires.
However, this is not the first time that rising temperatures in the Arctic have created alarm. Such high temperatures have been recorded earlier too in the Arctic region.
Arctic heating is attributed to phenomena called polar amplification, where warming is intensified in the polar regions and especially in the Arctic. The amplification can be between 2 and 2.5, meaning that for every degree of global warming, the Arctic will get warmer by 2-2.5 degrees.
Reasoning for

POLAR AMPLIFICATION

– Fresh snow is the brightest natural surface on the planet. It has an albedo of about 0.85, which means that 85 percent of solar radiation falling on it is reflected back out to space. The ocean is the opposite – it's the darkest natural surface on the planet and reflects just 10 percent of radiation (it has an albedo of 0.1). In winter, the Arctic Ocean, which covers the North Pole, is covered in sea ice and that sea ice has an insulating layer of snow on it. It's like a huge, bright thermal blanket protecting the dark ocean underneath. As temperatures rise in spring, sea ice melts, exposing the dark ocean underneath, which absorbs even more solar radiation, increasing warming of the region, which melts even more ice. This is a positive feedback loop which is often referred to as the

ICE-ALBEDO FEEDBACK MECHANISM

.
This ice-albedo (really snow-albedo) feedback is particular potent in the Arctic because the Arctic Ocean is almost landlocked by Eurasia and North America, and it's less easy (compared to the Antarctic) for ocean currents to move the sea ice in and out of the region. Global warming due to anthropogenic (human induced) reasons has aggravated the ice-albedo feedback mechanism in Arctic region leading to such extreme temperatures.
Madhya Pradesh surpasses Punjab in total wheat contribution
Madhya Pradesh (MP) has surpassed Punjab to become the number one contributor of wheat to central pool in 2020. The increase has been primarily due to increase in land area under wheat cultivation in MP, whereas in Punjab it almost remains stagnant.
Punjab, however, is still a way ahead from MP as far as per hectare productivity of wheat is concerned, which is around 52 per cent more (per hectare) than MP. 
In India, MP has the largest area under wheat production, and is largest producer of wheat in India. However, so far Punjab had been the largest contributor the central pool. Of the total wheat area in the country, MP cultivated wheat on 31 percent, while Punjab cultivated wheat on 10.5 percent of the total area under wheat cultivation. In MP the total wheat production this year is estimated to be about 336 lakh tonnes, while in Punjab, it would be about 175 lakh tonnes. While, MP contributed about 129 lakh tonnes of wheat to the central pool, Punjab contributed about 127 lakh tonnes. Therefore, despite around three times more area under wheat  cultivation compared to Punjab this year, MP's contribution to central pool is only about 1.67 percent more than Punjab.
In Punjab, almost every wheat producer sells his produce to the government agencies after keeping some produce for self-consumption or selling to some private players. But in MP, large number of private players enter the market because MP's wheat is considered to be very good in quality. These private players either pick the wheat from farmers' fields or from mandis, but this time due to COVID-19 fear around 81 percent of farmers came to sell a major portion of their crop to the government agencies this year. 
Israel's annexation plans over West Bank
The Jewish state of Israel could take its first steps toward implementing part of the US mediated peace plan (Refer November 2019 Current Affairs Edition), by annexing parts of the West Bank occupied by Palestine. The plan envisions bringing some 30 percent of the West Bank territory under permanent Israeli control, while giving the Palestinians limited autonomy in carved-up pockets of the remaining land. 
Israel's annexation plans have drawn international condemnation, except by the US which has endorsed the plan. The United Nations, the European Union and key Arab countries have all said Israel's annexation would violate international law. 
Palestine has urged India to strongly oppose any such unilateral action and violation of international law by Israel.
Hug Curtains
Some care homes in Brazil have come up with the idea of a hug curtain or a hug tunnel. It is a creative solution to connect the elderly people with their loved ones amid the coronavirus pandemic.
The hug curtain or tunnel allows visitors to hold their loved ones without coming in direct contact with them. The hug curtain is a thick plastic sheet with arm holes at three different heights to let children and those in wheelchairs hug their family members in isolation wards.
North, South Korea mark 70 years of war
The year 2020 marks the 70th anniversary of the start of the Korean War, a conflict that killed millions of people and is technically yet to end. Soviet Union backed communist North Korea invaded the US backed capitalist South Korea in 1950, as it sought to reunify the divided peninsula. The Korean War was among the most destructive conflicts of the modern era, with approximately 3 million war fatalities and a larger civilian death toll than World War II.
BRIEF HISTORY – At the end of World War II, the Soviet Union and the United States liberated Korea from imperial Japanese colonial control on 15 August 1945. After the World War II had ended, Korea was divided at the 38th parallel into two zones of occupation, the Soviets administered the northern half and the Americans administered the southern half. With the border set at the 38th parallel in 1948, two sovereign states were established as a result of geopolitical tensions of the Cold War (between the Soviet Union and the United States). A communist state was established in North Korea, while a capitalist state was established in South Korea. 
International Institute for Democracy and Electoral Assistance (IDEA)
It is an intergovernmental organization that works to support and strengthen democratic institutions and processes around the world, to develop sustainable, effective and legitimate democracies. 
It was established in 1995 and is headquartered in Stockholm, Sweden. 
There are currently 33 member states. India is one of the founding members. USA, UK, France and China are not its member. Among SAARC nations, only India is the member.
Recently, it has warned that some governments are using the coronavirus pandemic to tighten their grip on power, thereby undermining democracy and civil liberties. Just as the pandemic has massive economic and social consequences, it may also have profound political consequences, if the governments are not challenged for abuse and over centralisation of powers, which they have been doing on grounds of COVID-19 induced emergency like situation. While emergency powers are needed by democratic governments to deal with exceptional circumstances, the exercise of those powers has to be proportional to the emergency needs.
BeiDou Navigation Satellite System (BDS)
Beidou (short hand name – BDU) is the satellite navigation system of China. It consists of two separate satellite constellations. The first BeiDou satellite entered orbit in the year 2000. However, Beidou navigation satellite system started providing services by the year 2018.
Some of the countries like Pakistan are using Beidou. China is also promoting its use in the countries signed-up for its mega Belt and Road Initiative
The final BeiDou satellite was successfully launched in June 2020. It marked the launch of the 55th satellite in the Beidou family. It also marked the completion of China's domestically developed BeiDou network, one of the four global navigation networks alongside with the United States' GPS, Russia's GLONASS and the European Union's GALILEO. India too is building its navigational system called the Indian Regional Navigation Satellite System (IRNSS), with an operational name of NAVIC.
CBD Yoga
CBD stands for Cannabidiol which is a non-psychoactive compound (the one that doesn't affect the mind), extracted from industrial cannabis. It helps to delay the destruction of the endo-cannabinoid cells responsible in human body for maintaining different body functions like appetite, reward function and sleep, and for reducing anxiety.
CBD Yoga combines the benefits of cannabidiol (CBD) and yoga to help one experience enhanced relaxation. Its practitioners claim that CBD Yoga induces relaxation and helps reduce blood pressure and anxiety, thereby promoting the overall health and wellness of a person. It is practiced in UK and USA.
Solar Sailing
Solar Sailing is a way of propelling a spacecraft through space by using the momentum of solar light. In other words, it is a way of providing motion to a spacecraft in space by converting the light energy from the sun into mechanical energy. By fitting spacecraft with large reflective sails, they capture the momentum of light from the sun and use it to push the spacecraft forward. The photons that make up light carry no mass, but have momentum. The momentum of photons can be transmitted to the spacecraft, which can even change direction by tacking like in a sailboat.
As opposed to most spacecraft currently available, which attain a maximum speed and then rely on gravity assists, those that use solar sailing can continue to accelerate as long as there is light to push it. Solar sailing could eventually be used to take crafts to the stars and even achieve interstellar travel.
Digital epidemiology
Digital epidemiology refers to the study of digital data (including that over social media platforms) to understand patterns of diseases, and chart out interventions to prevent these. It generally uses data that is generated outside the public health system, i.e. the data that is not generated with the primary purpose of doing epidemiology. With the outbreak of the novel coronavirus, contact tracing apps such as Aarogya-Setu App have emerged as the best examples of digital epidemiology.
The traditional form of epidemiology, consists of studying various factors (age, gender, location and other determinants) of the general population to understand patterns of disease, and chart out interventions to prevent it. Data is mostly collected by field staff through house-to-house surveys and from hospital records. Digital epidemiology, as the term suggests, uses digital data to study the same factors.
IN-SPACe to be new space industry regulator in India
IN-SPACe, or Indian Space Promotion and Authorisation Centre is the new entity under the Department of Space, to regulate and promote building of routine satellites, rockets and commercial launch services through Indian industry and startups. It will function autonomously and parallel to ISRO, which will now focus on its core research work.
Fugaku Supercomputer
It is the world's fastest supercomputer for the year 2020, developed by Japan.
TOP 500 project ranks and details the 500 most powerful non-distributed computer systems in the world. The project was started in 1993 and publishes an updated list of the supercomputers twice a year. China currently dominates the list with 229 supercomputers, followed by USA. 
India's Supercomputer Programme was started in 1987. India launched its first supercomputer –

PARAM

, in 1991. India has only 2 super computers in the TOP 500 list for the year 2020 –

PRATYUSH

and

MIHIR

.
A supercomputer is a computer with a high level of performance as compared to a general-purpose computer. The performance of a supercomputer is commonly measured in floating-point operations per second (FLOPS) instead of million instructions per second (MIPS). Supercomputers play an important role in the field of computational science, and are used for a wide range of computationally intensive tasks in various fields. Supercomputers have existed since 1960s.
Tiger of chemistry
Fluorine is known as the tiger of chemistry, since it is one of the most reactive elements, capable of forming compounds even with some noble gases. Its ability to form stable and inert substances has enabled it to play a vital role in terms of medicinal and industrial usage.
Even though the existence of fluorine was well known for a long time, isolating it from its compound proved to be more than just tricky. So much so that it claimed the lives of a number of chemists in the 19th century. The problem lies in the fact that free fluoride ions bind well with calcium and magnesium in the human body to form insoluble salts, which precipitate and hinder proper functioning, leading to death of cells and corrosion of bones. It is for these reasons that Frenchman Henri Moissan's success in isolating fluorine is celebrated. Henri Moissan received the 1906 Nobel Prize for Chemistry for the isolation of the element fluorine.
Following are some of the common uses of Florine based products –

Inorganic fluorides are used in cavity-fighting toothpastes.
Fluorinated anaesthetics serve as alternative to existing options that are flammable or explosive.
Radioactive fluorine is an important ingredient in positron emission tomography (PET), an imaging technique to detect cancerous tumours at a much earlier stage.
Tetrafluoroethylene, better known as Teflon, is used in non stick cookwares.
Narcondam hornbill
It is a bird species endemic to the Indian island of Narcondam in the Andamans. Narcondom is a protected habitat for the hornbills, and as such is maintained by the Department of Environment and Forests of the Andaman and Nicobar Islands.
The Narcondam hornbill has the smallest home range out of all the species of Asian hornbills.
They need tall fruiting trees for nesting and breeding. Their calls are loud and aggressive
They have conservation status of endangered.
COVAXIN
India's first indigenous COVID-19 vaccine developed by a Hyderabad based company in collaboration with the ICMR. It is all set for phase-1 and phase-2 trials on humans.
It uses inactivated (killed) novel coronavirus to spur antibody response to COVID-19 infections.
The virus used for developing the vaccine was isolated by the Pune based National Institute of Virology from samples collected in India. 
CORONIL
India's first ayurvedic medicine launched by Patanjali to cure COVID-19. The medicine is the result of a research partnership between Patanjali Research Institute and the Jaipur based National Institute of Medical Sciences.
The Corona kit consists of three medicines – Coronil, Swasari and Anu Tel. Coronil is made of the extracts of pure Giloy, Tulsi and Ashwagandha. Shwasari works on strengthening the respiratory system and cures the obvious symptoms of corona including cough, cold and fever, while Anu Tel is a nasal drop that helps build immunity.
Patanjali has claimed that Coronil has shown 100 percent favourable results during clinical trials on affected patients, at Patanjali headquarters in Haridwar. Patanjali claims that its corona medicine kit can also be taken as prevention for coronavirus.
However, it is evident that the company has misrepresented the drug's efficacy, as most of the trial subjects were mildly symptomatic and not having severe symptoms. Also, the recovery rate of those administered Coronil is just marginally better than those administered placebo. Moreover, the company did not publish or submitted its trial results for peer review. Therefore, the company's claim of a cure by all accounts was a clear subversion of the scientific process. 
There has always been a tension between traditional Indian systems of medicine and pharmaceutical drugs but there is now consensus in India's regulatory system that claims by both systems of developing safe efficacious drugs must pass clinical trials.
GK with current affairs latest questions quiz pdf daily in hindi english today for upsc