CONTENT
Mission Karmayogi
Dubbed as the biggest bureaucratic reform initiative, Mission Karmayogi is a new capacity-building scheme for civil servants aimed at upgrading the post-recruitment training mechanism of the officers and employees at all levels. It also seeks to allocate work by matching an official's competencies to the requirements of the post.
Mission Karmayogi programme will be delivered by setting up a digital platform called

iGOTKarmayogi

.

Prime Minister's Public Human Resource Council

, consisting of state Chief Ministers, Union Cabinet ministers and experts, will be set up as the apex body to direct the reforms.
An autonomous

Capacity Building Commission

will be established to manage the reformed system. This commission will prepare and monitor annual capacity building plans and audit human resources available in the government.
Council of Scientific and Industrial Research (CSIR) and Dehradoon Declaration
CSIR is India's premier laboratory research network established by Government of India in 1942.  It is involved in research and development in almost all the fields. Delhi (5) has maximum CSIR laboratories followed by Uttar Pradesh (4).
Although, CSIR is mainly funded by the

Ministry of Science and Technology

, it operates as an autonomous body through the 

Societies Registration Act, 1860

.
Since 1958, CSIR has been awarding

Shanti Swarup Bhatnagar Prize

for outstanding achievements in the field of Science and Technology. Every year, the award is presented to maximum 2 individuals from each research category. Only Indian Citizens, Overseas Citizens of India and Persons of Indian Origin, below the age of 45 years are eligible for the award.

DEHRADOON DECLARATION (2005)

is a commitment by CSIR to make its laboratories financially self sufficient by committing research on problem aligned with India's immediate socio-economic goals, and patenting such innovation for commercialisation. It's seek to promote the idea – Innovate, patent, produce, prosper. However, it has been criticised by the scientific community on the grounds that it has been pushing the scientists away from research on fundamental and exploratory topics.
Shanghai Cooperation Organisation (SCO)
The SCO comprises 8 member states – India, Pakistan, China, Kazakhstan, Kyrgyzstan, Russia, Tajikistan and Uzbekistan. It is an Eurasian political, economic and security alliance, created in 2001 in Shanghai, in China, by the leaders of China, Kazakhstan, Kyrgyzstan, Russia, Tajikistan, and Uzbekistan. The original five nations, with the exclusion of Uzbekistan, were previously members of the Shanghai Five group, founded in 1996. 
While Central Asian countries and China were not in favour of expansion initially, the main supporter of India's entry in particular was Russia. A widely held view is that Russia's growing unease about an increasingly powerful China prompted it to push for its expansion. From 2009 onwards, Russia officially supported India's ambition to join the SCO. China then asked for its all-weather friend Pakistan's entry. India and Pakistan joined SCO as full members in 2017 at a summit in Astana, Kazakhstan. 
What draws India to SCO is the 'Shanghai spirit', which emphasises harmony, non-interference in others' internal affairs, and non-alignment. For India, two important objectives are counter-terrorism and connectivity –

With SCO membership, India gets access to intelligence and information from SCO's counter-terrorism body, the Tashkent-based Regional Anti Terror Structure (RATS).
Connectivity is important for India's Connect Central Asia policy. Energy cooperation dominates its interest .

In the absence of the SAARC summit, the SCO summit gives an opportunity for Indian and Pakistani leaders to meet informally, on the sidelines. Both sides have the obligation not to bring in bilateral disputes, but can cooperate on issues of mutual interest and importance. Signing off on joint counter-terrorism exercises will be a new form of engagement between the two militaries. With China, it is yet another opening, like the BRICS summit last year, to bring down border tensions.
Besides this there are 4 observer states in SCO –  Afghanistan, Belarus, Iran and Mongolia. Nepal and Sri Lanka are the Dialog Partners of SCO. Observer status is a privilege granted by some organisations to non-members to give them an ability to participate in the organisation's activities. As the name says the country can only observe, there is no right to vote or have limited influence on policy making. Dialogue partner is any country, or organization with which SCO or similar Organisations enjoy consultative relationship in areas of common interest and may participate actively in the SCO Conference. 
SCO holds three summits annually –

Council of the Head of the States (attended by the President of India). The 2020 meet was held in Saint Petersburg, in Russia.
Council of the Head of the governments (attended by the Prime Minister of India). The 2020 meet is scheduled to be held in New Delhi, in India.
Council of the Foreign Ministers, held one month before the annual summit of Heads of State.
India, Russia to hold Naval drills INDRA in Andaman Sea
INDRA is the bilateral naval exercise, between India and Russia, conducted in the Andaman Sea, close to the strategic Strait of Malacca.
Instead of exercising with Chinese troops in KAVKAZ-2020, India is doing naval exercise with Russian Navy near the mouth of Malacca. With ongoing tensions, Indian Navy is keeping a close watch on movement of Chinese Naval Ships in the Indian Ocean Region where China's presence has gone up considerably over the years in the name of Anti-Piracy patrols. In 2017, China opened its first overseas military base in Djibouti in the Horn of Africa. As such, India has embarked on a major infrastructure expansion plan on the A&N island chain, given their strategic location.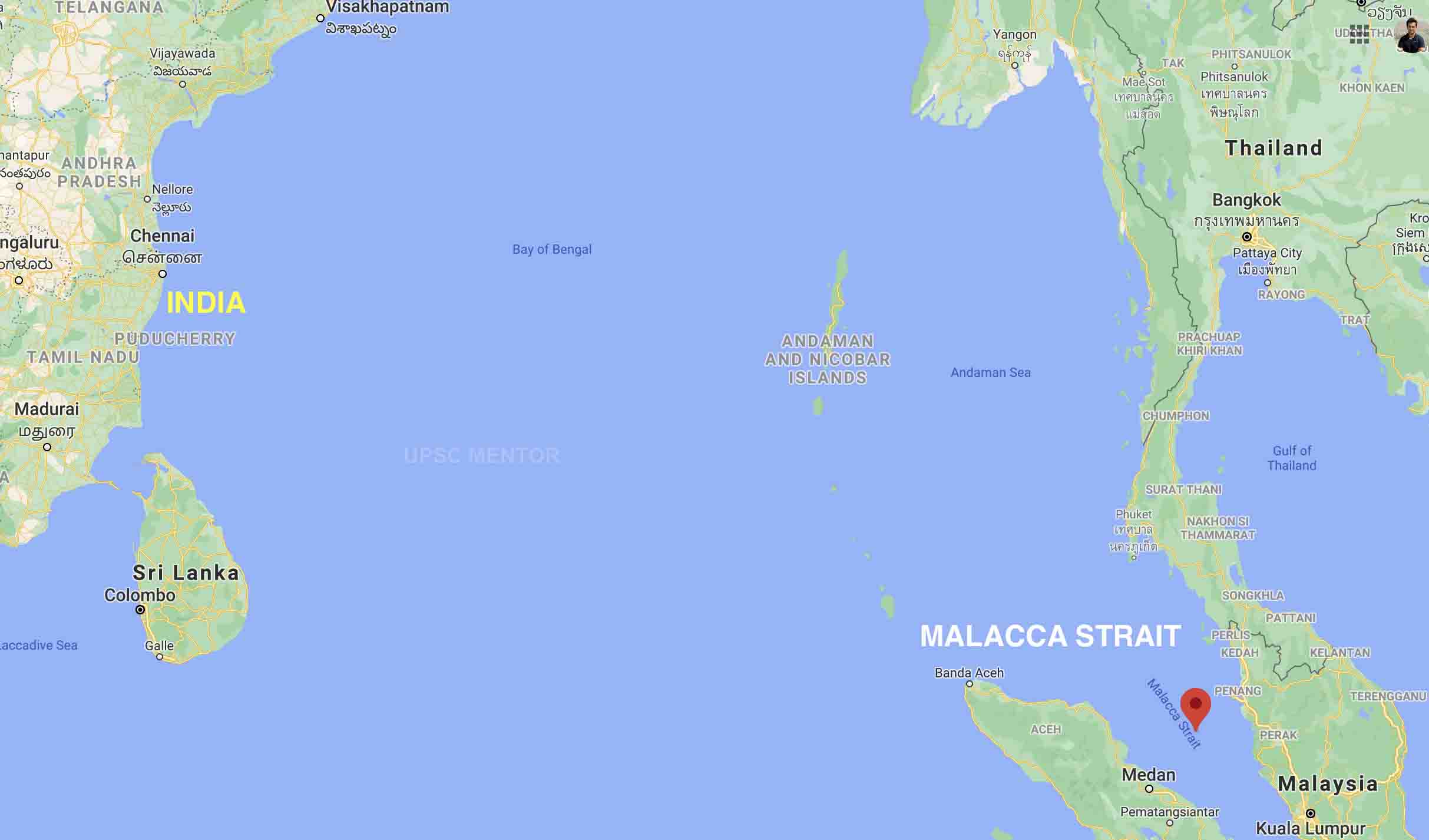 Archaeological site at Sadikpur Sinauli in Uttar Pradesh's Baghpat district declared site of national importance
The Archaeological Survey of India (ASI) has declared the site and remains at Sadikpur Sinauli in Uttar Pradesh's Baghpat district to be of national importance.
Here, remains of chariots, shields, swords and other items, pointing to existence of a warrior class around 2000 BCE (Approximately 4000 years old), were discovered in 2018.
The site has been termed by ASI as the largest necropolis (cemetery) of the late Harappan period of the early 2nd millennium BCE.
Persons in News
DAVID ATTENBOROUGH

–

Indira Gandhi Prize for Peace, Disarmament and Development for 2019

has been conferred on Sir David Attenborough. He has been a renowned naturalist and broadcaster, well known for his documentaries on BBC that together constitute a comprehensive survey of animal and plant life on Earth. 

NAOMI OSAKA

– Japanese Tennis player, who recently became the fourth woman to win a US Open Championship (Female). She is the first Asian player to hold the top ranking in singles, and also is a three-time Grand Slam singles champion.
DOMINIC THEIM – Australian Tennis player who recently won the US Open Championship (Male).
ASHOK SOOTA – Founding CEO of technology firm HAPPIEST MINDS which recently got overwhelming response to its IPO launch (listing in the stock market).
HARIVANSH NARAYAN SINGH – Re-elected as Deputy Chairman of Rajya Sabha.
PD VAGHELA – Newly appointed Chairman of Telecom Regulatory Authority of India (TRAI).
GOVIND SWARUP – Regarded as the 'Father of Indian Radio Astronomy', he was the founder-director of Pune based National Centre for Radio Astrophysics (NCRA). He passed away recently.

RUTH BADER GINSBURG

–  A highly famous Supreme Court Judge of the USA, who passed away recently due to Cancer.

YOSHIHIDE SUGA

– The new Prime Minister of Japan, who took away reigns from his predecessor Shinzo Abe.

AVNI DOSHI

– Dubai based Indian origin author who has been shortlisted for the 2020 Booker Prize for her debut novel '

BURNT SUGAR

'. The Booker Prize for Fiction is open to writers of any nationality, writing in English and published in the UK or Ireland. The 2019 Booker Prize for Fiction was won jointly by '

THE TESTAMENTS

' by Margaret Atwood and '

GIRL, WOMEN, OTHER

' by Bernardine Evaristo. First awarded in 1969, the Booker Prize is recognised as the leading prize for literary fiction written in English.

VOLKAN BOZKIR

– New President of the United Nations General Assembly (UNGA). He is the first ever Turkish diplomat to hold this position.
NIDHI – PRAYAS
National Initiative for Developing and Harnessing Innovations (NIDHI)

 is an umbrella programme by the Department of Science and Technology for nurturing ideas and innovations, which are knowledge-based and technology-driven, into successful startups.

Promoting and Accelerating Young and Aspiring technology entrepreneurs (PRAYAS)

is one of the programs of the Department of Science and Technology, to support young innovators turn their ideas into proof of concepts. This support shall allow the innovators to try their ideas without fear of failure, hence allowing them to reach a stage where they have a ready product and are willing to approach incubators for commercialisation. 
Recent trends in Maternal Mortality Rates (MMR)
The United Nations Inter-agency Group for Child Mortality Estimation (UN IGME) produces estimates of child and young adolescent mortality through its annual report titled – 'Levels & Trends in Child Mortality Report'.  The report is jointly authored by UNICEF, WHO, World Bank Group and United Nations.
The 2020 report said that the year 2019 witnessed the lowest number of global under-five deaths, since 1990.
India registered a 4.5 percent annual rate of reduction in under-five mortality between 1990-2019. In 2019, the under-5 mortality rate (i.e. death under the age of 5 years per 1000 live births) in India stood at 34, while the infant mortality rate (i.e. death under the age of one year per 1000 live births) stood at 28. 
However, sub-Saharan Africa and Central & Southern Asia account for more than 80 percent of all under-5 mortalities. Nigeria and India alone account for almost one third of the total under-5 mortalities.
Protests against Farm Bill 2020
At the epicentre of this protest are the three farm laws passed by Parliament in September and the proposed Electricity (Amendment) Bill 2020. The three laws are:

The Farmers Produce Trade and Commerce (Promotion and Facilitation) Act 2020
The Farmers (Empowerment and Protection) Agreement of Price Assurance and Farm Services Act 2020
The Essential Commodities (Amendment) Act 2020

OBJECTIVES OF THE NEW FARM LAWS

– The economic rationale of these pieces of legislation is to provide greater choice and freedom to farmers to sell their produce and to buyers to buy and store, thereby creating competition in agricultural marketing. The Farm Bill 2020 seeks to

open up agricultural marketing and sales outside the notified Agricultural Produce Market Committee (APMC) notified Mandis for farmers. It also prohibits state governments from collecting market fee, cess or levy for trade outside the APMC markets.
remove barriers to inter-state trade.
provide framework for electronic trading of agricultural produce.
remove cereals, pulses, oilseeds, edible oils, onion and potatoes from the list of essential commodities. This will deregulate the production, storage, movement and distribution of these food commodities. The freedom to produce, hold, move, distribute and supply will lead to harnessing of economies of scale and attract private sector/foreign direct investment into agriculture sector. The ordinance requires that stock limit may be imposed only during national calamities or if there is a 100 percent increase in retail price of horticultural produce; and a 50 percent increase in the retail price of non-perishable agricultural food items.
Last but not the least, to create an environment leading to larger investments, adoption of technology and digitalisation and robust partnerships, which in turn would envisage a new era of next generation agriculture that will raise farmer incomes and trigger a virtuous cycle of progress and prosperity.

BENEFITS OF THE NEW FARM LAWS – 

Fifty-five years since the APMCs were introduced, the country's farmers are still receiving a low share of the consumer's rupee as indicated by a study conducted by the Reserve Bank of India. While the consumers are paying higher price, farmers are still receiving lower returns due to inefficiencies and imperfections. The new farm laws seek to end farmer exploitation at APMC Mandi's, and push these to greater transparency and efficiency.
The new farm laws seek to widen markets for the farmers produce, so that they get fairly remunerated. Buyers outside APMC will have to compete with APMC prices and vice versa to attract farmers' produce. The

nominal protection coefficient

(domestic price divided by international price) for agriculture is 0.87. This implies that farmers can get at least 13 percent higher prices in international markets by exporting. 

UNION vs STATES

– Since agriculture and markets are state subjects (Entry 14 and 28 respectively in List II ), the ordinances by Union government are being seen as a direct encroachment upon the functions of the states and against the spirit of cooperative federalism enshrined in the Constitution. Since the new laws allow farmers to sell their goods outside state APMC Mandis, the states are concerned about the resulting loss of revenue which they used to get from Mandi taxes and fees. The Centre, however, argued that trade and commerce in food items is part of the concurrent list, thus giving it constitutional propriety. Also, with Article 249, the Centre can enact law in national interest of saving farmers from exploitation by middleman.

REASONS FOR FARMER PROTESTS

– Some of the apprehensions about Farm Bill 2020 are as under –

Critics argue that farm trade outside APMC notified Mandis does not provide for Minimum Support Price (MSP), thus exposing the farmers to exploitation by corporates through their complex terms and conditions related to contract farming. The condition of Bihar farmers has only deteriorated since the abolition of state APMCs in 2006. The farmers are demanding that even outside APMC Mandis, no one should be able to purchase farm goods below MSP. However, Higher MSPs will either result in costlier food or would need higher food subsidies which itself would result in higher government budget deficits (and consequently higher inflation) or higher taxes (to make up for the deficit) to fund such deficits. A recent estimate found that providing legal guarantee for MSP would cost an additional INR 1.5 lakh crore to the Indian government.
The law provides that corporates can have their own mechanisms for debt recovery which many farmers find as a threat to their landholdings.
The new law makes the Sub-Divisional Magistrate (SDM) final authority for dispute resolution between farmers and corporates, and restricts the right of the farmers to approach courts in such cases. The recent case of PEPSICO dragging Gujarat Potato farmers to a prolonged legal battle is still fresh in the minds of skeptical farmers. According to protesting farmers, it is very easy for big corporates to influence bureaucrats, and by restraining farmers to approach courts, the government is deliberately trying to favour corporates in such disputes.
Critics point out that the removal of items from Essential Commodities Act may expose small and marginal farmers to market vulnerabilities, since the exporters, processors and traders would do bulk deals with large farmers at low price.
Farmers fear that encouraging tax-free private trade outside the APMC Mandis will make these notified markets unviable, which could ultimately lead to closure of these Mandis, and therefore bring an end to MSPs itself. More than 85 percent  of wheat and paddy grown in Punjab, and 75 percent in Haryana, is bought by the government at MSP rates. Farmers fear that without MSPs, market prices will fall. Therefore, Farmers are also demanding that MSPs be made universal, within Mandis and outside, so that all buyers, government or private, will have to use these rates as a floor price below which sales cannot be made.
Unlike earlier reforms where the focus was on strengthening the functioning of APMC Mandis while allowing for greater private market access and participation, the current bill bypasses the APMC altogether, creating a separate structure of trading. Most farmers feel that the reform is aimed to help private corporates purchase agricultural produce at cheaper prices and without any regulation or oversight by the government.
The new laws provide provisions for penalising as well as punishing the farmers for stubble burning. Farmers believe that it would be unjust to do so without providing farmers with viable options to manage their stubble.
The proposed electricity amendment bill will force farmers to make payments upfront at the rate decided by the private power companies.

WAY FORWARD – The majority of agricultural marketing already happens outside the Mandi network, with only 7000 APMC markets operating across the country. Bihar, Kerala and Manipur do not follow the APMC system at all. However, most private buyers are currently small traders at local Mandis. Going forwards, the government can give consideration to the following suggestions –

The government should think of a provision to restrict the implementation of the Act to those states which in writing inform its willingness to implement the Act and thus those who do not inform its willingness to implement may be given the freedom not to benefit from the salutary aspects of these Agricultural Reforms Acts.
The removal of stock limits and facilitation of bulk purchase and storage through the amendment to the Essential Commodities Act could bring large corporate players into the agriculture space. Although they will bring much-needed investment, they could also skew the playing field, with small farmers unlikely to match them in bargaining power, and other traders not able to compete with them. The government may think of limiting the purchase of the foodgrains to only those who have no other major business or commercial interests other than in agricultural trade. Also, the government needs to ensure the farmers that in case of any dispute with the corporates, the farmers would be given preferential treatment. An independent regulator needs to be set up for grievance redressal specific to farmers. A national body, national agricultural marketing board similar to TRAI and SEBI, needs to be created to enhance the bargaining power of farmers and protect them, along with purchasers, sellers and consumers from possibilities of exploitation.
The government needs to create supporting infrastructure that allows farmers to avoid making distress sales.
The law must include provisions to deal with black marketers so that they don't skew up prices by manipulating demand and supply in the market.
The proposal that the MSPs must be made binding on private players can also be given a thought, although that may breed resistance to more efficient means of production.
Another proposal that the farmers be paid atleast a certain fixed percentage of the final market price of the goods, can be given a thought.
The recent findings of CAG that Centre wrongly retained GST compensation cess meant to compensate states for loss of revenue, makes states sceptical every time their tax imposing powers are curbed. The Centre needs to maintain the trust of states by ensuring them additional revenue sources in lieu of the tax revenue they are losing due to current farm bills. The loss in revenue to the state governments may be compensated by bringing wealthy farmers inside the income tax structure, and increasing grant in aids to the states through such additional taxes. 

The IMF believes the farm bills passed by the Indian government have the potential to represent a significant step forward for agricultural reforms, but a social safety net is needed to protect those who might be adversely impacted during the transition to the new system.
Djibouti Code of Conduct (DCOC)
Djibouti Code of Conduct/ Jeddah Amendment (DCOC/JA), established in 2009, seeks to fight piracy and armed robbery against ships in the Western Indian Ocean Region, the Gulf of Aden and the Red Sea. It was established under the International Maritime Organization (IMO). It is a grouping of 20 member states adjoining the Red Sea, Gulf of Aden, the East coast of Africa and Island countries in the Indian Ocean Region.
The Jeddah Amendment (2017) calls on the signatory countries to cooperate against transnational organised crime in maritime domains such as illegal and unregulated fishing, maritime terrorism and other illegal activities at sea. The transnational organised crime referred to in the Jeddah Amendment includes arms trafficking, trafficking in narcotics and psychotropic substances, human trafficking and smuggling, illegal trade in wildlife; crude oil theft and illegal dumping of toxic waste. It also emphasises on the important role of 'blue economy' in supporting sustainable economic growth.
India has recently acquired the Observer status in the Djibouti Code of Conduct (DCOC/JA). USA, UK, Japan and Norway are the other observers. India seeks to work together with DCOC/JA member states towards coordinating and contributing to enhanced maritime security in the Indian Ocean Region. Besides this, India would leverage the opportunity to further its Blue Economy aspirations in the Indian Ocean Region.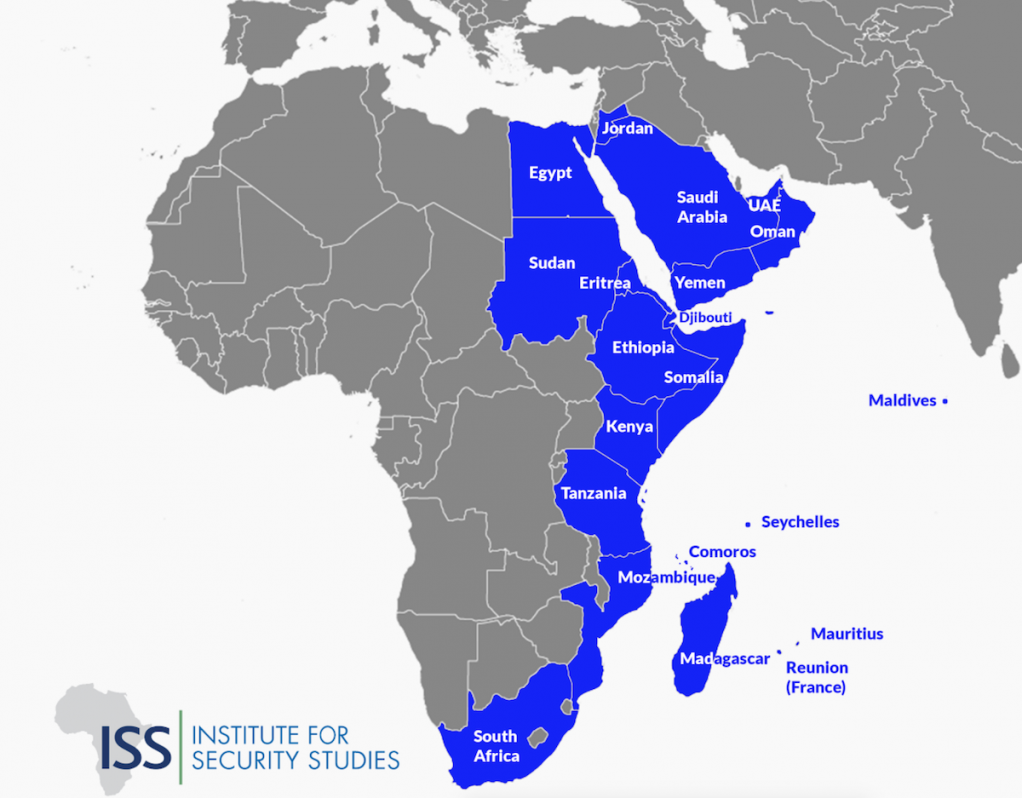 Aircraft (Amendment) Bill, 2020
It amends the Aircraft Act, 1934, which is an Act of the Parliament. The Act regulates the manufacture, possession, use, operation, sale, import and export of civil aircrafts, and licensing of aerodromes.  Aircraft belonging to the naval, military, or air forces of the Union are exempted from the provisions of the Act. 
The Bill gives statutory powers to the Directorate General of Civil Aviation (DGCA), the Bureau of Civil Aviation Security (BCAS) and the Aircraft Accident Investigation Bureau (AAIB). Each of these bodies will be headed by a Director General who will be appointed by the centre. These bodies were set up through various government notifications but didn't have a defined role under the parent Act so far.

The DGCA will carry out safety oversight and regulatory functions with respect to matters under the Bill.  
The BCAS will carry out regulatory oversight functions related to civil aviation security.  
The AAIB will carry out investigations related to aircraft accidents and incidents.  

Under the original Act, the central government may make rules on several matters, such as : (i) registration of aircraft, (ii) regulating air transport services, and (iii) prohibition of flight over any specified area.  The Bill adds the regulation of air navigation services to this list. The central government may issue any other direction to these authorities on matters related to their functions, if considered necessary in public interest. 
The Bill empowers DGCA to levy penalties of upto INR 1 crore on airlines, airports and other aviation entities for violation of safety rules and protocols. Persons aggrieved by an order of a designated officer may appeal to an appellate officer.  Appeals must be filed by the aggrieved person within 30 days from the day the order is received. Courts can not take cognizance of any offence under this Act, unless a complaint is made by, or there is previous sanction from the DGCA, BCAS, or AAIB.  Only courts equivalent or superior to a Metropolitan Magistrate or a Magistrate of the first class may try offences under the Act.
Question Hour Suspended for Monsoon Session of the Parliament
The decision of the central government to do away with question hour as well as zero hour in the ongoing monsoon session, attracted severe criticism from opposition parties and other civil society pressure groups.
Usually, monsoon session is held in the month of June, but due to COVID-19 induced lockdown, this year it was postponed by three months.
According to Lok Sabha website Question hour is meant 'to sense pulse of the nation'. Question hour is the first hour of each working day where the members ask questions and the ministers are duty bound to give answers. It is a means through which the parliamentarians hold Government accountable for their actions. It is mentioned in the rules of procedure of Lok Sabha. During Question hour, four type of questions can be asked – 

Starred question (distinguished by an asterisk, and printed in green) requires an oral answer to which supplementary questions can follow. The MPs can put an asterisk against their question signifying that they want the minister to answer that question on the floor. These are referred to as starred questions. After the minister's response, the MP who asked the question and other MPs can also ask a follow-up question. In a single day around 20 such questions are addressed, and the questioning member is allowed to ask upto 2 supplementary questions in response. At the same time other members can also ask question on pertaining issue but it is upto discretion of speaker.
Unstarred question (printed in white) on the other hand, requires a written answer and hence, supplementary questions cannot follow. Such questions need to be submitted in 15 days advance. Around 200 such questions are addressed daily during session.
Short notice question (printed in light pink) is one that is asked by giving a notice of less than ten days. It is answered orally.
Private member question (printed in yellow) may be addressed to a private member if the subject matter of the question relates to some Bill, resolution or other matter connected with the business of the House for which that member is responsible.

Question Hour in both Houses is held on all days of the session. But there are two days when an exception is made –

There is no Question Hour on the day the President addresses MPs from both Houses in the Central Hall. The President's speech takes place at the beginning of a new Lok Sabha and on the first day of a new Parliament year.
There is no Question Hour on the day the Finance Minister presents the Budget. 

Unlike the question hour, the Zero Hour is not mentioned in the Rules of Procedure. It is an Indian innovation in the field of parliamentary procedures and has been in existence since 1962. Thus, it is an informal device available to the members of the Parliament to raise matters without any prior notice. The Zero Hour starts immediately after the question hour and lasts until the agenda for the day (ie, regular business of the House) is taken up. In other words, the time gap between the question hour and the agenda is known as zero hour. Zero hour, which usually starts at 12 noon (it is another rationale to call it Zero Hour in parliamentary parlance), whereby MPs can raise their questions about issues of urgent public importance. For raising matter in Zero Hour, concerned MP must give a notice before 10 AM to speaker (in case of Lok Sabha) or Chairman (in case of Rajya Sabha) on the day of raising issue. Presiding officer may decide to grant on merit at own discretion based on merit and importance of the issue. 
Parliament passes bill to amend Foreign Contribution (Regulation) Act (1976)
The FCRA regulates foreign donations and ensures that such donations do not adversely affect internal security. It is mandatory for all NGOs seeking foreign contributions to register themselves under the act. The registration is initially valid for five years and it can be renewed subsequently if they comply with all norms. Filing of annual returns is compulsory for such NGOs. 
Members of the legislature and political parties, government officials, judges and media persons are prohibited from receiving any foreign contribution. However, political parties can receive funds from an Indian subsidiary of a foreign company or from a foreign company in which an Indian holds 50 percent or more shares.
The other way for NGOs to receive foreign contributions is by applying for 'prior permission'. It is granted for receipt of a specific amount from a specific donor for carrying out specific activities or projects. But the association should be registered under statutes such as the Societies Registration Act (1860), the Indian Trusts Act (1882) or the Companies Act (1956). A letter of commitment from the foreign donor specifying the amount and purpose is also required.
Ministry of Home Affairs (MHA) on inspection of accounts and on receiving any adverse input against the functioning of an association can suspend the FCRA registration initially for 180 days. Until a decision is taken, the association cannot receive any fresh donation and cannot utilise more than 25 percent of the amount available in the designated bank account without the permission of MHA. In case, the registration of an organisation is cancelled, it will not be eligible for registration or grant of 'prior permission' for three years from the date of cancellation.
Prime Minister inaugurates Atal tunnel
Atal tunnel is the world's longest highway tunnel above 10,000 ft. This 9 km long tunnel connects Manali to Lahaul & Spiti Valley throughout the year.
The construction of this tunnel has been completed in a span of 10 years by the Border Roads Organisation (BRO).
India COVID-19 Emergency Response and Health System Strengthening Project
It is a joint initiative of the Government of India and the World Bank that has USD 1 billion loan disbursed by the International Bank for Reconstruction and Development (IBRD) that works under the World Bank.
It seeks to prevent, detect and respond to the threat posed by COVID-19 (Coronavirus) and strengthen national health systems for preparedness in India. This project has six components.

Emergency COVID-19 (Coronavirus) Response

– It aims to slow and limit as much as possible the spread of COVID-19 (Coronavirus) in India.
Strengthening National and State Health Systems to support Prevention and Preparedness – It aims to support the Government of India (GOI) to build resilient health systems to manage COVID-19 (Coronavirus) and future disease outbreaks.

Strengthening Pandemic Research and Multi-sector, National Institutions and Platforms for One Health

– It aims to support research on COVID-19 (Coronavirus) by Indian and other global institutions working in collaboration with the Indian Council of Medical Research (ICMR). 

Community Engagement and Risk Communication

– It aims to develop comprehensive strategies for community engagement and risk communication.
Implementation Management, Capacity Building, Monitoring and Evaluation – It aims to develop public infrastructures as well as human resource capital for capacity building, program implementation, monitoring and evaluation.

Contingent Emergency Response Component (CERC)

– It make provision for immediate response to an health emergency.

Railway Ministry is one of the implementing agencies of the project.
What is bilateral netting?
A bilateral netting agreement enables two parties in a financial contract to offset claims against each other to determine a single net payment obligation that is due from one party to the other, meaning that the payables and receivables are netted off. Such a provision would allow companies, especially banks, to set aside far lesser capital based on their net positions rather than gross settlements, where the entire amount due must be covered.
Netting is very common in advanced economies where the settlement is based on net positions in bilateral or multilateral financial arrangements rather than by gross positions. Bilateral netting reduces accounting activity, complexity, and fees associated with more trades and payments.
It also provides the most accurate picture of a company's financial position, solvency and liquidity risk.
The Finance Minister of India has recently proposed introduction of Bilateral Netting in India.
India provides financial assistance of USD 250 million to Maldives to fight COVID-19
India has provided financial assistance of USD 250 million to Maldives to help it mitigate the economic impact of the COVID-19 pandemic. It is the single largest assistance from a donor country to Maldives during the current pandemic.
India's 'Neighbourhood First' policy and the Maldives' 'India First' policy have worked in tandem during the COVID-19 pandemic to safeguard the well-being of both peoples. India had provided substantial and continued assistance to the Maldives during the COVID-19 pandemic. A team of doctors and specialists visited the Maldives in March to assist in COVID-19 preparedness. Thereafter, it has been donating tonnes of essential medicines and food to Maldives during these tough times. 
Green Strategic Partnership
It refers to a new partnership between India and Denmark, under which the two countries will cooperate through relevant Ministries, institutions and stakeholders with special focus on transfer of green and climate-friendly technologies.
Green Strategic Partnership seeks to 

advance political cooperation between India and Denmark.
expand economic relations between India and Denmark.
create jobs in both the countries.
strengthen cooperation between India and Denmark on addressing global challenges and opportunities.
implement the nationally determined goals for Paris Agreement and the UN Sustainable Development Goals.
strengthen the existing Government-to-Government cooperation on environment/water. It specifically seeks to enhance cooperation in specific areas of water supply, water distribution, wastewater treatment, sewerage systems, re-use of treated wastewater, water management and energy optimisation in the water sector through the Indo-Danish Water Technology Alliance.
strengthen cooperation in sustainable urban development.
enhance cooperation in ship-building and design, maritime services, green shipping, and port development.
build on existing strong bilateral partnerships in science, technology and innovation to accelerate technology development and the implementation of new solutions in both countries
encourage cooperation in Intellectual Property Rights, thereby helping to modernise and strengthen the national intellectual property systems of the two nations to promote innovation, creativity and technological advancement.
facilitate greater people-to-people interaction and strengthen cooperation in the tourism sector.
The Codes on Industrial Relations, Social Security, and Occupational Safety, Health and Working Conditions, 2020 
Labour falls under the Concurrent List of the Constitution.  Therefore, both Parliament and state legislatures can make laws regulating labour. The central government has stated that there are over 100 state and 40 central laws regulating various aspects of labour such as resolution of industrial disputes, working conditions, social security and wages. The Second National Commission on Labour (2002) found existing legislation to be complex, with archaic provisions and inconsistent definitions. To improve ease of compliance and ensure uniformity in labour laws, it recommended the consolidation of central labour laws into broader groups such as: (i) industrial relations, (ii) wages, (iii) social security, (iv) safety, and (v) welfare and working conditions. 
In 2019, the Ministry of Labour and Employment introduced four Bills to consolidate 29 central laws.  These Codes regulate: (i) Industrial Relations, (ii) Wages , (iii) Social Security, and (iv) Occupational Safety, Health and Working Conditions.  While the Code on Wages was passed by Parliament in 2019, Bills on the other three areas have been passed just recently in 2020.
Some of the salient features of CODE ON INDUSTRIAL RELATIONS are –

It defines 'workers' to include all supervisory staff drawing up to INR 18,000 a month as salary, besides all workers employed in a skilled or unskilled, manual, technical, operational and clerical capacity. 
It introduces 'fixed term employment', which refers to workers employed for a fixed duration based on a contract signed between the worker and the employer. Fixed term employees should be treated on a par with permanent workers in terms of hours of work, wages, allowances and other benefits, including statutory benefits such as gratuity. However, the Bill does not restrict the type of work in which fixed term workers may be hired.  Therefore, they may be hired for roles offered to permanent workmen. It should be noted that 2nd National Commission on Labour (2002) had recommended that no worker should be kept continuously as a casual or temporary worker against a permanent job for more than two years. Several countries restrict the use of fixed term contracts by:

limiting renewal of employment contracts
limiting the duration of contract
limiting the proportion of fixed term workers in the overall workforce

It provides that all industrial establishment with 300 workers or more must prepare standing orders on the matters related to –

classification of workers
manner of informing workers about work hours, holidays, paydays, and wage rates
termination of employment
grievance redressal mechanisms for workers

It provides sole negotiating status to the Union which has atleast 51 percent of the employees as its members. Where no union qualifies under this criterion, the employer must constitute a 'negotiating council' consisting of representatives drawn from the various unions, but with only those with at least 20 percent of employees as its members. It is unclear as to what will happen in case there are multiple registered trade unions which enjoy this support (of 10 percent of members) but no union has the required support of at least 20 percent workers to participate in the negotiating council.  
It requires the prior permission of the government for lay-off, retrenchment and closure for establishments which have 300 or more workers. A lay-off would be deemed illegal if it is effected without permission or is done despite refusal of permission, but it will not be so if the employee had been offered alternative employment that does not require any special skill or cause undue hardship. 
It prohibits strikes and lock-outs in all industrial establishments without notice. The Industrial Disputes Act, 1947 contains similar provisions for public utility services.  The rationale for extending the provisions on notice to all establishments is unclear.
It provides the government with the power to exempt any new industrial establishment or class of establishment from any or all of its provisions if it is in public interest.
It provides the government with the power to reject any decision/award of the Tribunal, through an executive order.  It could lead to conflict of interest, since the government can modify an award made by the Tribunal in a dispute in which the government itself is a party.

Some of the salient features of

CODE ON SOCIAL SECURITY

are –

It empowers the central government to set up Social Security Fund for the welfare of unorganised workers, gig workers and platform workers. Gig workers refer to workers outside the traditional employer-employee relationship.  Platform workers are those who access organisations or individuals through an online platform and provide services or solve specific problems.  Benefits, such as pension and medical insurance, continue to be mandatory only for establishments with a minimum number of employees.  As such, a large number of workers may still not get social security benefits under the code, since they work in establishments employing less than minimum number of employees for code to be applicable to them. Also, the Bill continues to treat employees within the same establishment differently based on the amount of wages earned.  For instance, provident fund, pension and medical insurance benefits are only mandatory to employees earning above a certain threshold (as may be notified by the government) in eligible establishments.  
The state governments can also set up and administer separate social security funds for unorganised workers.  
It gives the central as well as the state government the power to exempt any establishment from their respective provisions.

Some of the salient features of

CODE ON OPERATIONAL SAFETY

, HEALTH AND WORKING CONDITIONS

 are –


It defines a factory as any premises where manufacturing process is carried out and it employs more than

20 workers for premises where the manufacturing process is carried out using power.
40 workers for premises where it is carried out without using power.

It applies to all establishments where any hazardous activity is carried out, regardless of the number of workers.
It applies to all establishments or contractors employing 50 or more workers (on any day in the last one year).
It fixes the maximum work limit at eight hours per day.
It provides that women be entitled to employment in all establishments for all types of work.  It also provides that in case they are required to work in hazardous or dangerous operations, the government may require the employer to provide adequate safeguards prior to their employment.
It provides that no worker below the age of 18 or apprentice/trainee below the age of 16, may work in a mine. Similarly, no employer can hire workers with defective vision, deafness, or a tendency for giddiness, if there is a risk of accident.
It empowers the state government to define the maximum permissible limits of exposure to chemical and toxic substances in manufacturing processes.
It empowers the state government to exempt any new factory from the provisions of the Code in order to create more economic activity and employment.
PM SVANidhi Scheme
PM Street Vendor's AtmaNirbhar Nidhi (PM SVANidhi) scheme provides street-vendors with loans up to INR 10,000 to restart their work after the lockdown. The vendors, availing loan under the scheme, are eligible to get an interest subsidy @ 7 percent for early/timely repayment of loan. 
It is a Central Sector Scheme i.e. fully funded by Ministry of Housing and Urban Affairs.
The Scheme is available for beneficiaries belonging to only those States/UTs which have notified Rules and Scheme under Street Vendors (Protection of Livelihood and Regulation of Street Vending) Act, 2014. 
More than 5.5 lakh loans were granted under this scheme post COVID-19 induced lockdown.
India's per capita production of plastic waste
Goa leads India in the per capita production of plastic waste, followed by Delhi and Chandigarh.
India's national per capita plastic waste generation is 7.6 gm per day.
Plastic waste comprises around 6 percent of India's total solid waste generation.
GST (Compensation to States) Act
The GST (Compensation to States) Act guarantees all states an annual growth rate of 14 percent in their GST revenue in the first five years of implementation of GST beginning July 2017. If a state's revenue grows slower than 14 percent, it is supposed to be compensated by the Centre using the funds specifically collected as compensation cess. It was introduced as a relief for states for the loss of revenues arising from the implementation of GST.
To provide these grants, a GST compensation cess is levied on certain luxury and sin goods. The collected compensation cess flows into the Consolidated Fund of India, and is then transferred to the Public Account of India, where a GST compensation cess account has been created. States are compensated bi-monthly from the accumulated funds in this account.
However, instead of transferring the entire GST cess amount to the GST compensation fund, the CAG found that the Centre retained these funds in the Consolidated Fund of India and used it for other purposes.
Kaziranga National Park set to be expanded by 3,053 hectares (~30 square kilometers)
Kaziranga National Park is located in Assam.
It was established in 1908.
It was declared a World Heritage Site in 1985 by UNESCO for its unique natural environment.
Kaziranga is a vast expanse of tall elephant grass, marshland, and dense tropical moist broadleaf forests. Kaziranga is also surrounded by lush green tea plantations, most of them contributing heavily to Assam's economy. Brahmaputra is the major river flowing through the park.
It is known for its great one-horned rhinoceroses. As per the recent census conducted in 2018, the rhino population in Kaziranga National Park is 2,413. After Jim Corbett Park, it has the highest tiger density among the protected areas in the world. As such, it has also been declared as Tiger Reserve in 2006. The park is home to large breeding populations of elephants, wild water buffalo, and swamp deer. It is also recognized as an Important Bird Area by BirdLife International for conservation of avifaunal species. 
Bradykinin Hypothesis
Bradykinin is a compound that causes the blood vessels to expand and become leaky in the lungs. In addition, it leads to increased levels of a substance called hyaluronic acid, which can absorb more than 1,000 times its own weight in water to form a hydrogel.
According to scientists, SARS-CoV-2 virus leads to increased levels of the molecule bradykinin in the cells, causing a bradykinin storm. All this hinders the intake of oxygen in the lungs and leads to breathing difficulties, causing COVID-19.
Bio-Bubble
It's a tightly controlled environment sealed off from the outside world, and can only be accessed by a limited number of people. Mostly used for sporting events, the bio bubble will confine players, officials, and support staff to a specific space whereby they have limited physical interaction with people outside. And that reduces the chances of contracting an infection.
Players, officials and support staff are tested for coronavirus before entering the bio-secure environment. After a quarantine period, they are allowed to access the grounds and their hotels. They are barred from interacting with anyone outside the bio-bubble. Each person's movement is monitored with electronic devices so that they don't stray from the safety of the bio-bubble. Those who fail to follow the safety protocols are isolated and have to undergo a quarantine period.
World Suicide Prevention Day – 10th September
World Suicide Prevention Day

 is organised every year on 10th September by

International Association for Suicide Prevention

(IASP), in close association with WHO, to raise awareness around the globe that suicide can be prevented. 
ABOUT IASP – It was established in 1960. India has been its member but never held its presidency. Its meeting is held once every two years. IASP's Cycling Around the Globe event seeks to raise awareness of the risks of suicide and to fund suicide prevention activities.

World Mental Health Day

is organised ever year on 10th October by

World Federation for Mental Health

, in close association with WHO, to raise awareness of the risks of suicide and to fund suicide prevention activities.
Mach Number and its significance
As an aircraft moves through the air, the air molecules near the aircraft are disturbed and move around the aircraft. At speeds near or above the speed of sound, some of the energy of the aircraft goes into compressing the air and locally changing the density of the air. This compressibility effect alters the amount of resulting force on the aircraft. The effect becomes more important as speed increases. A sharp disturbance generates a shock wave that affects both the lift and drag of an aircraft.
Mach Number (M) is defined as the ratio of the speed of the aircraft to the speed of sound in the gas. This ratio determines the magnitude of many of the compressibility effects. The Mach number 

allows us to define flight regimes in which compressibility effects vary.

SUBSONIC (M<1) – For the lowest subsonic conditions, compressibility can be ignored. Commercial aircrafts fly in this range and have Mach Number less than 0.8 (flight speed less than 980 kmph). These have high aspect-ratio (slender) wings, with rounded features like the nose and leading edges.
TRANSONIC (M=1) – Generally, the speeds between Mach 0.8 and 1.3 are considered as Transonic. These have swept wings i.e. wings that angle backwards. 
SUPERSONIC (M>1) – Aircraft designed to fly at supersonic speeds show large differences in their aerodynamic design because of the radical differences in the behaviour of flows above Mach 1. The design must ensure that the aircraft does not suffer any shock due to such waves. Aerodynamic heating becomes an important factor in designing aircrafts for speeds above Mach 3. Some fighter aircrafts fly in the supersonic range.
HYPERSONIC (M>5) – At these speeds, some of the energy of the object now goes into exciting the chemical bonds which hold together the nitrogen and oxygen molecules of the air. At hypersonic speeds, the chemistry of the air must be considered when determining forces on the object. Some fighter aircrafts fly in the hypersonic range.
HYPERVELOCITY (M>10) – The Space Shuttles re-enter the atmosphere at high hypersonic speeds, M ~ 25. Under these conditions, the heated air becomes an ionised plasma of gas and the spacecraft must be insulated from the high temperatures.

The Mach number depends on the speed of sound in the gas and the speed of sound depends on the type of gas and the temperature of the gas. The speed of sound varies from planet to planet. On Earth, the atmosphere is composed of mostly diatomic nitrogen and oxygen, and the temperature depends on the altitude in a rather complex way.
TYPES OF ENGINES –

RAMJET – It operates by combustion of fuel in a stream of air compressed by the forward speed of the aircraft itself, as opposed to a normal jet engine, in which the compressor section (the big fan blades attached on the aircraft wings) compresses the air. The air flow through a ramjet engine is subsonic, or less than the speed of sound. Ramjet-propelled vehicles operate from about Mach 3 to Mach 6.

SCRAMJET

(Supersonic Combustion RAMJET) – It is a ramjet engine in which the airflow through the engine remains supersonic, or greater than the speed of sound. Scramjet powered vehicles are envisioned to operate at speeds up to at least Mach 15.
Brain Templates and Brain Atlas
Brain Templates and Brain Atlas

refer to standard Brain maps of healthy individuals according to their age, and place of their inhabitation.
When most brain scans (MRI) are taken, they need to be compared to a standard brain template for making comparison. This helps researchers identify parts of the brain, and examine them for any structural deviations. However, brain size and shape differs across ages, and across regions and ethnicities, and even greatly within any population.
We have been using the Montreal Neurological Index (MNI) template that is based on Caucasian brains (brains of white skinned people). But Caucasian brains are different from Asian brains. While some countries have their own scale to measure the brain, we are still dependent on the Caucasian brain template. 
Soon, the neurologists, the neurosurgeons and the psychiatrists in India will be able to map the brain structure of their patients and hence will be able to make an accurate assessment using Indian Brain Templates (IBT) and a brain atlas developed by a team of neuroscientists from Bangalore based NIMHANS (National Institute of Mental Health and Neuro-Sciences).
Science Diplomacy
Science diplomacy is the use of scientific collaborations among nations to address common problems and to build constructive international partnerships. 
Science diplomacy refers to three main types of activities –

"Science in diplomacy": Science can provide advice to inform and support foreign policy objectives
"Diplomacy for science": Diplomacy can facilitate international scientific cooperation
"Science for diplomacy": Scientific cooperation can improve international relations

Amid the coronavirus (COVID-19) pandemic, India has kick-started a science diplomacy initiative by launching a programme to strengthen the capacity of clinical trial research of vaccines in neighbouring countries – Nepal, Maldives, Bangladesh, Mauritius, Sri Lanka, Bhutan and Afghanistan.
Creative Capitalism
Creative Capitalism refers to an economic system which encourages economic growth through organisations seeking profit by providing low cost creative solutions to real world problems, especially of the developing world. It refers to a form of capitalism in which the resolution of social needs is the primary goal of an economic activity, while profit is the outcome.  In other words, creative capitalism refers to building responsible global corporations with increasing commitment to social responsibility.
Earthquake data to predict Ocean Warming
When an earthquake happens under the ocean, most of its energy travels through the ground as seismic waves, but a portion of that energy is transmitted into the water as sound waves too.
Sound waves propagate outward from the quake's epicenter just like seismic waves that travel through the ground, but the sound waves move at a much slower speed. The ground waves arrive at a seismic monitoring station first, followed by the sound waves, which appear as a secondary signal of the same event.
Since the speed of sound in water increases as the water's temperature rises, the length of time it takes a sound wave to travel a given distance in the ocean can be used to deduce the water's temperature. By analysing earthquakes that happen again and again at the same place in the ocean, we can measure the rate of ocean warming at that place over a period of time.
Since undersea earthquakes happen all over the world, the researchers said the system can be developed to monitor water temperatures in all of the oceans using existing infrastructure and equipment at a relatively low-cost.
Based on the data analysed so far, the researchers have confirmed that the Indian Ocean has been warming and it has been doing so even faster than previously estimated.
Hyperion – Saturn's spongy moon
Although it is one of the many small moons of Saturn, it is the largest known non-spherical moon among more than 200 moons in our solar system.
 Scientists believe that its odd shape could be the result of a major impact on a large, spherical moon, and that Hyperion could be the remnant of that strike.
Like most of Saturn's moons, Hyperion's low density indicates that it is composed largely of water ice with only a small amount of rock.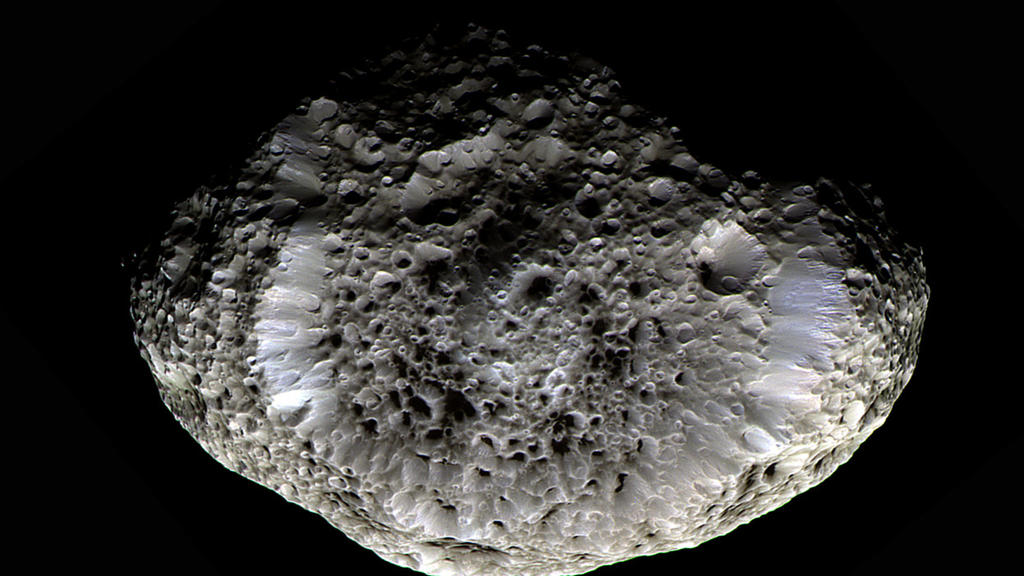 Electronic Vaccine Intelligence Network (eVIN)
The Electronic Vaccine Intelligence Network (eVIN) is an innovative technological solution aimed at strengthening immunisation supply chain systems across the country. It provides real-time information on vaccine stocks and flows, and storage temperatures across all cold chain points in the country. 
It is being implemented under National Health Mission (NHM) by Ministry of Health and Family Welfare, in association with UNDP.
To support the Government of India's efforts to combat COVID-19, eVIN India has been helping the State/UT governments monitor the supply chain of COVID response material. 
Cat Que virus
According to the scientists at ICMR, the Cat Que virus is found in pigs and culex mosquitoes. It was first isolated in 2004 from mosquitoes in northern Vietnam.
This virus is known to cause encephalitis-like symptoms similar to Japanese encephalitis. At the present moment, the Cat-Que virus is not perceived as a major public health threat.
Lion-tailed macaque
Lion-tailed macaque (Macaca silenus), a primate endemic to small and severely fragmented rainforests of the Western Ghats in Karnataka, Kerala and Tamil Nadu, continues to be in the '

Endangered

' category in the IUCN Red List of Threatened Species. The lion-tailed macaque ranks among the rarest and most threatened primates. Fragmentation of the habitat is one of the major threats to the species.
With a head-body length of 42 to 61 cm and a weight of 2 to 10 kg, it ranks among the smaller macaques. Gestation is approximately six months.  Sexual maturity is reached at four years for females, and six years for males. The life expectancy in the wild is approximately 20 years, while in captivity is up to 30 years. Unlike other macaques, it typically avoids humans when possible.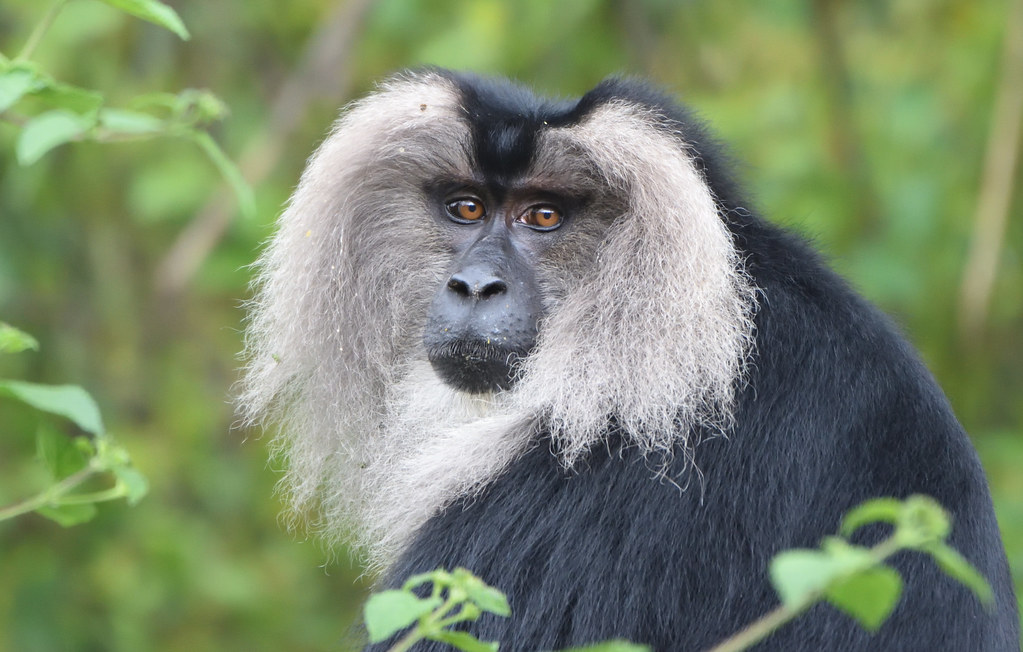 Data sonification
Telescopes offer glimpses of outer space by translating digital data into stunning images. These telescopes collect inherently digital data, in the form of ones and zeroes, and converts it into images. The images are essentially visual representations of light and radiation of different wavelengths in space, that can't be seen by the human eye. 
Data sonification refers to the use of sound values to represent real data. Simply put, it is the auditory version of data visualisation. NASA has gone a step further by unveiling a sonification project that transforms such digital data from astronomical images into audio. Pitch and volume are used to denote the brightness and position of a celestial object or phenomenon. With this data sonification project, users can now experience different phenomena captured in astronomical images as an aural (audio) experience. The birth of a star, a cloud of dust or even a black hole can now be 'heard' as a high or low pitched sound. Sonification projects allow audiences, especially the visually-impaired communities, to experience space through aural experience.
Jerusalema Challenge
It refers to an internet rage in which people from across countries have been uploading their videos dancing to Jerusalema, an African song.
The song, in IsiZulu, one of South Africa's 11 national languages, is a prayer to God to take the singer to the holy city of Jerusalem.
Magawa, the first rat to be awarded a gold medal for bravery
A rat called

Magawa

was awarded the PDSA Gold Medal for his life-saving work in Cambodia. Magawa is an African Giant Pouched Rat and is much larger than the usual pet rats. However it is still light enough to not trigger a landmine by walking over it. As such, these rats are trained to detect landmines in an area. If the rat detects a landmine underneath, it signals to its handler, after which it is safely disposed of. Magawa has been at work in Cambodia, which has the highest number of mine amputees per capita in the world.
PDSA Gold Medal, was established in 2002, to acknowledge outstanding acts of bravery by animals serving with the Armed Forces or Civil Defence units. It is the highest honour recognising extraordinary bravery of animals. The medal has been awarded to over 30 animals so far. Magawa is the first rat to win this medal. All other recipients are dogs. The medal is given by People's Dispensary for Sick Animals (PDSA), which is a veterinary charity in the United Kingdom. It was founded in 1917 to provide care for sick and injured animals of the poor.
Ease of doing business rankings for Indian states, 2019
Department for Promotion of Industry and Internal Trade (DPIIT) provides a set of recommendations meant to reduce the time and effort spent by businesses on compliance with regulation called the Business Reform Action Plan (BRAP).

BRAP 2019

is an 80-point list of reforms recommended to simplify, rationalise and digitise the regulatory framework in a state. States are required to submit proof of implementing each reform on the DPIIT's Ease of Doing Business portal and submit a list of users of these reforms. A sample of these users is then surveyed to determine the efficacy of these reforms. A state is also rewarded if a set of regulations (like labour or environment laws) are not applicable to it. For the first time since its inception in 2015, the BRAP rankings relied entirely on the feedback it received from the businesses for whom these reforms were intended. Earlier editions computed scores based on the responses of the relevant state government departments.
In the latest rankings, Andhra Pradesh stood first followed by Uttar Pradesh and Telangana.
Some states have attributed their low rank due to poor response and more expectations from their respective survey respondents. Also, the top-ranking states in terms of ease of doing business have not necessarily been able to attract higher shares of new investments throughout the year, since in addition to ease of doing business, businesses also give due consideration to other factors such as availability of cheap labour, raw material etc in a state.
Serial Interval in COVID-19
The term is used in relation to COVID-19, and refers to the duration between identification of symptoms in a primary case and identification of symptoms in secondary cases (contacts) generated by the primary case. 
The serial interval helps gauge the effectiveness of infection control interventions besides indicating rising population immunity and forecast future incidence. Thus, the more quickly persons who contracted COVID-19 are identified and isolated, the shorter the serial interval becomes and cuts down opportunities for transmission of the virus. To manage serial interval, a robust system of contact tracing, quarantine, and isolation protocols should be in place.
Feluda Test for COVID-19
An accurate and low-cost paper-based test strip to detect Covid-19 in less than 30 minutes, developed by researchers from CSIR and Tata Group.
According to CSIR, the test matches accuracy levels of RT-PCR tests, considered the gold standard in the diagnosis of COVID-19.
The Feluda test strip changes colour upon detection of the virus and can be used in a simple pathological lab.
Discovery of phosphine gas in the atmosphere of Venus
Scientists have reported high concentration of traces of

phosphine

in Venus.
Phosphine (PH3), a colourless but smelly gas, is known to be made by some species of anaerobic bacteria that survive in the absence of oxygen. Geochemical processes or meteorite activities also produce phosphine. However, if the gas had been produced by geochemical or meteorite sources, its concentration in the atmosphere of Venus would have been million times less than what has been reported. As such, scientists believe that the high concentration of phosphine in Venus could be due to biological activity, which gives a hope for extra-terrestrial life. However, the high concentrations of phosphine could also be due to yet unknown sources of Phosphine.
Several missions were sent in 1960s and 70s to find out possibility of life on Venus. High surface temperatures, extreme pressure and highly acidic atmosphere have so far ruled out any possibility of life on Venus. Venus although farther from sun than Mercury is far more hotter than Mercury. Although lesser in diameter than Earth, it is almost the same size of that of Earth. The presence of phosphine gas in high concentration has given a new hope.
Recently, India has announced partnership with France for its mission to Venus.
Infrastructure Investment Trust(s) (InvIT)
An Infrastructure Investment Trust (InvITs) is like a mutual fund, which enables direct investment of small amounts of money from possible individual/institutional investors in infrastructure projects to earn a small portion of the income as return.
The objective of InvITs is to facilitate investment in the infrastructure sector. An infrastructure company interested in getting funds from the public can form such a trust. A retail or even a large financial investors may not be typically able to invest in infrastructure projects such as roads, power, energy etc. InvITs enable these investors to buy a small portion of the units being sold by the fund depending upon their risk appetite.
There are four important parties to an InvIT — Sponsors, Investment Managers, Project Managers and the Trustees.


Sponsor(s)

 are promoters of the company that set up the InvIT.

Investment Managers

are responsible for how the assets and investments of the InvIT are managed.

Project Manager

actually executes the projects, and are overseen by the investment managers.

Trustees

ensures that the functions of the InvIT, investment manager and project manager comply with SEBI rules.

Securities and Exchange Board of India (SEBI) notified Infrastructure Investment Trusts Regulation in 2014, provides for registration and regulation of InvITs in India. As such, InvITs are regulated by the Securities and Exchange Board of India (SEBI).
Minimum investment amount in an InvIT is INR 10 lakh. If an investor exits an InvIT before three years, a short-term capital gains tax of 15 percent is applicable. There are no long-term capital gains taxes on them.
Just like stocks, InvITs are listed on exchanges through IPOs.
There are certain rules that the InvIT issuers have to follow designed to safeguard the investor.


First, the sponsor has to hold a minimum 15 percent of the InvIT units with a lock-in period of three years.
Second, InvITs have to distribute 90 percent of their net cash flows to investors.
Lastly, the InvIT is required to invest a minimum of 80 percent in revenue generating infra assets.

At a time when private sector investment in the economy has declined, fund-raising and spending on infrastructure through InvITs will not only provide a fillip to the economy, but will also crowd-in private sector investment. InvIT is a way for the government to tap alternative sources of financing to boost public spending in the roads and infrastructure sector.
Current issue of rising unemployment in India
There is an existing pool of over 35 million (or 3.5 crore) unemployed people in India. With a labour force participation rate (LFPR) of just 40 percent, about 10 million (or 1 crore) people seeking employment are added each year. LFPR is the proportion of people in the total population who are seeking work. India has a considerably low LFPR as compared to over 60 percent in developed countries. Even at an undesirably low LFPR of 40 percent, India would need close to 4.5 crore jobs by the end of the FY2020-21.
REASONS FOR INCREASING UNEMPLOYMENT – 


Global as well as domestic demand has fallen tremendously owing to COVID-19 induced lockdowns. Sectors such as Tourism, transportation, hospitality and automobile are worst hit.
Indian IT sector has been overly dependent on service led exports. With reduced global demand, Indian IT companies have gone for massive layoffs.
Our labour intensive manufacturing sector has yet not been able to compete globally. As such, we have not been able to generate demands for our products, especially during the pandemic induced slowdown.
The labour class is not succeeding to gather courage to return to workplaces in big industrialised cities. Government is still ignoring giving incentives for their return to work but in stead distributing free food grains for political gains with out any economic gain in return. Increased wages due to shortage of labour has increased the costs of many infrastructure projects turning them unviable, due to reduced purchasing capacity of the customers post global slowdown.
Low and middle income people have gone extra cautious in their spendings. The government needs to increase its public spending to give a push to domestic demand led growth. However, the government has been skeptical to increase its fiscal deficit and as such has been resorting to push growth by providing loans to MSMEs at preferable rates, which is not helping boost the demand.

CHALLENGES BEFORE THE GOVERNMENT

–

With more and more people joining back the farm sector, the issue of Farm Reforms and Minimum Support Prices announced by the government will increasingly come in sharp focus. Indian farming has never been remunerative and is likely to stay so with even more people dependent on it. Farmers are increasingly going to demand more support from the government while the government, facing a massive financial crunch, would try to cut down its support and subsidies to the farm sector. 
India's public debt/GDP will likely reach around 85 percent (from normal of 60 percent) and the consolidated gross fiscal deficit to GDP ratio could be around 12.5 percent (from normal of 3 percent) this year. Gradual fiscal consolidation is going to adversely impact growth, and hence employment.
CPI-WPI inflation rates have been displaying divergent trends, with WPI staying in the negative territory, reflecting weak pricing power, while CPI has been rising, staying above the RBI's comfort level. Moreover, supply shortages due to COVID-19 may lead India to stagflation where food prices increase due to supply side shortages, and not due to increase in demand. High CPI imposes restrictions on RBI led monetary interventions to boost growth and employment.
Many of the areas that require investment are state subjects, and there appears to be a lack of trust between the Centre and the states on leakages, in case a large unconditional allocation is made by the Centre to the states. Moreover with GST implementation, states are finding themselves short of revenue required to make financial intervention to boost domestic demand.

WAY FORWARD

–

India needs to broaden its consumer base beyond the top 10- 20 percent of the population to improve long-term growth prospects. This cannot happen with regular doses of consumption stimulus but through creating steady and well-paid employment for the bottom and middle segments.
Going forward, most of the public spending should be directed towards capital infrastructure such as roads, railways, infrastructure, healthcare and educational facilities that help boost the demand in the economy. Capital infrastructure not only acts as enabler for other sectors but also provide mass employment to people in bottom and middle segments.
The government needs to start addressing some of the structural (systemic) issues such as the large infrastructure deficit (lack of infrastructure matching current needs), the weak financial sector, archaic land and labour laws, and the administrative and judicial hurdles. If it fails to do so, India's potential growth will be much lower and we risk losing a decade of favourable demographics
Changing dynamics of Centre-state relations during COVID-19
In spite of the rather unilateral response in terms of imposing a nationwide lockdown, the Centre eventually chose to work carefully with the states. And, the most cynical of the chief ministers professed working with the Centre and other states to deal with a variety of challenges posed by the pandemic. In the past few months, the country has witnessed an interesting and remarkably coordinated effort by the Centre and states in addressing a collective challenge.
The experience offers an opportunity to revisit the recent debate around the federal organisation of powers under the Constitution's Seventh Schedule that deals with Centre-state relations. Health is a state subject. However, both the Centre as well as the states have been working to fight the pandemic. The Centre's efforts have been primarily focused on achieving economies of scale in vaccine procurement, knowledge production for setting standards and guidelines for the states, and mitigating inter-state externalities. The states continue to play the dominant role in the execution of the actual response to the health crisis.
To sustain such coordination on a long-term basis, it is recommended to shift certain subjects to the Concurrent List. A High-Level Group constituted by the 15th Finance Commission recommended shifting health from the 'State List' to the 'Concurrent List'. A similar recommendation was made earlier by the Ashok Chawla Committee for water. However, the question arises that whether such shifting of subjects from the 'State List' to 'Concurrent List' is really feasible in current times of acute competitive federalism between the Centre and the states. The aspired cooperative federalism demands the states to cede powers in their traditionally exclusive domains. Nevertheless, the states need security against external threats and challenges to sustainability of resources, and this is where the Centre can play a crucial role. 
The GST reforms is the most recent instance of such reworking of the Centre-state roles for a greater and collective goal. It involved a tortuous, but a new consensus building approach to implement the reforms. The ongoing friction between the Centre and the states over GST reforms tells us that consensus-building is not a one-time exercise. It has to allow sustained dialogue and deliberation. Similar consensus-building would be required for sectors like health, rural development and agriculture as well, in case the subjects are moved to the Concurrent List anytime in future.
Why destroying Bollywood's credibility harms national interest ?
When one country gets other countries to want what it wants that is its soft power as opposed to its hard power of ordering others to do what it wants. Bollywood has played a crucial role in shaping our knowledge, culture, ethics, and preferences. There is no denying the fact that over the past few years, Bollywood has been producing films funded by black money and international mafia's who have tried to hijack this institution to further their own agendas. A subtle attempt has been made through films to break the very fabric of Indian culture and society. While the highly unregulated content over OTT platforms offers much more freedom of expression to content providers, it also posses greater challenges. The unabated use of abuses and violence in programs served over such platforms is detrimental to the psyche of young people, where all this is often seen as a new normal. In the absence of self regulation by producers and platforms, the government needs to set up an independent regulator of the content produced by them. Also, the accounts of production houses must be audited from time to time to ensure that they are not funded by anti-national elements. Complaints related to sexual and drug abuse must be seriously enquired into.
While cleaning Bollywood of black money and bad influence is a worthy endeavour, the pursuit of political agendas that stifle free expression in the name of nationalism and puritanism, can rob popular culture of its soft power. The need of the hour is not to malign the entire institution itself but to clean it of its impurities. Bollywood has, and can play an important role in inculcating a sense of nationalism and brotherhood among masses, especially during the current times of mutual suspicion and hatred. It can inspire youth to take up challenging endeavours to help in nation building. We need more movies like '3 Idiots' that inspired a whole generation of youth to follow their passion, movies like 'Border' and 'Lakshya' that inculcates patriotism among masses, movies like 'Swades' that inspire many abroad to come back and serve their nation, movies like 'Mangalyan' that demonstrate women empowerment in truest sense, movies like 'Chak De India' that inculcates the spirit of sportsmanship among youth, and many more such movies.
Minimum Support Price and the issue of surplus food grains
Procurement by government agencies have broken records with every season. Given the forecast for bumper harvest in FY 2020-21, the prices would be subdued due to large stocks and also less demand globally.
Commission for Agricultural Costs and Prices (CACP)'s has made the following recommendations in its latest report for the FY 2020-21 –

The government must give consideration to move away from its current open ended procurement policy. Currently the procurement at MSP is open ended i.e. whatever foodgrains are offered by the farmers ,within the stipulated procurement period and which conforms to the quality specifications prescribed by Government of India, are purchased at MSP (plus bonus/incentive ,if any) by the Government agencies. This has been hindering crop diversification since farmers resort to growing crops covered under MSPs only.
The government must restrict procurement from states like Punjab and Haryana where substantial groundwater depletion has occurred and other states that give bonus over and above MSPs.
The government must restrain from sale of government buffer stock in the open market, as it may lead to drastic fall in market prices of agricultural produce. Instead, the government must dispose of extra stock for cattle feed and biofuel production. Also, the government can think of distributing more quantities of foodgrains under National Food Security Act and other welfare schemes.
Kalinga cricket frog
The frog was initially reported from the Eastern Ghats in 2018. It was thought to be endemic to the hill ranges of the Eastern Ghats of Odisha and Andhra Pradesh. However, the species have recently been reported from the central Western Ghats too, although with significant morphological (physical) differences than its Eastern Ghat counterpart.
The Western Ghats and the Eastern Ghats are the two different biogeographic zones, with unique histories. While the Western Ghats are considered as a biodiversity hotspot, that is not the case with its eastern counterpart. Geologically, the Western Ghats are ancient, while the formation of the Eastern Ghats is recent. 
Aichi Biodiversity Targets
The Convention on Biological Diversity (CBD), known informally as the Biodiversity Convention, is a multilateral treaty that came into force as a result of 1992 Earth Summit, also known as Rio De Janeiro Summit. The Convention has three main goals –

conservation of biological diversity (or biodiversity)
sustainable use of its components
fair and equitable sharing of benefits arising from genetic resources

In 2010, the UN declared the decade 2011-2020 as the United Nations Decade on Biodiversity.  In 2010 itself, during the 10th meeting of the Conference of the Parties of the Convention on Biological Diversity, the CBD members adopted a document called as

Strategic Plan for Biodiversity 2011-2020

, containing 20 targets also known as

Aichi Biodiversity Targets

. These targets are about increasing awareness about the importance of biodiversity, incorporation of biodiversity values into local and national development and poverty reduction strategies, removal of incentives and subsidies which are harmful to biodiversity, sustainable production and consumption etc.

TARGET 1 – By 2020, people are aware of the values of biodiversity.
TARGET 2 – By 2020, integrate biodiversity values into national and local development and poverty reduction strategies and planning processes.
TARGET 3 – By 2020, all incentives and subsidies which are harmful to biodiversity must be phased out, and the ones that promote biodiversity are developed and applied.
TARGET 4 – By 2020, the governments have implemented plans for sustainable production and consumption of natural resources.
TARGET 5 – By 2020, the rate of loss of all natural habitats, including forests, is at least halved.
TARGET 6 – By 2020 all fish and invertebrate (animals without backbone) stocks and aquatic plants are managed and harvested sustainably.
TARGET 7 – By 2020 areas under agriculture, aquaculture and forestry are managed sustainably, ensuring conservation of biodiversity.
TARGET 8 – By 2020, pollution, including from excess nutrients through fertilizers, has been brought to levels that are not detrimental to ecosystem function and biodiversity.
TARGET 9 – By 2020, invasive alien species and pathways are identified and eliminated.
TARGET 10 – By 2015, the multiple anthropogenic pressures on coral reefs, and other vulnerable ecosystems impacted by climate change or ocean acidification are minimised, so as to maintain their integrity and functioning.
TARGET 11 – By 2020, at least 17 percent of marine and inland water, and 10 percent of marine and coastal areas, especially areas of particular importance for biodiversity and ecosystem services, are conserved through various measures.
TARGET 12 – By 2020 the extinction of known threatened species has been prevented and their conservation status, particularly of those most in decline, has been improved and sustained.
TARGET 13 – By 2020, the genetic diversity of cultivated plants, and the genetic diversity of farmed as well as domesticated animals is maintained, and strategies have been developed and implemented for minimising genetic erosion and safeguarding their genetic diversity.
TARGET 14 – By 2020, ecosystems that provide essential services, including services related to water, and contribute to health, livelihoods and well-being, are restored and safeguarded, taking into account the needs of women, indigenous and local communities, and the poor and vulnerable.
TARGET 15 – By 2020, the contribution of biodiversity to climate change mitigation and adaptation has been enhanced, through conservation and restoration of at least 15 percent of degraded ecosystems.
TARGET 16 – By 2015, the

Nagoya Protocol on Access to Genetic Resources and the Fair and Equitable Sharing of Benefits Arising from their Utilisation

is in force and operational.
TARGET 17 – By 2015, each member country has developed and started implementing its respective national biodiversity strategy and action plan.
TARGET 18 – By 2020, the traditional knowledge, innovations and practices of indigenous and local communities relevant for the conservation and sustainable use of biodiversity, and their customary use of biological resources, are respected and included in national biodiversity strategy and action plan.
TARGET 19 – By 2020, science based knowledge and technologies relating to biodiversity are improved, widely shared and transferred, and applied.
TARGET 20 – By 2020, the mobilisation of financial resources for effectively implementing the Strategic Plan for Biodiversity 2011-2020 must increase substantially.

According to a leaked UN report for 2020, none of the twenty Aichi Biodiversity Targets agreed on by national governments through the United Nations Convention on Biological Diversity (CBD) have been fully achieved, though six targets have been partially achieved.
Zero Budget Natural Farming (ZBNF)
In India, the Green Revolution had a phenomenal impact on India's food production, but it also rendered the land infertile, led to extensive water consumption and aggravated groundwater loss. In the recent past, there has been a global demand to shift to sustainable farming systems, such as zero-budget natural farming (ZBNF). The Union government introduced ZBNF in its Budget for FY 2019-20. The government has come up with Paramparagat Krishi Vikas Yojana, which is meant to promote organic farming and soil health.
ZBNF has attained wide success in southern India, especially the southern Indian state of Karnataka where it first evolved. It was originally promoted by Maharashtrian agriculturist and Padma Shri recipient Subhash Palekar, who developed it in the mid-1990s as an alternative to the Green Revolution's methods driven by chemical fertilizers and pesticides and intensive irrigation. He argued that the rising cost of these external inputs was a leading cause of indebtedness and suicide among farmers, while the impact of chemicals on the environment and on long-term fertility was devastating. Without the need to spend money on these inputs, the cost of production could be reduced and farming made into a 'zero budget' exercise, breaking the debt cycle for many small farmers.
'Zero Budget' means without using any credit, and without spending any money on purchased inputs. 'Natural farming' means farming with nature and without chemicals. Zero Budget Natural Farming reduces farmers' direct cost and encourages them to use natural inputs, such as cow dung and cow urine. ZBNF encourages soil aeration (making pores in the soil for aeration), minimal watering, intercropping, topsoil mulching of crop residues to promote moisture retention in soil, and at the same time discourages intensive irrigation and deep ploughing. It completely rejects the use of inorganic fertilisers, pesticides and herbicides. The natural inputs help manage soil nutrition, fertility, pests and seeds.
However, efficacy of ZBNF as compared to conventional methods is still questionable. Critics warn against a wholesale move away to ZBNF model without sufficient proof that yields will not be affected. Multi-location studies are needed to scientifically validate the long-term impact and viability of the model before it can be scaled up and promoted country-wide.
Soil degradation
Approximately 36 percent of India's total arable and non-arable land suffers from various forms of soil degradation with water erosion being its chief contributor.

Water erosion results in loss of organic carbon, nutrient imbalance, soil compaction, decline in soil biodiversity, and contamination with heavy metals and pesticides.

Soil toxification

through chemicals is increasing with urbanisation. More and more municipal and industrial wastes are being dumped in the soil with heavy metals having carcinogenic effects.

Degradation of soil health

has also been reported due to long-term imbalanced use of fertiliser nutrients due to skewed subsidy policy in favour of urea and high prices of other fertilisers. In terms of major macro-nutrients (nitrogen-phosphorus-potassium, or NPK), the study found that Indian soils are generally deficient in nitrogen and phosphorous, while high in potassium.

Phosphorous is low mostly in Indo-Gangetic plains, Central and North East India.
Nitrogen deficiency is across the country, with the deficiency higher in central and southern India than in the Gangetic plains.

The Soil Health Card (SHC) scheme, launched in 2015 under the National Mission for Sustainable Agriculture, aims to regulate and minimise the use of fertiliser. The card which is issued to a farmer after an analysis of his / her land, has recommendations on dosage of different nutrients needed and encourages farmers to use fertilisers according to soil deficiencies. 
Recently at the 2019 meeting of the United Nations Convention to Combat Desertification in New Delhi, India has vowed to restore 26 mha (million hectares) of degraded land by 2030.
Sun Spots and Solar Minimum
SUNSPOTS are temporary phenomena on the Sun's photosphere that appear as spots darker than the surrounding areas. They are regions of reduced surface temperature caused by concentrations of magnetic field flux that inhibit convection. Sunspots usually appear in pairs of opposite magnetic polarity. Their number varies according to the approximately 11-year solar cycle. Individual sunspots or groups of sunspots may last anywhere from a few days to a few months, but eventually decay. Sunspots expand and contract as they move across the surface of the Sun, with diameters ranging from 16 km to 1,60,000 km.
SOLAR MINIMUM is the period of least solar activity in the 11-year solar cycle of the Sun. During this time, sunspot and solar flare activity diminishes, and often does not occur for days at a time. Solar minimum is contrasted with the 

SOLAR MAXIMUM

, when hundreds of sunspots may occur. At a maximum, the Sun is peppered with sunspots, solar flares erupt, and the Sun hurls billion-ton clouds of electrified gas into space.
GRAND SOLAR MINIMUM occur when several solar cycles exhibit lesser than average activity for decades or centuries. The last time such an event occurred was during the Maunder Minimum, from 1645 AD to 1710 AD, which was part of what is now known as the Little Ice Age. Scientists say the Sun may be going through a long period of decreased activity known as the Modern Grand Solar Minimum from 2020 to 2053. It is expected to offset the rising temperatures due to global warming by about 1 degree Celsius. However, scientists say that impact of global warming would be six times greater than the cooling caused by the Grand Solar Minimum, and that even if the period lasted for a century, the planet would continue to warm.  
SOLAR CYCLE 25 – Scientists believe that a new solar cycle has begun and its solar maximum (middle of the solar cycle) will be reached by July 2025, and hence the name Solar Cycle 25.
World Risk Index, WRI 2020
The World Risk Index describes the disaster risk for various countries and regions. It is part of the World Risk Report 2020 released by the United Nations University Institute for Environment and Human Security (UNU-EHS). The United Nations University (UNU) is the academic arm of the United Nations and acts as a global think tank. It is headquartered in Japan, and has been releasing World Risk Index since 2011. 
The index score varies from 0 to 100, with 100 implying maximum risk. Also, a lower rank in the index indicates higher risk. For e.g. Rank 1 would be at more risk than rank 2. In World Risk Index 2020, countries with a score above 52.73, have been considered as 'very poor' in their adaptive capacities for extreme natural disasters.
Among continents, Oceania is at the highest risk, followed by Africa and the Americas. Vanuatu (South Pacific Ocean) is the country with the highest disaster risk worldwide. It is followed by Tonga (South Pacific Ocean) and Dominica (Caribbean Sea). Qatar had the lowest risk according to the global index.
More than two-thirds of the most vulnerable countries in the world are located in Africa. The size of semiarid regions in Africa is expected to increase.
India has ranked 89th among 181 countries on the WRI 2020 and is fourth-most-at-risk in South Asia, after Bangladesh, Afghanistan and Pakistan. Sri Lanka, Bhutan and the Maldives have fared better than India in their abilities to cope with extreme disasters.A comparison with the WRI 2019, shows that all south Asian countries improved marginally on their WRI rankings. However, all south Asian countries fared poorly in the 2020 index (as compared to 2019) on strengthening their abilities to prepare and adapt to extreme events.  
Phytoplanktons and Chlorophyll-a
Phytoplanktons are tiny microscopic plants found in the ocean. They are important ecological indicators that regulate life in ocean. They have chlorophyll to capture sunlight, and use photosynthesis to turn it into chemical energy. All phytoplankton photosynthesise, but some get additional energy by consuming other organisms.
Phytoplanktons contribute to more than half of the oxygen that we breathe. That apart, they influence our climate by absorbing human-induced carbon dioxide. They also serve as the foundation of the aquatic food web.
Chlorophyll-a is a specific form of chlorophyll used in oxygenic photosynthesis (A specific type of photosynthesis which produces oxygen as a byproduct). It absorbs most energy from wavelengths of violet-blue and orange-red light. It reflects green-yellow light, and as such contributes to the observed green colour of most plants.
Scientists in Bay of Bengal have observed significant increase of chlorophyll-a concentration during pre-southwest monsoon seasons. Though such trends could tell an overall improved health status of the ecosystems as a whole, they could be detrimental to ocean health because of eutrophication. Eutrophication is characterised by excessive plant and algae growth due to the increased availability of one or more limiting growth factors needed for photosynthesis, such as sunlight, carbon dioxide, and nutrient fertilizers. Eutrophication occurs naturally over centuries as lakes age and are filled in with sediments. However, human activities have accelerated the rate and extent of eutrophication, through discharge of nitrate or phosphate-containing detergents, fertilizers, or sewage into an aquatic system. Land run-off that deposits an excess of nutrients from agricultural land to the coastal waters facilitates growth of harmful algae blooms at a large scale. After such plants and algae die, bacterial degradation of their biomass results in increased oxygen consumption, leading to a state of Hypoxia (deficiency of oxygen). Continuous monitoring of the ocean ecosystem is, therefore, the need of the hour to devise mitigation system to encounter disruption caused by algae bloom because of excessive phytoplankton enrichment in the coastal water.
El-Nino and La-Nina
El Niño and La Niña are the warm and cool phases of a recurring climate pattern, involving abnormal temperature fluctuations, across the tropical Pacific, a phenomena typically known as the El Niño-Southern Oscillation (ENSO) cycle. These deviations from normal surface temperatures can have large-scale impacts not only on ocean processes, but also on global weather and climate.
Weather depends a lot on ocean temperatures. Where the ocean is warm, more clouds form, and more rain falls in that part of the world. In the Pacific Ocean, near the equator, the Sun makes the water especially warm on the surface. We also know that atmospheric winds blow from east to west along the equator. Normally, strong winds along the equator push the warm surface water near South America westward toward Indonesia. When this happens, the cooler water underneath rises up toward the surface of the ocean near South America.

In the fall and winter of some years, these equatorial winds are much weaker than usual. Sometimes, these actually start blowing the other way (toward South America instead of Indonesia and Australia). So the warm surface water along the equator piles up along the coast of South America. In El Niño years, lots of rain clouds form over this warm part of the ocean on the eastern pacific region. These clouds move inland and dump much more rain than usual on eastern coasts of South and Central America. This phase when sea temperature on eastern pacific ocean along South and Central America is higher than normal is known as El Niño. El Nino has been generally known to suppress monsoon rainfall in India. 
In the fall and winter of some years, these winds are much stronger than usual. So the warm surface water along the equator is drifted away from South America and towards Indonesia and Australia. In La-Nina years, lots of rain clouds form over this warm part of the ocean on the western pacific region. These clouds move inland and dump much more rain than usual in Indonesia and Australia, while countries along eastern coast of South and Central America receive less than normal rainfall. This phase when sea temperature on eastern pacific ocean along South and Central America is lower than normal is known as La Niña. It has been reported that La Niña results in heavy or better monsoon rains in India.  It also leads to intermittent waves of extremely cold weather in hilly parts of southern India, which are closer to the equator. 

The name La Niña originates from Spanish, meaning 'the girl', analogous to El Niño meaning 'the boy'. La Niña weather patterns cause drier than average years while El Niño weather patterns cause wetter than average years in eastern pacific regions.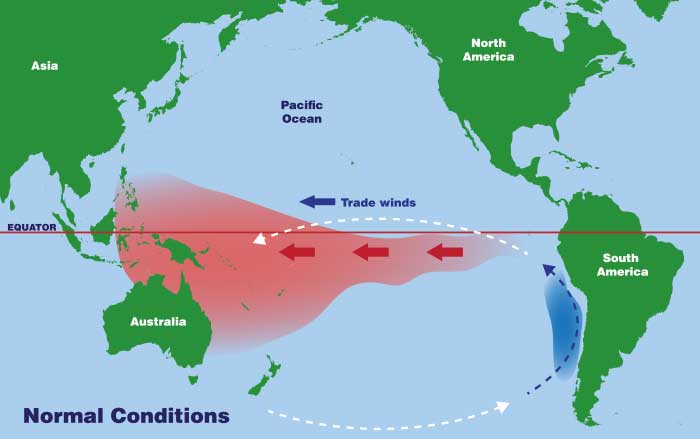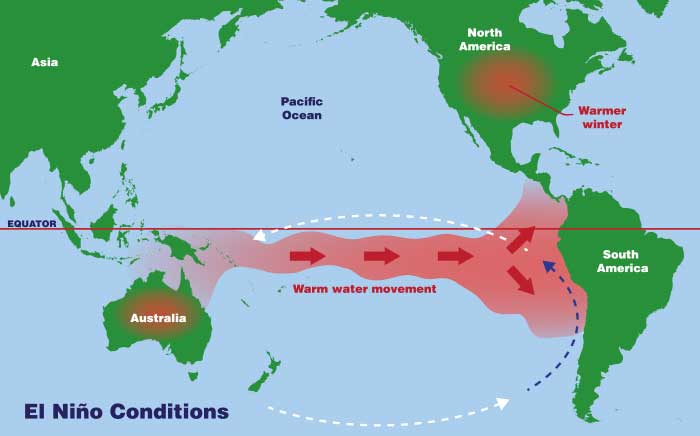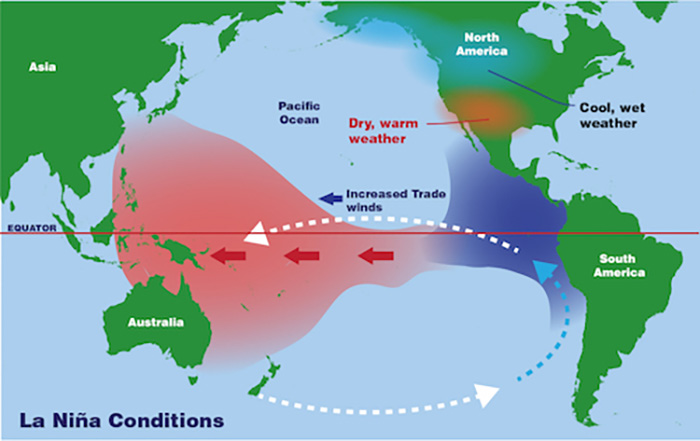 Armenia-Azerbaijan clashes
Both Armenia and Azerbaijan are former Soviet countries which have been involved in a dispute over Nagorno-Karabakh mountainous region. The region is primarily inhabited by people of Armenian ethnicity but is controlled by Muslim dominated country of Azerbaijan.
The clashes between the two countries date back to 1980s when when the Soviet power was receding, separatist currents picked up in Nagorno-Karabakh. In 1988, the national assembly voted to dissolve the region's autonomous status and join Armenia. But Azerbaijan suppressed such calls, which led to a military conflict. In 1991, Armenia and Azerbaijan became independent countries after the collapse of the Soviet Union, and got engaged in an open war in which tens of thousands of people were killed. The war lasted till 1994 when both sides reached a ceasefire. By that time, Armenia had taken control of the Nagorno-Karabakh region and handed it to the Armenian rebels. The rebels declared independence, but have yet not won recognition from any country. The region is still treated as a part of Azerbaijan by the international community, and Azerbaijan wants to take it back.
The energy-rich Azerbaijan has built several gas and oil pipelines across the Caucasus (the region between the Black Sea and the Caspian Sea) to Turkey and Europe. Some of these pipelines pass close to the conflict zone (within 16 km of the border). In an open war between the two countries, the pipelines could be targeted, which would impact energy supplies.
Turkey has historically supported Azerbaijan and has had a troublesome relationship with Armenia. In the 1990s, during the war, Turkey closed its border with Armenia and it has no diplomatic relations with the country. As such, in the current conflict, Turkey is backing Azerbaijan. Russia enjoys good ties with both Azerbaijan and Armenia and supplies weapons to both. But Armenia is more dependent on Russia than the energy-rich, ambitious Azerbaijan. Russia also has a military base in Armenia. As such, Russia is trying to strike a balance between the two.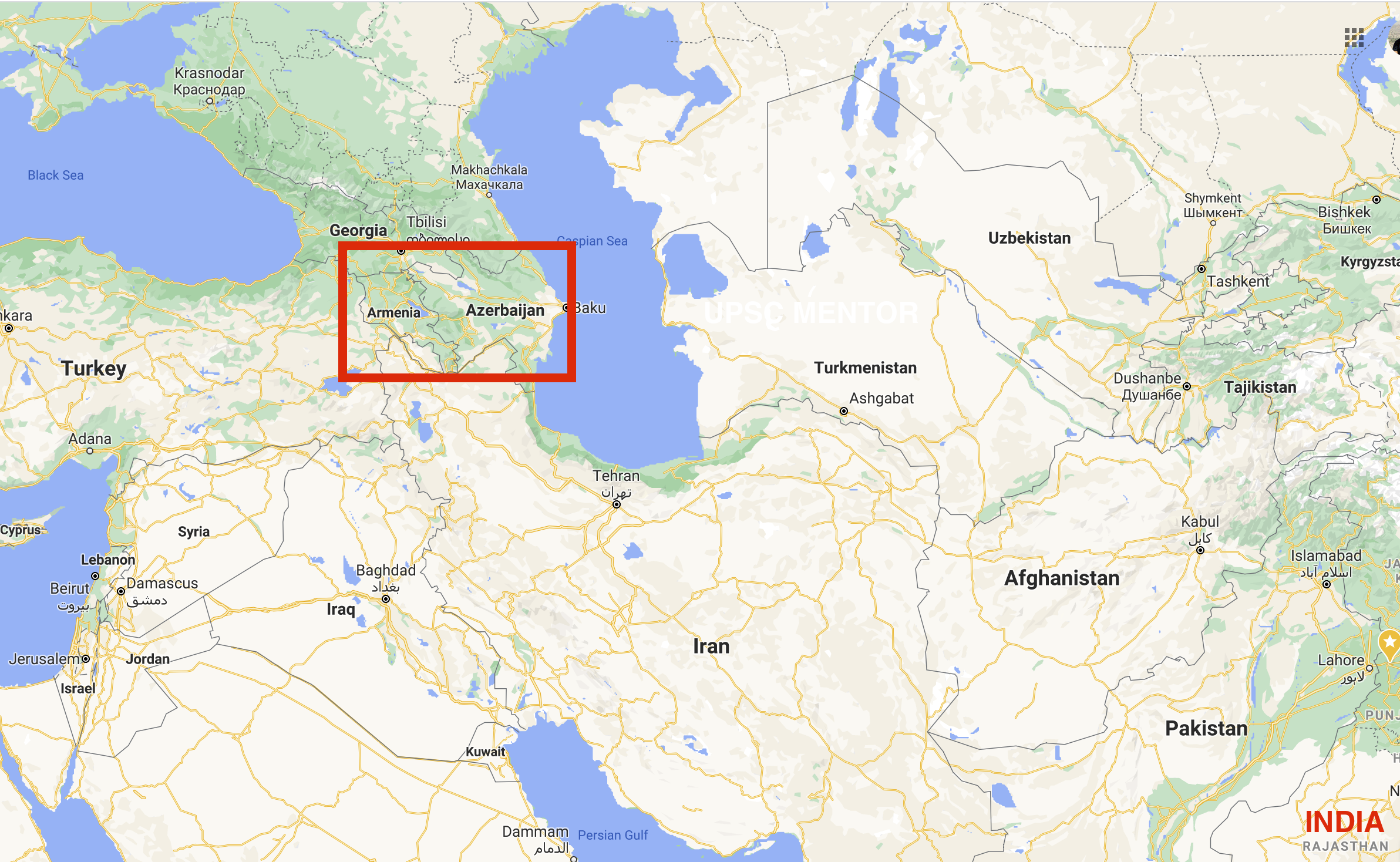 Agartala-Akhaura rail project
It is going to be the first rail route to run passenger and goods trains from northeast India to Bangladesh. It is expected to be ready by 2021.
India's Ministry of External Affairs is funding the track laying in Bangladesh while the Ministry of Development of North Eastern Region has taken on the track laying on the Indian side. IRCON International Limited (formerly Indian Railway Construction Limited) has been assigned construction work on both sides of the border.
Six kilometres of the new route falls in Bangladesh and 4 km in the Indian state of Tripura.
First direct commercial flight between Israel – UAE takes off
UAE is the only Arab country, after Egypt and Jordan, to establish diplomatic ties with the Jewish state of Israel.
Palestine. has condemned UAE for agreeing to normalise relations with Israel.
Organisation for the Prohibition of Chemical Weapons (OPCW)
The Organisation for the Prohibition of Chemical Weapons (OPCW) is an intergovernmental organisation and the implementing body for the 

CHEMICAL WEAPONS CONVENTION (1997)

. It has 193 member states, and is headquartered in The Hague, Netherlands. It oversees the global endeavour for the permanent and verifiable elimination of chemical weapons. Its Conference of Parties (CoP) is held annually.
While the OPCW is not a specialised agency of the United Nations, it cooperates both on policy and practical issues as a related organisation. 
It has the power to send inspectors to any signatory country to search for evidence of production of banned chemicals. It also can send experts to help countries to investigate crime scenes where chemical agents may have been used.
The organisation was awarded the 

2013 Nobel Peace Prize

for its extensive efforts to eliminate chemical weapons.
In 2014, The

OPCW–The Hague Award

 was established to honour select individuals and institutions by highlighting their exceptional contributions towards the goal of a world permanently free of chemical weapons. 
In 2019, OPCW added Novichok agents to list of controlled substances of the Chemical Weapons Convention. Novichok is a toxic nerve agent which causes a slowing of the heart and restriction of the airways, leading to death by asphyxiation. Novichok is made with agrochemicals, and hence its production could readily be hidden. Germany has been accusing Russia of using Novichok to recently poison a critic of the Russian President.
13th Amendment to the Sri Lankan Constitution, and why is it contentious?
Communal tensions between the Sinhalese and Tamil communities date back to 1940s and got intensified with the wave of Sinhalese nationalism and massive anti-Tamil riots in the latter half of the 1950s. Post independence in 1948, the successive Sri Lankan governments attempted to rectify the disproportionate favouring and empowerment of Tamil minority by the colonial rulers, which led to ethnic discrimination, seeded hatred and division policies and gave rise to separatist ideologies among many Tamil leaders. This led to formation of Liberation Tigers of Tamil Eelam (LTTE) in 1976 as the self-styled 'national freedom movement of the people of Tamil Eelam', which began a guerrilla war on the government and administration. 
13th Amendment to Sri Lankan Constitution is an outcome of the Indo-Lanka Accord of July 1987, signed by the then Prime Minister Rajiv Gandhi and President J.R. Jayawardene, in an attempt to resolve Sri Lanka's ethnic conflict that had aggravated into a full-fledged civil war, between the armed forces and the Liberation Tigers of Tamil Eelam (LTTE), which led the struggle for Tamils' self-determination and sought a separate state.
The 13th Amendment, which led to the creation of Provincial Councils, assured a power sharing arrangement to enable all nine provinces in the country to self-govern. It provided for devolution of subjects such as education, health, agriculture, housing, land and police to the provincial administrations, but because of restrictions on financial powers and overriding powers given to the President, the provincial administrations have not made much headway. In particular, the provisions relating to police and land have never been implemented. Sri Lankan government gave several assurances to implement the 13th Amendment and go even beyond its provisions, popularly referred to as his promise of '

13 PLUS

'. The conduct of the historic Northern Provincial Election in 2013 was a welcome step, but the government was reluctant to part with land and police powers.
The 13th Amendment has been vehemently opposed vociferously by both Sinhala nationalist parties and the LTTE. The former thought it was too much power to share, while the Tigers deemed it too little. Many in Sri Lanka felt it to be Indian interference in Sri Lankan politics. The current government now seeks to abolish the 13th Amendment itself while arguing that in a small country like Sri Lanka the provinces could be effectively controlled by the Centre. The Tamilians in India have been pushing the government to leverage its diplomatic ties with Sri Lanka to prevent the revocation of 13th Amendment, which may otherwise spurt another wave of ethnic conflicts in the region. India's appeal to Sri Lanka to address the aspirations of its Tamil minority will certainly find resonance among the Tamil-speaking populace on both sides of the Palk Strait (a strait between the Tamil Nadu state of India and the Jaffna District of the Northern Province of the island nation of Sri Lanka), but it is doubtful if it will have any effect. 
Rome Statute and the International Criminal Court (ICC)
The 

ROME STATUTE

of the International Criminal Court (often referred to as the International Criminal Court Statute or the Rome Statute) is the treaty that established the International Criminal Court (ICC). It was adopted at a diplomatic conference in Rome, Italy in 1998 and entered into force in 2002. The Rome Statute established four core international crimes: genocide, crimes against humanity, war crimes, and the crime of aggression. 
Although 139 countries signed the treaty, only 123 ratified it through respective national laws that give jurisdiction in their homeland to the International Criminal Court (ICC). Although the US was part of the founding movement to build the ICC to try cases of genocide and war crime, especially after the courts in Rwanda failed, it decided not to ratify the Statute in 2002. Countries like Russia, China and India, however, were never in favour of the Rome Statute or the ICC, and never signed on.

International Criminal Court (ICC) is based out of Hague (Netherlands)

, and is the first and only permanent international court with jurisdiction to prosecute individuals for the international crimes of genocide, crimes against humanity, war crimes, and the crime of aggression. It is intended to complement existing national judicial systems and therefore, it may exercise its jurisdiction only when national courts are unwilling or unable to prosecute criminals. ICC lacks universal territorial jurisdiction, and may only investigate and prosecute crimes committed within member states, crimes committed by nationals of member states, or crimes in situations referred to the Court by the United Nations Security Council (UNSC).
In the last few years, the Trump administration has walked out of several UN agencies and international agreements, including Human Rights Council, UNESCO, the Paris climate change agreement and the Iran nuclear accord. More recently, US has put sanctions on two officials of International Criminal Court who tried to investigate war atrocities committed by US army in Afghanistan in the war of 2003. The US decision has been criticised by the UN, the EU, 10 members of the UN Security Council, including the UK and France, as well as several international human rights agencies, all of which have called for the sanctions to be reversed. According to them, the US's action was a setback to the international rules-based multilateral order, and the decision to sanction anybody assisting the ICC will deter victims of violence in Afghanistan from speaking out. Some pointed out that the US's unilateral sanctions would encourage other regimes accused of war crimes to flout the ICC's rulings. 
G4 nations
G4 refers to India, Brazil, Japan and Germany, a group that is seeking permanent membership of the UN Security Council (UNSC), which currently has five permanent members (P5) – China, France, Russia, the United Kingdom, and the United States, chosen by virtue of being winners of World War II .
The current members of the Security Council can hardly claim adequate representation of the world's leadership today. While the UNSC does not have a permanent member from the African, Australian and South American continents, it also has not included the pillars of today's multilateral order, such as the G-4 group of Brazil, India, Germany and Japan. Also, there is a deep polarisation within the UN's membership, so decisions are either not taken, or not heeded. Frequent divisions within the UNSC P5 end up blocking key decisions. These issues are underlined in a year where the coronavirus pandemic has brought the world to a standstill, and yet, the UN, the UNSC, and WHO have failed to play an effective role in helping nations deal with the spread.
Unlike the G7, where the common denominator is the economy and long-term political motives, the G4's primary aim is securing for its members the permanent membership of the United Nations Security Council. Each of these four countries have figured among the elected non-permanent members of the council since the UN's establishment. Their economic and political influence has grown significantly in the last decades, reaching a scope comparable to the permanent members (P5). 
Cess and Surcharge – Provisions of the Constitution, and findings of CAG
The Constitution allows the Centre to levy cess and surcharge, which the Centre need not share with the state governments. Article 270 of Constitution of India states that the Government can collect tax in the name of cess for generating revenue but it shall be earmarked for specific purpose only. While cesses are imposed for specific purposes, surcharges are tax on taxes, both meant to be temporary in nature.
Though the introduction of Goods and Services Tax has subsumed many cesses, the government has imposed fresh cesses such as Swachh Bharat cess, and Krishi Kalyan cess to finance Swachh Bharat initiatives and to promote initiatives to improve agriculture, respectively. In FY20, the central government increased the rate of road and infrastructure cess and the special additional excise duty on the central excise on petroleum products to further increase its revenue, and improve its buffer revenue. With states deprived of their taxation authority post GST implementation, and increasing finances of the Centre, the states have started opposing the permanent nature of such cesses. A majority of state governments had told the 14th Finance Commission that cesses and surcharges should either be eliminated or, if continued beyond a specified period, should form part of the divisible pool. 
The latest audit of the Union Government's accounts tabled in Parliament this week reveals that the Finance Ministry quietly retained over 40 percent of all cess collections in FY 2018-19 in the Consolidated Fund of India (CFI). The total revenue generated through cesses, levies and charges yielded INR 2.75 lakh crore in the year, but just around INR 1.64 lakh crore was remitted to the specific reserve funds for which these cesses were levied. This not only helped understate India's revenue deficit as well as fiscal deficit numbers but also meant that the purposes for which Parliament approved such cesses (be it health, education or infrastructure development) were not met.

Over 10 years, not a paisa of the INR 1.25 lakh crore of cess collected on crude oil was transferred to an oil industry development body it was meant to finance.
Part of the hefty cess collected as additional excise duties on petrol and diesel, to finance roads and infrastructure, was unutilised.
A new 4 percent Health and Education Cess on income tax was partly deployed towards education, but no fund was created for health.
Social Welfare surcharge levied on customs stayed unutilised. 
GST Compensation Cess, worth INR 47,500 crore not remitted to its rightful account over the first two years of GST. Worse, compensation cess transfers to states were accounted as Grants-in-aid to states, distorting the Centre-states fiscal math.

The 15th Finance Commission had commissioned a study on the matter from Vidhi Centre for Legal Policy. The legal think tank in its report submitted to the Commission has suggested that all cesses in force for a long duration or where there is evidence of non-utilisation and diversion of funds should be abolished. It suggested that all cesses should be imposed for a narrowly defined purpose and with a clear estimation of the amount of money that the Union Government aims to raise through the cesses. With a climate of distrust hovering over India's federal polity, be it over the GST compensation dispute or the passage of Farm sector Bills without taking states on board, it is critical for the Centre to rebuild bridges. Cesses, starting with the excise duties on petrol and diesel, need to be rationalised. Finally, absolute transparency is needed in the management of cess receipts so that Parliament and the people do not need to wait for audit findings to learn of this deceit (subterfuge).
Digital divide and its impact on online learning in India
Annual Status of Education Report 2020 has found that during COVID-19 induced school lockdowns, students in rural areas received only marginal assistance in the form of structured learning materials from teachers, and have had to rely more on parents and siblings to study at home.
The latest report of National Statistical Organisation (NSO) highlights the poor state of computer and Internet access in several states. The digital divide remains unbridged years after the broadband policy of 2004, and its effects are painfully evident during the pandemic as students struggle to log on to online classes. 
Only a fraction of small states have been able to secure reliable internet to atleast 40 percent of their total households. Large states have fared badly, with some able to provide reliable internet to less than 20 percent of their total households. 
Some of the issues impending online learning in India are as follows – 

In the absence of proper digital connectivity, even well of states where students can afford mobile phones and computers are not able to utilise these devices efficiently. 
Many remote locations have reliability problems and power deficits, making it a challenge to keep gadgets operational even offline.
Many students still don't have access to smart phones and computers needed for online learning.
Digital illiteracy among the teachers, especially of government schools, has made this mode of teaching-learning inefficient as compared to classroom mode.

Prime Minister has acknowledged the digital divide by announcing in his Independence Day address that all villages would be connected with optical fibre cable in 1,000 days. This target, reflecting enhanced ambition, follows the one set in 2011 to link panchayats through a national optical fibre network, to raise administrative capacities through information infrastructure. Evidently, successive governments have dropped the ball. If India wants to leverage the potential of ongoing digital revolution worldwide, it needs to set its priorities right to ensure that its vast human resource is able to leverage online learning. Without proper digital infrastructure in place that is accessible to all, online learning is never going to be productive. The government needs to look at all possibilities and go into overdrive to bridge the digital divide. Some companies in India have made the valuable suggestion that their used desktop computers could be refurbished and donated, for which governments need to open a programme. On the network technology front, a new gigabit speed 'wireless fibre' standard is being viewed in developed countries as a leapfrog option to link inaccessible areas. A small satellite is installed on a tower near the populated area and last mile internet connectivity is provided through optical fibres.